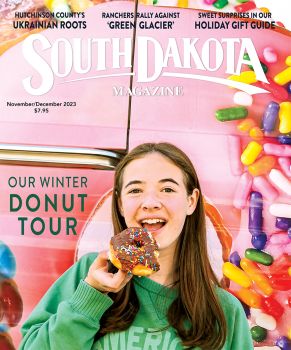 Subscriptions to South Dakota Magazine make great gifts!
Subscribe today — 1 year (6 issues) is just $29!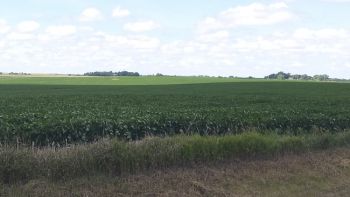 Pedaling South Dakota: Day Five
Jul 29, 2016
Carl and Jan Brush of Yankton are loyal readers of our magazine, and avid bicyclists. This summer they are combining those two loves on a cross-country trip, using past South Dakota Magazine stories to guide them to interesting people and places. They've agreed to post some reports from the road so we can go along on their eight-day, 360-mile journey. 


DAY FIVE: Homeward Bound Through Carthage and Howard
This was a perfect day for cycling. It was cooler, no wind, partly cloudy, no traffic and great roads! White pelicans and a wood stork were also enjoying the morning on a pond just outside of Willow Lake. This bean field looked great. We were told that rains two weeks ago really helped. Stopping to stretch at the oil pipeline, we were surprised to find it completely buried. Those folks work fast!
In Carthage we rode past The Coughlin House Inn. We had not noticed it in our previous visits to Carthage. We were told it is still open. At the Prairie Inn Cafe we visited with Gary Sanderson. He talked about Henrietta Truh, who was well known regionally for her canned fruits and vegetables and her cookbook. Sadly, she passed away last winter at the age of 95. Some of her canned goods are still available at the cafe. Trevor Petrik, a high school student and summer cafe employee from Epiphany, was happy to pose in front of those famous canned goods!
Leaving Carthage the Farmers Elevator Co. building caught our eye. Hopefully it will last forever! 
We made the return trip to Howard an hour quicker than the ride yesterday. We also switched roads to avoid the heavy traffic on Highway 34 where we were forced to ride on the gravel shoulder yesterday. After 59 miles we were glad to see the Howard sign once again. Lilies and butterflies welcomed us back to the Olson House. At the golf club cafe the waitress presented Carl with the cap he had left there two days ago! Life is good!


Click to read Day One, Day Two, Day Three and Day Four of Carl and Jan's journey.