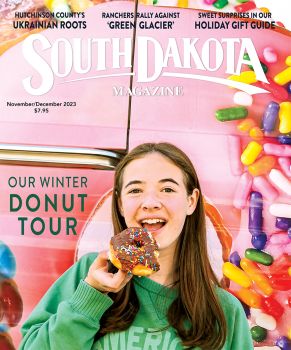 Subscriptions to South Dakota Magazine make great gifts!
Subscribe today — 1 year (6 issues) is just $29!

Penny Pinching Publisher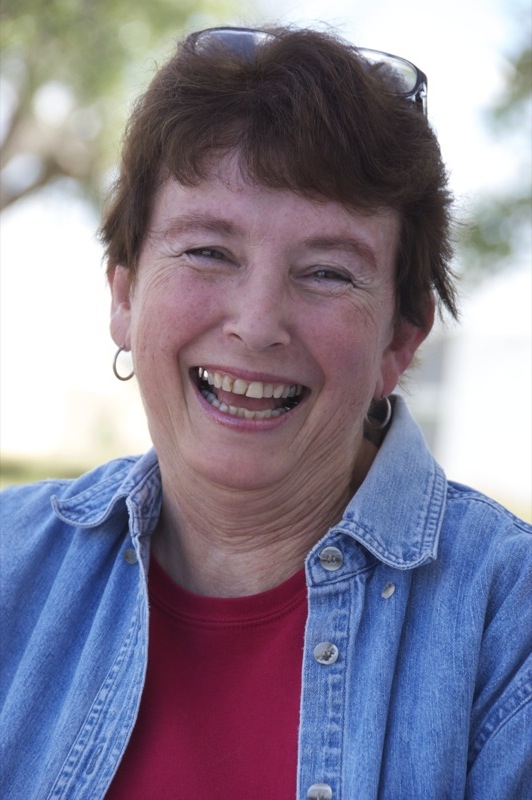 Pennywise publisher Paula Vogelgesang credits her Jackson County neighbors as her mentors in frugality. Photo by Bernie Hunhoff.
Editor's Note: This story is revised from the September/October 2007 issue of South Dakota Magazine. To order a copy or to subscribe, call 800-456-5117.
Paula Vogelgesang launched the monthly Pennywise magazine from her family's Wanblee ranch with a $25 manual typewriter as her only equipment, and an eye for frugality remains her stock in trade.
The concept is patterned after similar publications, but the inspiration came from Vogelgesang's Jackson County neighbors. "My mentors were women who survived homesteading, the depression, two world wars and lots of droughts," she says. "They were the true penny pinchers and tightwads. They fed their families on corn bread, beans and dreams."
Vogelgesang was raising three children — the youngest just five — and caring for 60 brood sows when she started Pennywise in March of 1993. She was also a partner with her husband Conrad in their cattle ranch until his death in 2009. "I knew absolutely nothing about publishing," she admits. "I went to Wendell Long, the editor of the Bennett County Booster, and he was my angel. He didn't think I was absolutely crazy. He taught me everything."
Similar publications emphasize money management techniques, but Pennywise also offers tips on conserving what you already have. "I thought, you can save money but these girls I knew also had a deep attachment with the land and their rural way of life and they knew things they were happy to share with a city kid."
She advises readers that peroxide and dish soap absorbs skunk odor, that dish soap and chewing tobacco kills grasshoppers, and that shaving cream removes the diesel smell from work clothes. Every issue has beef recipes, as might be expected from a publication with a West River postmark, and some issues contain conservative social commentaries.
But mostly, Pennywise is about living better and cheaper. Many of the ideas come from her readers. Editor Vogelgesang notes their origin by initials and state. MS from Iowa has a trick for bringing new life to windshield wiper blades and BT of Virginia reminds folks of the importance of dressing kids in bright colors for safety. Paula also has a website, which covers tips for cheap and fun kids' craft ideas, household cleansers, bug sprays and more.
Vogelgesang eventually added computers and other publishing perks to her print publication, although headlines and graphics are still composed with a black marker. She hasn't found time for marketing campaigns, so she relies on readers introducing the paper to other readers. More than one mother-in-law has anonymously paid for a subscription to her son's wife — a niche that mass market magazines probably miss.
Contact Pennywise at 605-462-6495 or visit www.smart-penny.com. Subscriptions are $20 per year.