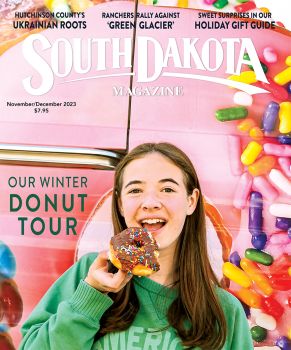 Subscriptions to South Dakota Magazine make great gifts!
Subscribe today — 1 year (6 issues) is just $29!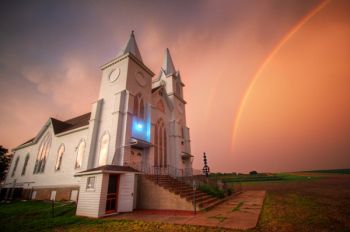 Prairie Sanctuaries
Feb 26, 2014
It is late afternoon in early spring. A lone car (me) is southbound on Highway 63 south of Midland. An early season thunderstorm had just rolled across the prairie and kept me entertained for half an hour. As the sun broke through retreating clouds, a steepled building atop a distant hill caught the light and gleamed against dark blue storm clouds beyond. St. Peter Lutheran in northeast Jackson County had always caught my eye on this stretch of road, but on this day it was glorious. Unfortunately this was before I began regularly shooting photos, so I was unprepared to capture the scene. That still bothers me.
Last July, a mean thunderstorm roared along the Missouri River valley. Drawn like a moth to a porch light, I caught up with it in Yankton County. The goal was to get some interesting weather photos. The problem, I soon learned, was that this storm was rife with lightning, the kind that illuminates the countryside like a million flash bulbs and then rattles your windows with an immediate thunderclap. After a handful of those I decided I might be a little too close to the heart of this beast so I retreated north and west. About the same time I noticed a rainbow forming in the evening light, I also saw the distant shape of Faith United Lutheran Church. By the time I got to the church, a double rainbow had formed. This time I had my camera.
Earlier this week the Northern Lights began to shine and shimmer. I remembered another local photographer (Zachary Wicks) had shot a stunning photo of Oslo Church in Brookings County silhouetted against early October Northern Lights, and I wanted to see if I could capture something similar. Oslo Church has not been used for some time and has no yard light — perfect for shooting against the night sky. I set up my camera on an approach about a quarter mile south of the church. Low clouds obscured much of the horizon, but then magic happened. As the moon rose and coyotes began to howl, a break in the clouds revealed those mysterious pillars of light rippling above the church.
These examples illustrate why I'm drawn to photographing country churches. I love the symbolism of all the things a church is supposed to stand for contrasted against the expanse of the surrounding country and open South Dakota skies. Lately I've realized that almost everywhere I go or whatever I'm planning to shoot, if I find a picturesque country church it's usually my best shot of the day. That is why I've compiled my favorite shots of rural churches over the years on a Facebook page called Prairie Sanctuaries. I'll add to the collection as I travel the state and region. You are invited to visit the page often and visit these places with me. I promise to always have my camera handy.
Christian Begeman grew up in Isabel and now lives in Sioux Falls. When he's not working at Midcontinent Communications he is often on the road photographing our prettiest spots around the state. Follow Begeman on his blog.