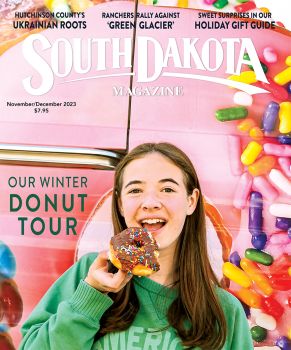 Subscriptions to South Dakota Magazine make great gifts!
Subscribe today — 1 year (6 issues) is just $29!

To Bake or Not To Bake
Dec 21, 2017
By Fran Hill
I was a newlywed when Martha Stewart and her lifestyle of seeming perfection was becoming a mainstream phenomenon. Every holiday season, her magazine featured a fabulous array of cookies artfully arranged on trays for gift giving. Of course, I fell under her spell and killed myself worked tirelessly to create my own amazing cookie trays for everyone I knew.
Eventually, I came to the realization that I don't like to bake. I find it tedious and troublesome. Exactly measuring and following a recipe? Ugh. For a few Christmas seasons, I made a variety of fudge. We had Milk Chocolate Cream Cheese Fudge, Butter Pecan Fudge, Lemon Fudge, Peppermint Fudge, and even deeply Rich and Creamy Fudgy Fudge. While this was easier and seemed like less hassle than hustling sheet pan after sheet pan of cookies in and out of the oven, it still felt like a chore. My Christmas spirit seemed to be dying a slow death with each hour I spent in the kitchen.
About this same time, I was really getting into canning and preserving each summer and fall. My basement storage shelves were lined with jeweled jars of jellies, jams, salsas, sauces, and vegetables. I had an epiphany. The work was already done. Tie a bow around a jar; slap on a gift tag; and boom! Homemade goodness that didn't damage my festive outlook.
These days, I still favor gifting the bounty of my garden harvest over baking, but occasionally, I do crave a sweet treat. This year, I managed to incorporate some of my preserving into my baking. The mint extract experiment that I undertook just before the first heavy frost wiped out my herbs became an ingredient in Peppermint Sugar Cookies. Of course, store bought peppermint extract is fine (said in my best Ina Garten voice), but it was kind of fun to have a hand in one of the main flavor ingredients.
I may not be a baker, but baking is fine in small doses, and very fine when the treat is as sweet as Peppermint Sugar Cookies.
---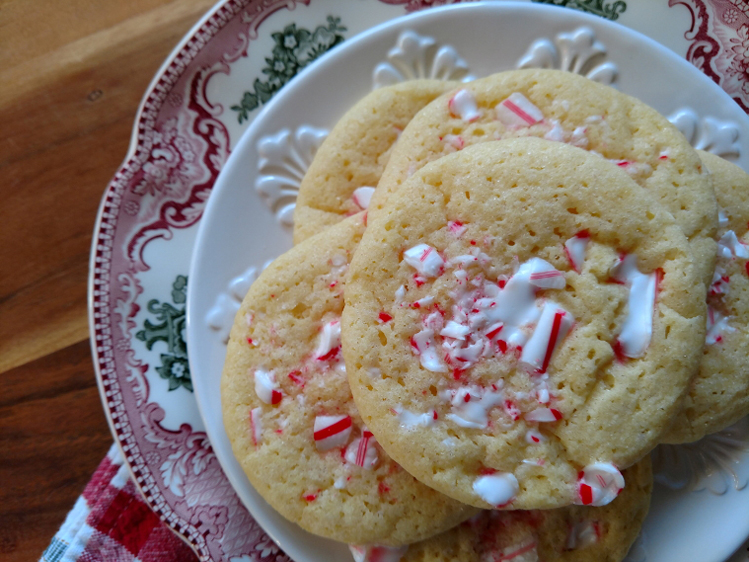 Peppermint Sugar Cookies are a sweet reward for those who dread holiday baking.
Peppermint Sugar Cookies
1 1/2 cups sugar (plus more for rolling)
2 1/2 cups flour
1/2 teaspoon baking powder
1/2 teaspoon salt
1 1/2 cups unsalted butter, at room temperature
2 large eggs
1 teaspoon vanilla extract
2 teaspoons peppermint extract
1/2 cup crushed candy canes
Preheat oven to 350 degrees F. Line baking sheets with parchment paper.
Using a stand mixer, beat butter and sugar on medium speed until fluffy, at least 5 minutes, but up to 8-10. (It makes a difference. Really.) Add eggs, one at a time, and vanilla and peppermint extracts. Beat until combined. Reduce speed to low, slowly add the flour, baking powder, and salt. Beat until combined.
If dough seems too soft, refrigerate for 30-60 minutes. (I usually do this anyway.)
Place about 1/4 cup extra sugar in a shallow dish or plate. Use a cookie scoop to make uniformly sized balls and roll them in sugar. Place 2 inches apart on prepared cookie sheets. Using a flat-bottomed glass, flatten each ball just slightly and sprinkle with peppermint candies.
Bake until edges are set, but centers are still soft and puffy, 10-12 minutes. Let cookies cool on sheet for 10 additional minutes (the residual heat will continue baking and fully set the cookies). Transfer to a wire rack to cool completely. (Yields about 3 dozen soft and chewy peppermint sugar cookies.)
Fran Hill has been blogging about food at On My Plate since October of 2006. She, her husband and two dogs reside near Colome.