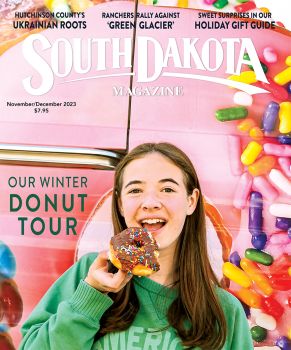 Subscriptions to South Dakota Magazine make great gifts!
Subscribe today — 1 year (6 issues) is just $29!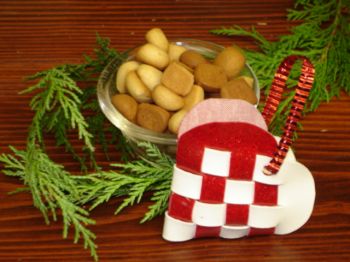 One Contentious Cookie
Dec 6, 2012
For me, the holiday season is all about baking…and eating. Christmas wouldn't be complete without certain foods — crispy, wafer-thin sugar cookies, krumkake, rosettes, lefse, and most important of all, pebernødder, or peppernuts.
But which peppernuts to make? In The Great Scandinavian Baking Book, Beatrice Ojakangas describes peppernuts as "a cookie that starts arguments! Every Dane insists that the only person who really knew how to make them was Mother, Grandma or Aunt Brigitte." I had two Danish grandmothers with wildly different peppernut styles. I always felt a little disloyal to Grandma Maridell Mark for preferring Grandma Rachel's white pepper and ginger cookies to her molasses-based models.
After consulting six different cookbooks, I found 12 recipes for peppernuts. None of them were the same, and none of them resembled the crunchy little cookies that showed up in Grandma Johnson's kitchen every December. There were recipes that called for pulverized filberts, anise, sorghum, lemon rind, eggs, allspice, goose fat, chopped almonds — some didn't include pepper at all! Even within my mother's family of Viborg Danes, there is no agreement on how peppernuts should be made. I've included her great-aunt Nina (pronounced nynah) Mark's recipe below, and her Aunt Marilyn has promised to send another once she tracks it down. Grandma Maridell's version was different yet. Please feel free to share your family's version in the comments section.
The Germans and the Dutch also have variations on this cookie theme, pfeffernusse and pepernoten. The Danes call them pebernødder. Some recipes make a cookie so hard that they must be dunked in coffee to be eaten, but mine are easily chewed, even by my false-toothed father. Although the dough can be a strain on one's mixer, forming the cookies is a snap — especially if you have small children around who can be coaxed into making snakes out of the dough, as one would with play dough.
---
Peppernuts
Recipe from Rachel Skoven Johnson
1 cup white syrup
1 cup sugar
1 cup butter or other shortening
1 cup sour cream
2 teaspoons white pepper
1/2 teaspoon ginger
1 teaspoon baking soda
5 cups or more of flour
Combine white syrup, sugar, butter and sour cream. Add white pepper and ginger. Stir soda into flour. Slowly mix in flour, a cup or so at a time, until the batter is quite stiff. Be prepared — your mixer may struggle making these cookies.
On a lightly flour-covered surface, take handfuls of dough and roll them into snakes about ½ inch around or so. Cut the snakes into 1/2 inch bits. Bake at 390 degrees for 6-8 minutes or until browned.
---
Pebernødder
Recipe by Nina Mark from the Viborg Centennial Cookbook
2 1/2 cups dark Karo syrup
1/2 cup molasses
1 cup sugar
1/2 cup butter
Heat and cool above ingredients. Add:
2 tablespoons warm milk with 1 teaspoon baking soda mixed in
1/2 teaspoon cloves
1/2 teaspoon cardamom
2 eggs
10 cups flour (stir in six cups, then add the remaining flour one cup at a time, stirring thoroughly)
Roll dough into small strips. Cut strips in small pieces. Bake at 275 degrees for 45 minutes.