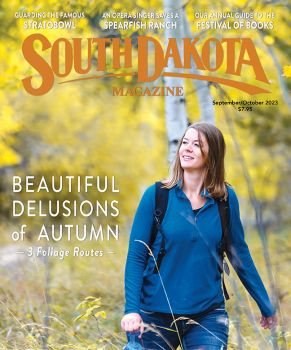 Subscriptions to South Dakota Magazine make great gifts!
Subscribe today — 1 year (6 issues) is just $29!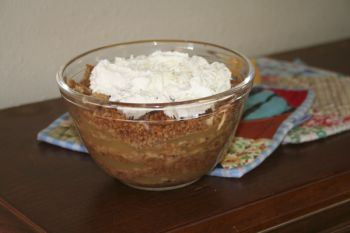 Æblekage: A Crummy Dessert
Nov 21, 2013
By Laura Andrews


Do you know what's been keeping me up at night lately? Believe it or not — bread crumbs. No, I haven't been snacking in bed — my worries are a product of a "waste not, want not" lifestyle. Over the last year, my husband and I have managed to accumulate an indecent amount of dried bread. I'd be ashamed to tell you how much we have. Some of it goes in Mike's favorite hamburger mixture, some of it gets used in bread pudding, but a few crumbs scattered here and there really don't put a dent in the problem.
I'd like to ask you all for advice, but I suspect that a bread crumb avalanche is not something most people have to worry about. So instead, I'm turning to my ethnic heritage for a way to chip at the problem.
Up in Viborg, they often serve æblekage as a dessert for their annual Taste of Denmark dinner. Æblecake means "apple cake" in Danish, but there's no cake involved here. This dessert consists of layers of toasted, sweetened bread crumbs, applesauce and a generous dollop of whipped cream. It's an ideal dessert for frugal people, it's easy to make and it tastes pretty good, too.
---
Æblekage
Adapted from Delectably Danish: Recipes and Reflections by Julie Jensen McDonald
2 cups crumbs
1 tablespoon sugar
1/2 cup butter
2 1/2 cups applesauce
1 cup whipping cream
2 tablespoons sugar
Red jelly or jam (optional)
Place crumbs, butter and 1 tablespoon sugar in a pan and cook until crumbs are brown. Add a layer of crumbs to the bottom of a glass serving dish, followed by a layer of applesauce. Repeat until you run out of ingredients.
Whip cream together with two tablespoons of sugar and spread it atop the crumb-applesauce concoction. If you're feeling fancy, dot the top with red jelly or jam.
Refrigerate if you want a soft dessert, or serve immediately if you like your crumbs crunchy.