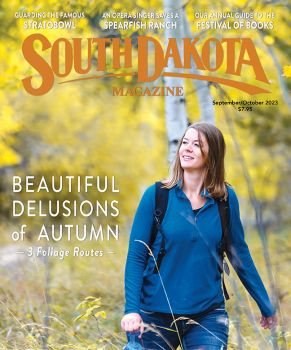 Subscriptions to South Dakota Magazine make great gifts!
Subscribe today — 1 year (6 issues) is just $29!

The Perfect Babysitter
Nov 7, 2011
Our parents never hired a babysitter – never. But Mom would regularly announce that the $25 she spent each year for the family season pass at Webster's public pool was the best money she ever spent on a babysitter. No wonder.
Like all the other neighborhood kids in Webster, we lived at the pool from Memorial Day until Labor Day. Depending on ages and the class, mornings were for swimming lessons, and then home for lunch. The pool opened at 1 p.m. and it was good etiquette to be in line at least 15 minutes early. Not sure what happened to those who couldn't get there until after 1 p.m., but nobody in the neighborhood wanted to take the chance and find out.
The pool closed at 5 p.m., but that's when then first round of swim team practices started, and they took you right to the evening general swim at 7 p.m. Sometimes after the pool closed at 9 p.m. we could still swim laps or have swim team practice.
Life for a city kid in Webster meant days at the pool. It also meant love.
For twenty years the first crush every pool-going boy in Webster had was on one of the many Baukol girls. They greeted us in the morning teaching our lessons, coached us on swim team, and beautifully occupied the lifeguard chairs at all hours of general swim in between. Romance didn't get much better than that if you were between the ages of 8 and 14. After about 20 years Harmon Baukol quit providing daughters to the pool staff, and I left for college. I'm not sure how the young pre-teens in Webster survived, or who filled in for all those Baukol girls.
Whole summers of trouble and excitement were designed at the pool. Poor Mr. Meyer owned the apple trees closest to the pool, which made it the first and most obvious target for mandatory raids that took place almost nightly after practice. Sometimes we'd even get as far as Grandma Hoven or Grandma Johnson's, but the absence of yard lights and the presence of way too many gardening devices brought a certain risk with running through those dark enclaves.
You also didn't need much cash to hang out at the pool. With a quarter you could get all the Hot Tamales and other snacks you needed. Fashion hadn't really hit the neighborhood, so cutoffs worked just fine for looking good at general swim. As for female fashion, there were really only three choices – Anthony's, Nerger's or The Elevator Store. The chances that they would have neighbors in the same summer fashion wear was pretty much a lock.
While we swim team folks thought life in the pool was built for speed, there was another way to prove prowess – the diving pool. Flips off the high board that didn't finish in the form of a belly flop were to be admired and worshipped. For those lacking the death-defying urge, there was another option – the cannonball. Danny Giese perfected the 4:45 p.m., high board, soak-the-lifeguard cannonball. The one that got you kicked out for the afternoon (which was why it was best to wait for about 4:45).
Last week I drove by the pool, and saw that my old babysitter isn't what she used to be. It was kind of sad to see such a big part of neighborhood life reduced to a hole in the ground. To this day, the old swim team crowd is still my close friends. Next year the young people in the community get to start building memories with a new pool. I'm sure all of us from the neighborhood wish for them the many great memories that the city parents built for us over fifty years ago.
Lee Schoenbeck grew up in Webster, practices law in Watertown, and is a freelance writer for the South Dakota Magazine website.