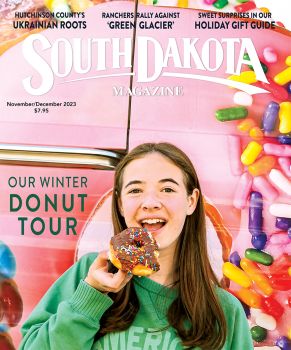 Subscriptions to South Dakota Magazine make great gifts!
Subscribe today — 1 year (6 issues) is just $29!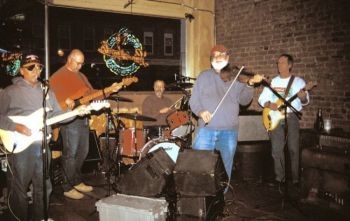 Why Poker Alice?
Editor's Note: This story is revised from the January/February 2003 issue of South Dakota Magazine. To order a copy or to subscribe, call 800-456-5117.
Poker Alice had been dead for 19 years when Nick Schwebach was born. But when Schwebach and three friends were trolling for a name for their new band in the early 1980s, they resurrected her.
Why Poker Alice? "I'm sorry," guitarist Schwebach said. "I don't have a good answer for that. We knew about as much about Alice then as anybody who goes to Deadwood and looks at the postcards — that cigar and that squatty face."
"The name was Newt's idea," Schwebach said. "We were throwing around names, some of them not printable, and not coming up with anything, when all of a sudden Newt said, "Poker Alice!" When Avon's Brenda Fennema sang with the band in its early days, some people thought she was Alice.
Gary "Newt" Knutson died in the early 1990s, and a couple of other originals, drummer Tom Voss and bass player "Smilin' Jack" Carlson moved on. Various other well-known musicians played with the band over the years, but in recent memory, the regulars have been Schwebach, fiddler Owen DeJong, bass player Larry Rohrer, drummer Al Remund and guitarist/organist Denny "Crazy Legs" Jensen.
In the beginning, the Clay County group played mostly country; two decades later, the band is known not only for virtuosity, but for its vast range of songs. "The band has been a revolutionary process," Schwebach said. "It's a great, eclectic mix. If people want a country band, we can be a country band. If they want blues or rockabilly, we can do that. I think I could safely say that over the years we've played more than 300 different songs. Our last gig we played three songs we'd never played together before. You get those songs in your reptilian brain, and every now and then they resurface. I can just look at the boys and say 'it's one-four-five with a two somewhere in there,' and that's about all it takes. Everybody kind of thinks on the same wave length."
Poker Alice plays somewhere almost every weekend. Some people plan their weddings to be sure Alice can come. A favorite venue is for the hometown crowd at Carey's in Vermillion. Owen, Nick and Larry also play classic folk and country as The Public Domain Tune Band.
"Poker Alice was an astute businesswoman, and she liked to have a good time," Schwebach said. "I think she'd love the Poker Alice band."