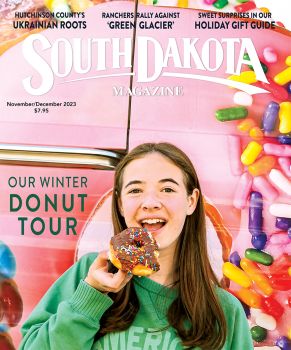 Subscriptions to South Dakota Magazine make great gifts!
Subscribe today — 1 year (6 issues) is just $29!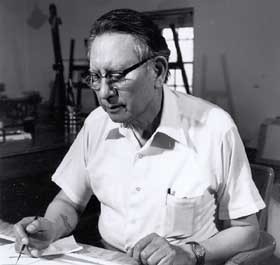 Restoring Mobridge's Murals
Jan 12, 2012
Big news for South Dakota from Mobridge: Their plans to restore the ten priceless Oscar Howe murals in the city auditorium (formerly the high school basketball stadium) are on the mark, set and ready to go.
Mobridge built a new high school gymnasium a few years ago, ending the odd juxtaposition of depictions of American Plains Indian history with everyday rubber-meets-the-hoop (or wall).
Although high school basketball is very important for South Dakota, so is the legacy of Oscar Howe. No longer serving its intended purpose, the building was set up for decay – not a good thing for any town. and in this case certainly not for our collective cultural heritage.
The City of Mobridge, led by its visionary development corporation's director Christine Goldsmith, looked for help, and got it. A Save America's Treasures grant paid for necessary repairs of the building to protect the treasures within, and prescribed treatment for the aging (and rubber-abused) murals.
That treatment could not begin until the building was secured from the serious environmental elements of Mobridge, SD. Done! Christine has now formed a nonprofit group with an influential local board, enlisted the aid of the South Dakota Arts Council, South Dakotans for the Arts, and the South Dakota Humanities Council, and applied for a major grant from the National Endowment for the Arts.
Dr. Howe painted the murals in 1941, as a part of the Works Progress Administration (WPA) program. That program also allowed him to create the magnificent four-directions dome painting in Mitchell's Carnegie Library, which later housed the major collection of his paintings for more than 20 years.
There is no program equivalent to, or even approaching, the WPA. South Dakota's great artists live and work here because it is home, and because they have our story to tell. Perhaps we should revisit the idea and make some more progress toward our future.
Pat Boyd is Executive Director of South Dakotans for the Arts, a statewide nonprofit membership organization dedicated to advancing the arts through service, education and advocacy. Pat and her husband, artist George Prisbe, live at Hanna Creek in the northern Black Hills.