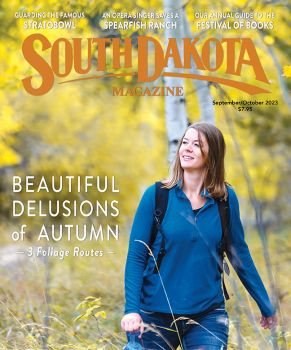 Subscriptions to South Dakota Magazine make great gifts!
Subscribe today — 1 year (6 issues) is just $29!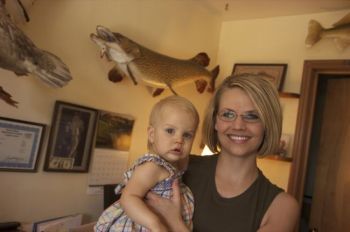 MoRest in Mobridge
Editor's Note: This story is revised from the March/April 2009 issue of South Dakota Magazine. To order a copy or to subscribe, call 800-456-5117.
A few years ago, Kelly Kemnitz and her husband, Brent, moved back to their hometown of Mobridge to run the MoRest Motel. The 27-room, 1950s vintage motel was more than a piece of property to Kelly. Her parents, Denny and Glenda Palmer, owned the motel for over 25 years; Kelly and her brother were raised there. "People who stay at the motel remember me as a little kid," she says.
The Kemnitz family, which includes four children, Michael, Jeffrey, Kathryn and Elizabeth, live in a three bedroom house attached to the motel. Brent has a degree in landscape design and managed a garden center before the Mobridge move. During the spring and summer months the family didn't see much of him. Now he and Kelly work together every day. "It's a mixture of running a motel and caring for family," says Kelly.
They open the office each day at 8 a.m. Most of the motel cleaning is done by employees, but the Kemnitzes wash all the linens themselves except for the sheets, which are sent out. "Every day is different," Kelly says. "If there's been a group who's been here for a while with all the bedspreads, blankets and towels I'll be washing all day." Brent also operates MoPro Walleye Guide Service. That's no chore for him since he loves to fish. He's out fishing as soon as the ice starts breaking up," Kelly says. Brent doesn't have to go far. They can see Lake Oahe from the kitchen window.
Their customers come from South Dakota, Iowa, Minnesota, Wisconsin and Nebraska to fish. Many have been coming for years. "We usually know most of the people who stay at the motel," Kelly says. Some evenings the Kemnitzes and their guests gather to talk about the ones that got away and cook the ones that didn't. Here is Kelly's recipe.
---
Kelly's Pan Fried Walleye
Walleye filets
Flour
Eggs, beaten
Boxed potato buds
Seasoned salt
Vegetable oil
Rinse walleye filets in water. Dip fish into flour, then eggs, then potato buds. Fry in oil until golden brown. Season generously with seasoned salt. Serve with tartar sauce, cocktail sauce or both.