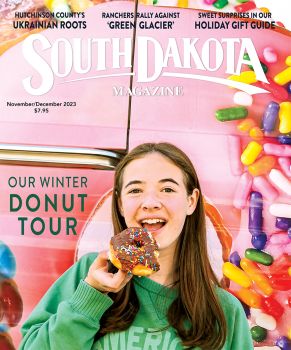 Subscriptions to South Dakota Magazine make great gifts!
Subscribe today — 1 year (6 issues) is just $29!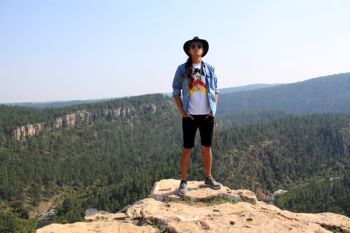 Rosebud's Voice
Oct 7, 2015
By Michael Zimny
Before a producer from MTV's Rebel Music contacted Frank Waln, he was just one rapper among a generation of young Lakota artists trying to get their music out there — online, at shows in high school gyms and auditoriums, any way they could. Now that millions have seen the show, the Sicangu Lakota artist from the Rosebud Reservation — who now lives in Chicago where he's working on his debut album — has become a symbol for a burgeoning scene.
Rebel Music: Native America, which recently aired and is available online, has created a national buzz around Waln, as well as the other artists featured — including Lakota artist Mike "Witko" Cliff (from Pine Ridge), Nataanii Means and Canadian artist Inez Jasper. The program visits the artists in their respective communities, introducing them and their music, then follows them as they confront issues from the disappearances of Native women and girls in Canada to protests against the Keystone pipeline in South Dakota.
We caught up with Waln as he prepared to headline the Black Hills Unity Concert to ask him about his creative process, artistic influences, and what the Hills mean to him.
MZ: Can you talk a little about how the Rebel Music's Native American documentary came together?
FW: Yeah, it was a long process. I was the first artist they reached out to last summer. I got an email, and I get a lot of emails from people saying they are creating a documentary about Natives and we want to feature you, and I'm pretty reluctant about it because the way people portray us — it's just hard if they are non-Native. Because they don't come from the place where we come from. I wrote her a long explanation of why I'm reluctant about bringing people into my home and bringing people to the rez. She said she understood and forgot to tell me she was a Native woman. She said, 'I wrote my Ph.D. on indigenous hip-hop and I'm the lead researcher for this project.'
Many conference calls and meetings [later], through that whole process I started to feel very comfortable with the project, because the lead researcher was a Native woman and the co-producer was a Native, and the whole production team listened to all of the Natives. It was unprecedented for a mainstream production team to listen to the Native people that are being portrayed the way that they want to be portrayed.
It was one of the first mainstream media projects that I've seen where it was true. It was real stories about real Native people and things we were facing. It wasn't like Natives burning wagons and stealing white women or look at these alcoholics, and savages and drunks. It was like, no this is our home, we're human beings, we survived genocide and this is what we're going through. It was very real and very raw and I'm very proud of that project.
I never in a million years thought I would be on TV. I'm just a kid from the Rosebud. I almost quit so many times — I thought there was no hope for me to do music. I thought there was no hope for me. I never thought my music would make it out of the rez, let alone South Dakota. It was a big validation for me, and a big milestone in my career.
MZ: What does the Black Hills Unity Concert mean to you?
FW: To me, the Black Hills Unity Concert is about just that — unifying as people across cultures, across economic borders, across all these borders that are put up to keep us separate. Coming together and realizing that ultimately this place, this home, this land, this water — this is ours and we need to come together to protect it, to keep it safe and stay a place that we can be proud of and that we can call beautiful and that we can call home. As a young Lakota person, to me it's also a statement and testament to the strength and resistance and the beauty that my ancestors had. Because I'm not supposed to be here. The government tried to wipe us out. The government took the Black Hills from us. The government didn't want me to be alive. So the fact that I'm a live Lakota person standing here in the Black Hills as an artist using my voice to speak out for the Black Hills is a beautiful thing to me and it gives me hope that one day everything is going to be OK.
MZ: What rappers have influenced you?
FW: My introduction to hip hop was Eminem. It was the emotion of the music that really struck a chord with me. After that I heard Nas and the song "One Mic." That's when I knew I wanted to be a rapper. Nas was speaking to his community in an empowering way. "All I need is one mic to change the world." That was a profound statement for me to hear, being a kid on the rez who loved making music.
MZ: Nas is a good example of an artist who does "conscious" material like "One Mic" as well as more radio-friendly "get money" music. Do you feel as comfortable with both?
FW: I listen to Kendrick Lamar and I listen to Young Thug. For me, when I sit down I just write down whatever I'm feeling that day. Sometimes it's conscious stuff. I'm working on an album right now and it's about trauma and love and I guess that could be conscious and it could not. I'm gonna write about both. I'm not big on the "make money" type because I'm not living that. You know I'm still doing what I can to pay the rent so I'm not writing music about what I don't live.
MZ: Who are some hip-hop producers that influenced you as far as sound?
FW: Dr. Dre was a big influence on me. A lot of the music coming out of the West Coast we would listen to back on the rez.
Organized Noise is definitely a big influence production-wise, and Hi-Tek. They drew from familiar influences but then they used that to create something fresh and something new. That's what I'm striving to do. It's always those producers that did something different. Also Rick Rubin, as a producer who just does whatever he has to do to bring the best out of the track.
And you know South Dakota is in a cool place. It's in the middle of the country and we get music from all over. I grew up on country because I lived in South Dakota.
MZ: Back to the Black Hills Unity Concert, and the history of the Hills you touched on — how feasible do you think it is that the Treaty will be honored?
FW: I hope that it is. It's kind of messed up that we even have to ask this question, because the documents that founded this country — it would just make sense that the government would honor them. How can we call this the greatest country in the world and not even honor the original contracts that founded this place? Do I think it will happen in my lifetime? No. Will I stop fighting for that to happen? No. I think looking at this long term, this is something that the Native people do — we think about generations.
Instead of just thinking about me and how much money I can make at the expense of the land, I'm thinking about what I can do to impact seven generations down the line. I'm using my voice, my music, my art, to hopefully see a day where my nieces and nephews and children (someday, I'm not a father yet) will live in a South Dakota, live in the Black Hills, where we're treated like first class citizens. I have hope that will happen. Not in my lifetime, but I will not stop doing what I can to make sure I see that happen.
Michael Zimny is the social media engagement specialist for South Dakota Public Broadcasting in Vermillion. He blogs for SDPB and contributes arts columns to the South Dakota Magazine website.