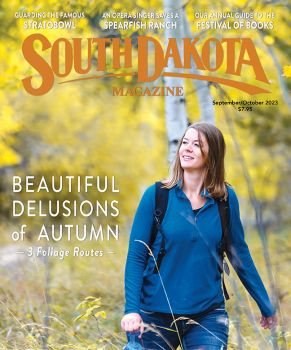 Subscriptions to South Dakota Magazine make great gifts!
Subscribe today — 1 year (6 issues) is just $29!

Land of the Burnt Thigh
Sep 22, 2015
By John Andrews
In late August we drove from Yankton to Pine Ridge on Highway 18 to collect stories for an upcoming issue. As we passed through the pine forested hills and ravines of the Little White River valley, I was reminded that this area is one of South Dakota's hidden gems. The region is known locally as the Little Black Hills, and was our Todd County selection in our July/August 2011 feature on places to visit in every county. It's beautiful from the highway, but even better views are found by kayaking the Little White River, particularly the 25-mile stretch between 18 and the Spring Creek Day School, or by driving BIA Route 5.
Todd County is rich in Lakota culture because the Rosebud Indian Reservation, home to the Sicangu (Burnt Thigh Nation) people, lies completely within its borders. The Rosebud was created in 1889, when the Great Sioux Reservation — which encompassed all of present day South Dakota west of the Missouri River — was parceled into the reservations we know today.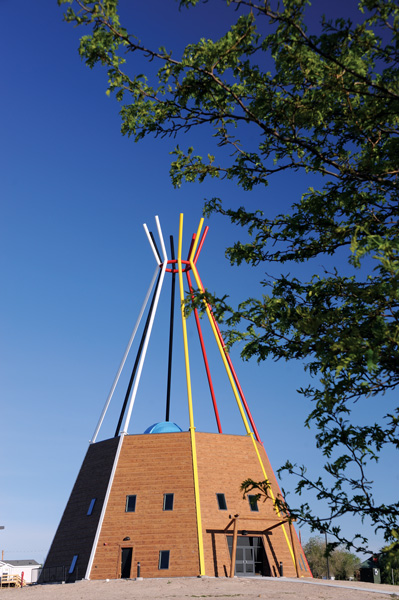 Architecture true to Lakota culture accentuates Sinte Gleska University's campus.
The county's largest town is Mission, where Sinte Gleska University provides an education rooted in both the Western and Lakota worlds. Lionel Bordeaux, who grew up not far from the campus, leads the college. He attended high school at the St. Francis Indian Mission, then enrolled at Black Hills Teachers College in Spearfish. He had a job with the Bureau of Indian Affairs and was enrolled in a Ph.D. program at the University of Minnesota when he got a phone call from Stanley Red Bird, Sr., considered the founder of Sinte Gleska College.
He said they were searching for a president to lead the newly formed school and that Bordeaux's name had come through from the Spirit World. Red Bird told Bordeaux to resign his position with the BIA and that he was not to continue at Minnesota. Bordeaux talked with his wife and they returned to Mission, where he was inaugurated President of the college in 1973, just before his 33rd birthday. He's one of the country's longest-serving college presidents.
Sinte Gleska is named for Spotted Tail, one of the most revered Sicangu leaders. He proved himself an able warrior in his younger days, though eventually he grew to believe that resisting the advance of white settlers was futile, and sought ways to benefit his people who had been relegated to reservation life. He was killed by a rival, Crow Dog, in 1881. His gravesite, listed on the National Register of Historic Places, is in the Episcopal Cemetery at Rosebud.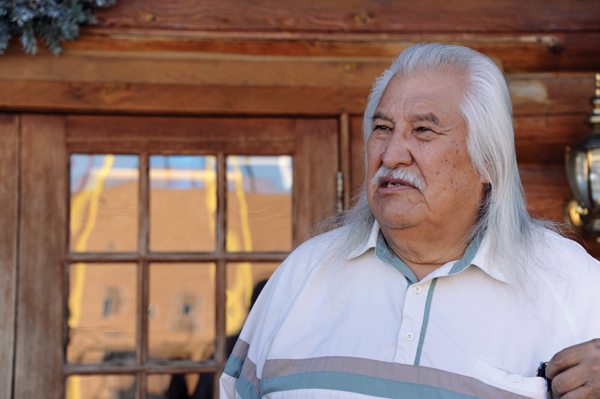 A vision brought Lionel Bordeaux back to Mission, where he's led Sinte Gleska University for more than 40 years..
Lakota Studies is an important part of SGU's curriculum, and for years Albert White Hat, one of the country's leading preservers of the Lakota language, led it. He was raised at Spring Creek, a small community of five or six families on the Rosebud. Children learned Lakota ways, and spent winter evenings listening to storytellers explain Lakota history, culture and spirituality using the Lakota language. But in the early 1950s the tribe adopted the state's education standards, which said nothing about Lakota studies. When his children started school in the Todd County district in the late 1960s, White Hat lobbied for a Lakota language and history program. "They really gave me a bad time," he told us in 2009. "None of them would accept it. They laughed at me. Finally in 1970, they said, 'You can have a half an hour during noon hour to play your tape and dance.'"
Albert White Hat (left) and Duane Hollow Horn Bear helped preserve Lakota language and culture at SGU.
Soon White Hat was teaching Lakota studies part time at St. Francis and Sinte Gleska University, even though he knew little about teaching. He had no books and learned how to formulate lesson plans from colleagues. The university hired him full time in 1983.
White Hat worked on standardizing Lakota, but he encountered problems in the 1990s as he worked on his textbook, Reading and Writing the Lakota Language. White Hat and Jael Kampfe, a Montana native studying at Yale University, began the project in 1992. Kampfe recorded White Hat's classes. Then they transcribed and edited them into a 226-page book. He sent the manuscript to three linguists and a host of schools and publishers who offered mixed reviews.
"The language has developed what they call a subculture," he said. "Historians and anthropologists use the modern translations, and my work contradicts that. They didn't want that printed." One major university press told White Hat that, "folk etymology and oral history are fine, but they're not recorded so this shouldn't be printed." The University of Utah Press finally published his book in 1999 and it remains widely used, a fitting tribute to White Hat, who died in 2013.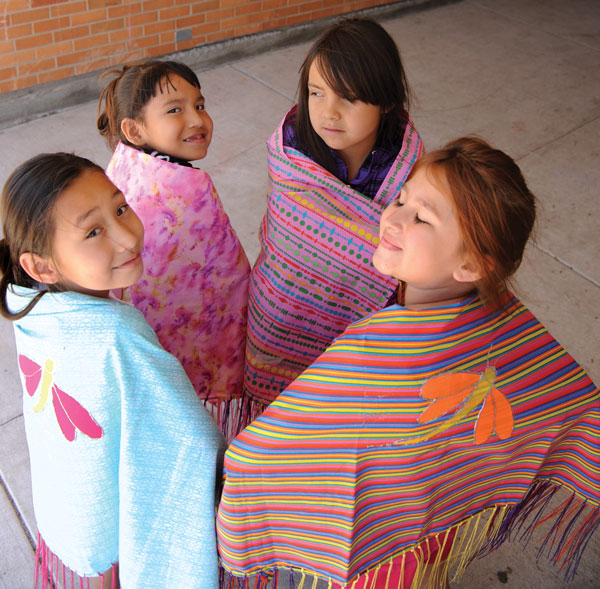 Girls at Mission's North Elementary (from left) Shanelle Eagle Star, Bailey Horse Looking, Hapun McCluskey and Olivia Leading Cloud made dancing shawls.
Todd County was created in 1909 and named for John B.S. Todd, a native of Kentucky and cousin to First Lady Mary Todd Lincoln. Todd had a long military career that included service in the Mexican War before he resigned in 1856. He moved to Fort Randall and became a trader engaging with Indian tribes west of the Missouri River. Todd started a law practice in Yankton in 1861, but with the outbreak of the Civil War he was commissioned as a brigadier general. He led North Missouri district until the end of 1861. He again resigned from the military in 1862 and moved back to Dakota. He represented Dakota Territory in Congress in the 1860s and also served in the territorial House of Representatives. Todd died in 1872.
Jesuit missionaries played an important role in the evolution of the area. They established the St. Francis Mission in the 1880s, and today it's an important destination for those wanting to study Lakota culture. The Buechel Memorial Lakota Museum in St. Francis contains over 2,000 items in its ethnographic collection and more than 42,000 photos. The museum is named after Father Eugene Buechel, S.J., a noted missionary, linguist and ethnologist who came to St. Francis in 1902.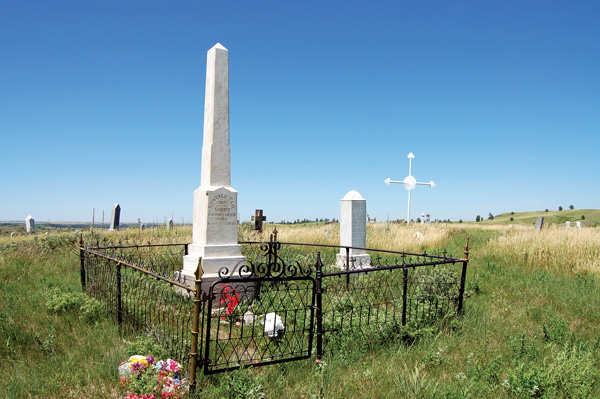 Respected Sicangu leader Spotted Tail's gravesite can be found in the Episcopal Cemetery near Rosebud.
Another place to visit in St. Francis is St. Charles Borromeo Parish, painted bright lavender by children attending a camp there in 2005. The church has 24 stained glass windows that depict the life of Christ.
Todd County also has a few famous sons. Ben Reifel was born at Parmelee in 1906, attended South Dakota State College and Harvard University and became the first Lakota to serve in Congress when he was elected in South Dakota's First District in 1960. He served in Washington, D.C., for 10 years.
Jim Abourezk, who served in the U.S. House and Senate during the 1970s, was born just across the county line in Wood, but his uncles Tom and Chick ran a general store in Mission for 30 years. It's still referred to locally as "Abourooski's."
And longtime television game show host Bob Barker spent his childhood on the Rosebud, where his mother Tillie taught school. In his memoir, Barker has fond memories of swimming in Antelope Crick (not Creek). He didn't write anything about the Little Black Hills, but maybe some places are better kept secret.
Editor's Note: This is the 11th installment in an ongoing series featuring South Dakota's 66 counties. Click here for previous articles.