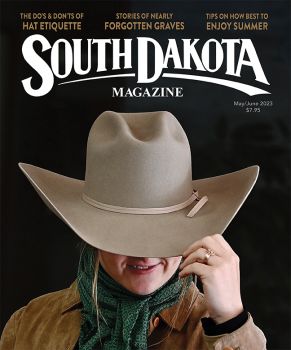 Subscriptions to South Dakota Magazine make great gifts!
Subscribe today — 1 year (6 issues) is just $29!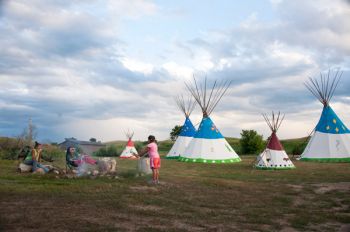 One Woman's Vision
Feb 26, 2015
Nine years ago Marla Bullbear did a vision quest, something traditionally done by young men to seek life guidance. She hiked a summit above the pine timber reserves on the Rosebud Reservation, her home, and waited quietly for answers.
The reason behind the vision quest was a feeling that she, and other community leaders needed to do something about a rash of suicides that occurred on the Rosebud. They met at the St. Francis school in 2002 to brainstorm solutions. Roy Stone, a medicine man from Mission, opened the program with a prayer and spoke of the Lakota circle of life. Other leaders offered their perspectives. Later, someone surveyed the youth to see if any of the ideas had an impact. Most teens mentioned one particular speaker: the medicine man.
"I thought about that for a while and then I realized that he was different because he spoke about their culture and they must have wanted that connection," Bullbear says. She and several friends came up with the idea of a summer of camps designed to connect the teens with their Lakota roots.
After the first summer Bullbear was happy with the success of the camps but had a feeling she must do more. She and six female friends then did the vision quest, 24 hours on the summit meditating about what path her life should take. "That helped me clarify what I need to do," she said. That was nine years and 6,000 campers ago.
The Rosebud Sioux Tribe provided 10 acres on the site of Milk's Camp, a nearly forgotten village founded by the renowned Chief Milk. Most original residences are now gone, but pow wow grounds remain along Ponca Creek as well as an Episcopal Church. Chief Milk is buried on a hill above the old church.
The youth retreats are known as Family Camp. At least four camps are held every summer, each four days long with a different theme. Harvest camp in early June is based around the Indian culture's edible and medicinal herbs. Three hundred have been identified on the camp's grounds including wild turnips, purple coneflower (the root eases toothaches) sweet grass used for smudging and wide-leaf wild sage that was brought from Bear Butte.
The other themes are hunting, leadership and horsemanship. Bullbear and her assistants don't have the time or resources to track the success rate of the youth who have attended camps. In fact, they hardly have the resources to run the camps. "We run on a shoestring," she told a South Dakota Magazine writer. "The tribe has helped. The state has helped. If we had $100,000 a year we would be flourishing. We are probably operating on half of that."
To raise more money, Bullbear and her helpers at the Native American Advocacy Program are inviting tourists to Milk's Camp for retreats, reunions or group gatherings. Visitors will have the opportunity to learn about Lakota culture while sleeping in canvas tipis and lodge houses. Bullbear hopes that welcoming visitors will raise enough revenue to continue the Family Camps in summer.
During winter it's fun to think of riding horses on green grass, searching for wild turnips, singing around the campfire and taking nature walks. We all feel that way, but none more so than the kids from Rosebud and Pine Ridge who attended Family Camp. If you are making summer vacation plans, visit their website to see what they have to offer for non-campers. You might learn something new.