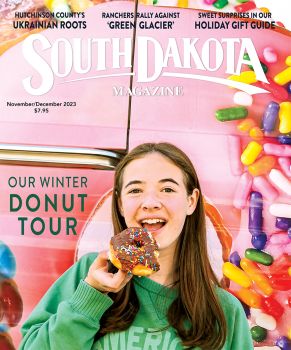 Subscriptions to South Dakota Magazine make great gifts!
Subscribe today — 1 year (6 issues) is just $29!

Sharing "Difficult" Recipes
Sep 6, 2012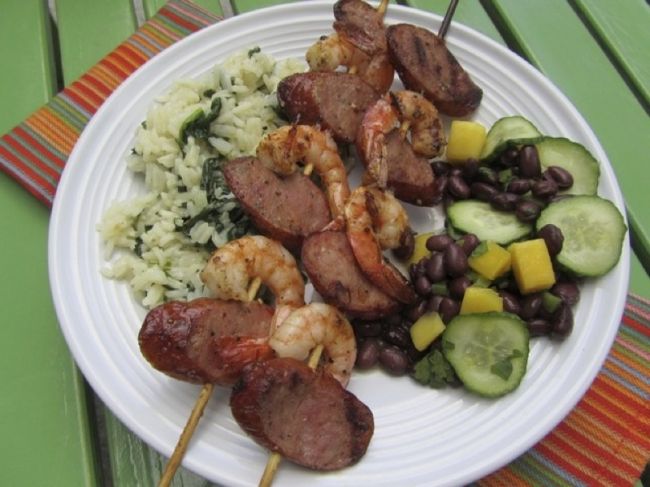 The Andouille sausage for these sausage and shrimp skewers can be hard to find on the prairie, but local meat lockers may have a good substitute. Photo by Fran Hill.
I started my blog, On My Plate, not quite 6 years ago as a way to share recipes with friends and family. At that time, I had spent over a year accumulating, choosing and preparing recipes and creating photos for each one with the intention to put together a private cookbook to share as Christmas gifts. The cookbook was proving to be a lot more work than I had envisioned, and blogging seemed like a much simpler method of publishing.
During the past 6 years, I have shared over 350 recipes on that blog. The majority I still make repeatedly today. There have, however, been some one-hit wonders, appearing only once on my plate…not because I didn't like the foods, but most likely because the recipe involved A) an inordinate amount of work (it is no secret that I am lazy) or B) an ingredient that is a bit more difficult for me to find.
There isn't a grocery store in my small town. We once were home to a solid store of the basics, but now it is a 10-15 mile jaunt down the highway in either direction to stock up. (Thankfully, the local gas station handles milk, bread and eggs for those I-can't-believe-I-ran-out moments.) The owners/managers of the area groceries are willing to special order things for me, but I don't often ask unless I am sure that someone else might be interested. I don't want to be the reason a dusty case of unicorn meat is languishing away on the shelves.
Instead, over the years, I have searched out online sources for seemingly exotic ingredients. It is also seldom that a trip out of town doesn't involve a stop at a larger grocery store or specialty market. Collapsible cooler bags are a permanent fixture in the back of my car. I plan ahead. There is a running list in my mind of unfamiliar items I have seen in recipes. I do my best to make my options work for me.
Not everyone is this dedicated to their food. I understand this. When I share a recipe that I love that may include an unfamiliar ingredient, I am not trying to be difficult or spiteful. I just want to share something that I found to be delicious and believe that you may also enjoy.
Andouille sausage isn't necessarily an unfamiliar ingredient. Anyone that has seen a Cajun episode of a cooking show or even any "reality" (yes, I am a snob and will put that word in quotes when talking about television) show based in Louisiana has heard about this spicy sausage. Many of us have probably sampled flavorful, smoked chunks of this sausage in restaurant dishes. As for finding it at a local grocery? Out here on the prairie, good luck. It is one of those ingredients that might take a little searching for a reliable source.
If you are lucky enough to have a local meat locker that makes smoked sausages, you probably have an acceptable substitution readily available. When replacing Andouille with another sausage, you have the option of controlling the spice level…which might be good for our sometimes mild-mannered South Dakota taste buds.
The Andouille that I have tried has always packed a major punch of heat. However, the heat pairs well with the more delicate flavors of shrimp. Skewering the two alternately, brushing with garlic oil, and then grilling makes a great main dish with rice and a salad, or a hand-held appetizer at a party. Really, there is nothing difficult about Andouille Sausage and Shrimp Skewers.
---
Andouille Sausage and Shrimp Skewers
1 pound uncooked shrimp, peeled and deveined, tail on
1 package Andouille sausage, cut into 1/2-inch slices
2 cloves garlic, minced
2-4 tablespoons olive oil
Wooden skewers
Soak wooden skewers in water for about 15 minutes to prevent burning on the grill. Combine garlic and olive oil in a small dish. Prep grill to medium-high heat. Thread shrimp and sausage alternately on the skewers. Brush with the garlic oil. Grill skewers on each side 3-4 minutes, until sausage is heated through and shrimp turns pink. Continue to baste with the garlic oil as grilling. Serves 4-6.
Fran Hill has been blogging about food at On My Plate since October of 2006. She, her husband and two dogs reside near Colome.