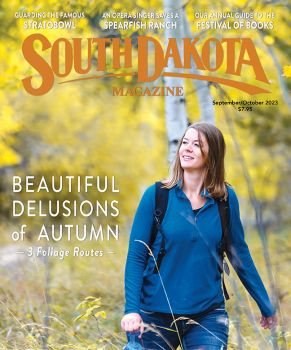 Subscriptions to South Dakota Magazine make great gifts!
Subscribe today — 1 year (6 issues) is just $29!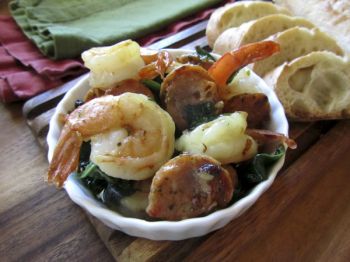 Dear Brian
Jan 9, 2014
By Fran Hill

Dear Brian,
Your kind words regarding the "Sweet Holiday Traditions" article in the November/December issue of South Dakota Magazine were very appreciated. I was so flattered that you enjoyed the Butter Pecan Fudge recipe in the portion of the article featuring my traditions for our annual holiday party and that you expressed an interest in the Shrimp Scampi with Chicken Sausage and Spinach appetizer that was also mentioned. But I am a doofus. A dork. A distracted loser.
I could make lots of excuses about being busy since receiving your email inquiry, and with Thanksgiving and Christmas and New Year's and travel and guests and parties and work(?!?) and appointments and baking and cooking and end of the year stuff and lounging on the sofa and napping and being a bum and trying not to freeze to death, I HAVE been busy. But really not so busy that I have any kind of solid excuse for the tardiness of my reply to you. I am a doofus. And I am sorry.
Please accept my sincere apologies, and also please enjoy this delicious recipe. Our friends and family love shrimp scampi, and many years ago when pulling together an appetizer menu for our holiday party, it seemed like a natural addition. Served alongside crusty bread to dip and swirl in the buttery garlic sauce, the shrimp are a hearty balance to the lighter offerings on the appetizer buffet.
Over the years, the recipe has evolved to include some chicken sausages (Those with mozzarella and roasted garlic are a favorite.) and even a handful of wilted spinach. When we aren't serving bite-sized portions as an appetizer for a party, the shrimp is excellent tossed with pasta for a complete meal. Shrimp Scampi with Chicken Sausage and Spinach is no doofus. That's just me.
---
Shrimp Scampi with Chicken Sausage and Spinach
2-3 chicken sausages, sliced (choose one with garlic, sundried tomatoes, or cheeses to enhance the flavor of the final dish)
1/4 cup onion, chopped
4-5 cloves garlic, minced
1-2 tablespoons olive oil
4-6 tablespoons unsalted butter
1 pound large shrimp, peeled and de-veined, tail on
Hefty pinch of red pepper flakes
Salt and freshly ground black pepper
1/2 cup of white wine (choose a dry wine, not a sweet one)
2-3 cups fresh spinach, chopped
Heat olive oil in a large sauté pan. Add the sliced sausages and sauté until slightly browned and heated through. Remove from pan and set aside to keep warm. Add butter to the pan and melt, scraping the pan to pull up crisped bits (flavor) from the sausages. Add onion and cook, stirring, until tender and translucent. Add garlic and cook just a minute to infuse the butter, but don't allow the garlic to brown. (Browned garlic can be bitter.) Add the shrimp and the wine and toss to coat with the butter and again scrape the bottom of the pan to pull up any browned bits. Season with red pepper flakes and salt and pepper to taste. As the shrimp begins to turn pink, return the sausage to the pan. Add in the fresh spinach, stirring to coat. Cover the pan with a lid to finish cooking the shrimp and wilt the spinach, about 2-4 minutes. Do not overcook. Rubbery shrimp is a doofus. Serves 4-6.

Fran Hill has been blogging about food at On My Plate since October of 2006. She, her husband and their two dogs ranch near Colome.