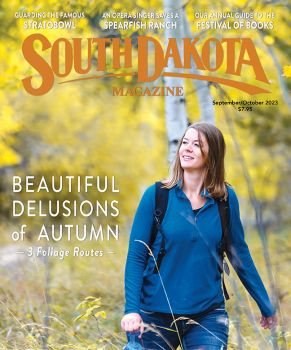 Subscriptions to South Dakota Magazine make great gifts!
Subscribe today — 1 year (6 issues) is just $29!

Spearfish's Pot Pedaler
Mar 7, 2018
By Michael Zimny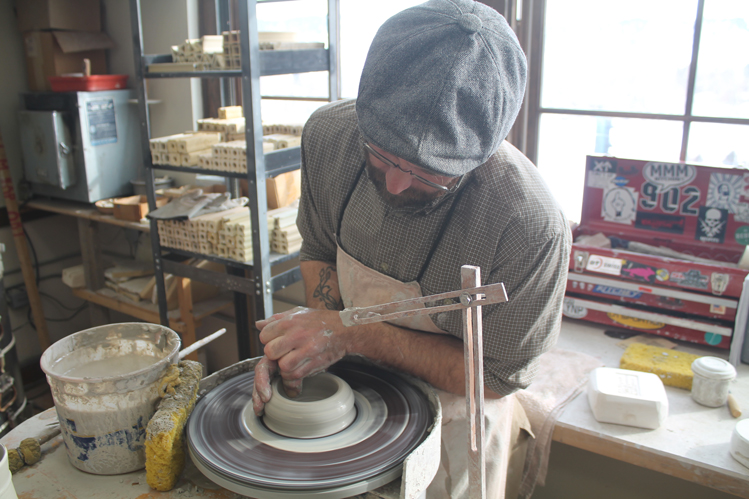 Clay Dykstra in his Black Hills State University studio.
"This has got to be the best view in town," says Clay Dykstra, gazing at Lookout Mountain from the windows of his Black Hills State University ceramics classroom.
Dykstra knows it well. He's cranked his way up the mountain countless times since junior high, when the Spearfish mountain biking scene was growing out of its training wheels.
"Lookout Mountain was some of the first trail that a lot of us got to ride," Dykstra says. "It's close to town, so that's kind of where you cut your teeth. For the most part in the early days it was a mix of hiking trails, fire roads and old logging roads."
In a way, his potter's wheel and all that two-wheel trail time share a common axis. When he moved back to Spearfish after college in Wyoming, one of the first works he made in clay was a trophy for the Dakota Five-O.
"It's a really cool event and something that I'm passionate about. I just did it voluntarily. Then I started making mugs." Twelve years later, he's still making kiln-fired wares for riders at events like the Five-O and the 28 Below, in a town where mountain biking has become engrained in the local culture.
Dykstra Pottery has also expanded into making vessels for local independent businesses. You can find his mugs at Green Bean Coffee and Blackbird Espresso in Spearfish, Sturgis Coffee Company and Harriet & Oak in Rapid City. His tankards have been a feature at Flanagan's pub in Spearfish for years.
Through homegrown connections and dedication to his craft he's finding a way to make it doing what he loves. He's also passing along the knowledge he's acquired through the years as an adjunct professor at BHSU.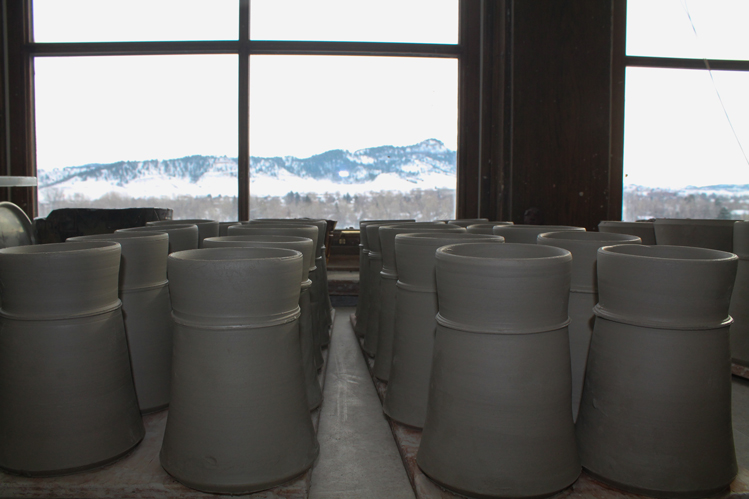 Lookout Mountain is the backdrop for Dykstra's creative space.
He's had some good teachers himself. "Dan Binder was the ceramics teacher at Spearfish High School. When I was a junior I thought it would be really cool to take a class from him. There were definitely a lot of kids that were better at it than I was. But I took a second semester in my senior year, and I'd go in during my free hour and make pots."
He attended Northwest College, near Yellowstone, to study anthropology. "My goal at the time was to be an archaeologist. I've done a lot of volunteering with the Forest Service here and been on a number of digs in the area, so I thought being an archaeologist would be cool." But the wheel had cast a hypnotic spell on him. "Pottery was open and unattended. They had a big box of clay and I'd go in and make some pots."
"Then I kind of realized that the more I got educated, the more I'd be behind a desk. And it wasn't the desk stuff that I liked. It was digging and walking around. I liked reading about it too, but I didn't want to sit behind a desk most of the time. So I realized, 'Okay, I think I want to be a potter.' And I started getting serious about it."
He continued his education at Casper College under the tutelage of respected potter and longtime ceramics instructor Lynn Munns.
Since moving back to Spearfish, he's experimented with different formulas for making it as a small town potter, often doing other work — construction gigs and managing the family business (Good Earth Natural Foods) — to get by.
He estimates that the work he does for local businesses comprises the majority of his output. "It's about ninety percent of what I'm doing. To make it as a potter in the Black Hills, you've got to branch out and do some different things."
Making it here has challenges, but it can also inspire.
"The natural world, aesthetically, is a huge influence on me. Some of my favorite pots — I see them as pieces of a whole, like that really interesting stone that you see on the side of a trail, or that interesting branch on a gnarly old tree. If I had no limitations and could just make what I want, I'd make pots that look as if they were left on the side of a trail. They'd just look like they belonged there."
Michael Zimny is the social media engagement specialist for South Dakota Public Broadcasting in Vermillion. He blogs for SDPB and contributes arts columns to the South Dakota Magazine website.