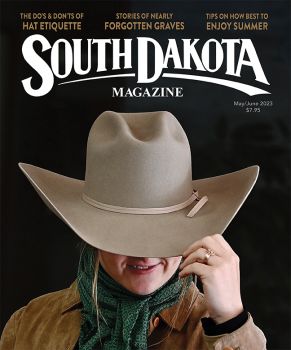 Subscriptions to South Dakota Magazine make great gifts!
Subscribe today — 1 year (6 issues) is just $29!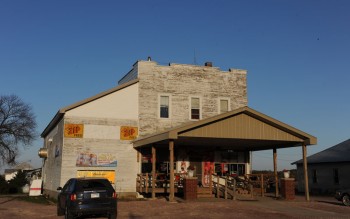 Spink: Open For Business
May 9, 2011
By Bernie Hunhoff
To insiders in southeast South Dakota, the tiny "map spot" called Spink is a diamond in the rough. Here at South Dakota Magazine, we became fans of the town in the summer of 1992 when we spent a day there with Myrtle Twedt, then the town matriarch.

Myrtle had painted more than 100 paintings by then, and most of them were of the town she lived in and loved. The family home (which is still owned by the Twedt family and stands just north of the Spink Store, is still in great condition. It was built by Johannes Larson, her grandfather, more than 135 years ago.

Myrtle and her husband once ran the store. In fact, they struck gold. They were there when the REA strung lines. "We sold Maytag washers by the carload," she said. They also had a locker plant and a creamery. Where did all the entrepreneurs go?

Well, a few are still in Spink — including John and Diane Otten, who have been running an old-style restaurant in the Spink Store. We stopped by the other night, and there was a good crowd of local folks enjoying a spring evening at the store. The Ottens told me they serve breakfast, lunch and dinner. They have evening specials. Saturday night prime rib is — no surprise here — the biggest "seller," says John. But spaghetti Wednesdays are also good. They are open 8 a.m. to 8 p.m. daily, and 'till 10 p.m. Fridays and Saturdays. They do quit on Sundays at 2 p.m. — such slackers in Union County.

A classic old Jeep is for sale across the street for $3,000.

After we featured Myrtle's art in 1992, Ted Hustead of Wall Drug called and ordered one of the paintings we pictured. It still hangs in the main hallway of the world's funnest pharmacy. Myrtle was thrilled, and so are we every time we see it hanging there.