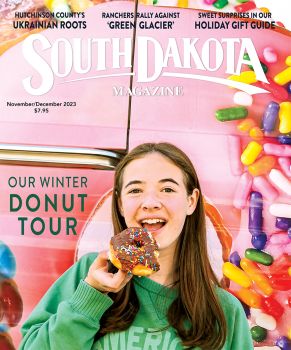 Subscriptions to South Dakota Magazine make great gifts!
Subscribe today — 1 year (6 issues) is just $29!

Hot Springs' Square Thinker
Jul 13, 2011
People believed for centuries that the earth was flat. Hot Springs businessman Orlando Ferguson thought it was "square and stationary," and believed it so vociferously that he delivered a series of lectures on the topic and printed maps to visualize his idea.
Ferguson has been in the news lately because an original copy of his map, printed in 1893, turned up in the home of Don Homuth, a retired North Dakota lawmaker who now lives in Salem, Ore. The map resembles a bundt cake pan turned upside down. The continents and oceans lie around an indented ring, while the North Pole is raised in the center. The sun and moon are attached to an actual pole rising from that point. Homuth donated the map to the Library of Congress. Now the Internet is abuzz with stories about this relatively unknown West River character.
Ferguson was born in Illinois and moved to Miner County in the early 1880s. The family later relocated to the Black Hills and established themselves in Hot Springs in 1886. There he managed the Catholican bathhouse for several years before he built his own, called the Siloam, which he operated until his death in 1911.
Ferguson referred to himself as both "doctor" and "professor," but Fall River County historians can't find any evidence that he was either one. "There's no indication that he was a professor in any academic sense of the word, other than he professed to know the truth," says James Bingham, president of the Hot Springs Pioneer Museum's Board of Directors. "And we've found nothing to indicate he went to medical school. He simply claimed to be a healer of some kind with his bathhouses."
His astronomical principles were based on a very literal interpretation of the Bible, beginning with the reference to angels visiting the four corners of the earth. From there, he developed his "square and stationary" idea, which he detailed for audiences at Hot Springs' Morris Opera House in 1891. From those lectures, he wrote a 60-page pamphlet, full of other theories. He claimed the sun was 30 miles in diameter and just 3,000 miles from earth. His reasoning? If you stand at the equator on March 21, when the sun is directly overhead, then the distance you can walk north or south without casting a shadow is equal to the diameter of the sun.
He also shunned the idea of gravity. Instead he thought atmospheric pressure held people down and pushed the oceans up the sides of his indented map.
Today people debate the merits of Ferguson's beliefs. Many are surprised that anyone in the 19th century would contend the earth was anything but a globe. Some wonder if he had ulterior motives. "For a long time, when I looked at that map, I wondered if he was just throwing it out there for entertainment value," Bingham says. "But now I think he was serious."
The Pioneer Museum has an original map and a copy of Ferguson's pamphlet. Visit and judge for yourself.