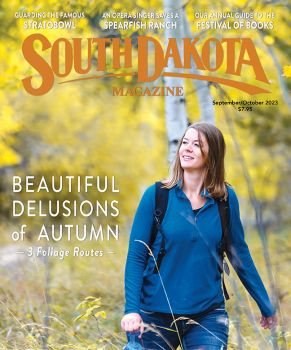 Subscriptions to South Dakota Magazine make great gifts!
Subscribe today — 1 year (6 issues) is just $29!

Freeman's Savory Soup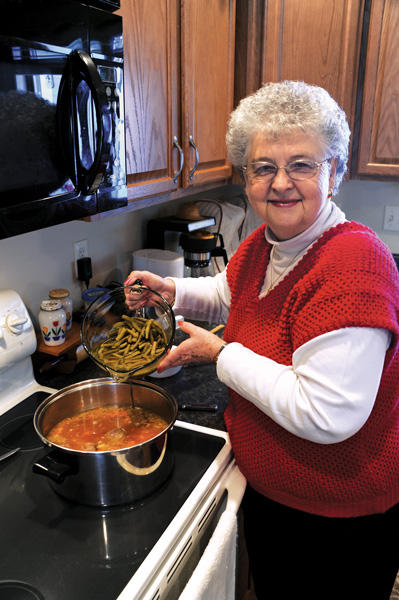 Green beans star in Joyce Hofer's soup, but its flavor comes from summer savory, an herb rarely used in other German cooking.
Call it what you want: pepper weed, bohnenkraut, gartenkraut or a pillar of the spice mixture "herbes de provence." Germans in Freeman know it simply as summer savory, an essential component of the green bean soup that has been part of Schmeckfest's first course since the annual "tasting festival" began in 1959.
Summer savory boasts a piney, peppery flavor, similar to thyme or oregano. It is believed to help digest beans, which could explain how savory, otherwise used sparingly in German cuisine, became such an important ingredient in green bean soup. "It has such a distinct flavor," says Joyce Hofer. "I don't know that they use it anywhere else but the green bean soup. That's all I ever use it in, too."
Green bean soup, along with noodle soup and salad, is one of the first dishes served at the family style buffet in the basement of Pioneer Hall on the Freeman Academy campus. The soup has its origins with the Low German people, one of three Anabaptist ethnic groups that founded Freeman in the early 1880s. The others (the Hutters and the Swiss) traditionally prepared their own signature dishes to be served at Schmeckfest. Hutters made noodle soup, beef stew and their unique sweetened sauerkraut. The Swiss were known for their poppy seed rolls. "You just kind of stuck to the dishes you knew," says Hofer, who counts herself among the Hutters. "Now it's done communally, because there aren't enough Low German women to make just the green bean soup."
Summer savory isn't a culinary secret, though Schmeckfest diners are often heard asking what gives the soup its unique essence. The herb's history can be traced to early Greece. Mythological creatures called satyrs were often shown wearing crowns of savory. People in the Middle Ages wore savory garlands to prevent drowsiness. When the Emperor Charlemagne ruled over Western Europe in the early ninth century, he included summer savory on his list of herbs to be grown in his royal gardens. Savory's role in German cooking began at about the same time, when monks brought the herb from its native region along the Mediterranean Sea in southern Europe to their monastery gardens in Germany.
In the 16th and 17th centuries, the upper class citizenry of Western Europe grew savory in "gardens of delight." Today you'll find it growing in the backyard gardens of several Freeman chefs. A handful of gardeners sell tiny bags of savory at the Country Kitchen shop set up during Schmeckfest every year. Hofer bought a bag for $3.50 in 2013, and was still using it as 2014's festival approached. "I try to buy enough to use through the year," she says. "What you can grow is better than what you can buy, but what you get at the store is better than nothing."
While savory dispenses a unique flavor, large quantities of the herb eaten directly can be unpalatable. That's why Hofer places sprigs inside a tea strainer, and hangs it over the edge of the pot as the soup simmers. "You probably wouldn't want to eat the savory itself," Hofer says. "It has a slight aroma, but it really comes out when it mixes with other ingredients of the soup."
Bought or grown, that's what makes Schmeckfest's green bean soup a dish to savor.
Schmeckfest 2019 is scheduled for March 29-30 and April 5-6 on the Freeman Academy campus.
---
Grüne Schauble Suppe
Joyce Hofer's green bean soup recipe is adapted from the Schmeckfest recipe that feeds 1,000 guests and 250 workers on each of the festival's four nights.
ham bone (optional)
1/2 gallon water

1/2 lb. smoked ham

2 1/2 to 3 cups potatoes
1/2 cup chopped onion
3 or 4 sprigs summer savory

1/2 cup finely diced or ground carrots
2 cans string beans (16 oz. total)

2 tablespoons sour cream
Cook smoked ham bone or smoked ham in water until tender. The last half hour before serving, add potatoes (cut in 1/2-inch cubes), carrots, onions and summer savory, using a tea strainer hung over the edge of the pot. When the vegetables are tender, add beans, including the juice, and sour cream. May substitute 1 pound of fresh-cut green beans and cream or butter for sour cream, if desired. Ham base may be added for extra flavor. Hofer says the soup is best when allowed to simmer at least an hour, but it can be eaten when completely heated.
Editor's Note: This story is revised from the March/April 2014 issue of South Dakota Magazine. To order a copy or to subscribe, call (800) 456-5117.