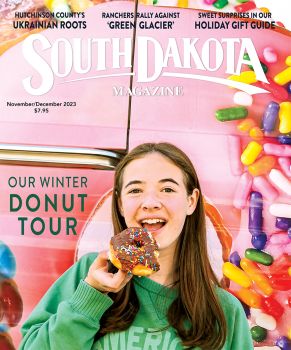 Subscriptions to South Dakota Magazine make great gifts!
Subscribe today — 1 year (6 issues) is just $29!

Noodles & Strudels for the Soul
By John Andrews
Editor's Note: This story is revised from the November/December 2012 issue of South Dakota Magazine. To order a copy or to subscribe, call (800) 456-5117.
A man sporting a thick salt and pepper beard eyed me suspiciously from his slowly passing pickup as I approached the back door of the Dakota Cafe. It was shortly after 10 a.m. on a Monday morning, and we both knew the cafe hadn't yet opened, but owner Cris Mayer had assured me I would find the key in the door.
The Dakota Cafe in Hosmer was my first stop on a journey exploring South Dakota's rich heritage of German cuisine. In two days of eating my way through McPherson and Edmunds counties — two of the most German-rich counties in South Dakota — I'd consumed German noodles, cheese buttons, strudels, dumplings, kuchen and sausage that is fried in kitchens from coast to coast. Had my trip simply been about discovering delicious ethnic food, it was a resounding success. But it also became a fascinating journey through hundreds of years of American and European history, tracing how Germans from Russia were forced to cut ties with their homeland twice, and how the food served in several South Dakota restaurants helps descendants retain their cultural identity.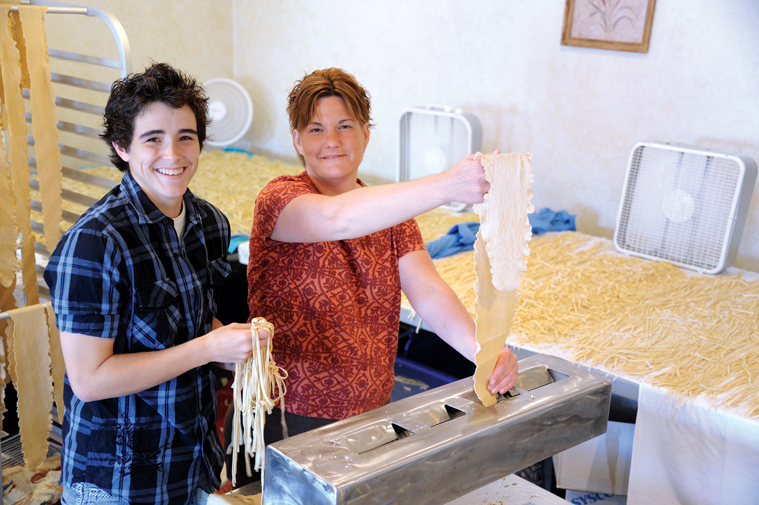 Miranda Brower (left) and Sarah Aman prepare German noodles at the Dakota Cafe in Hosmer.
Hosmer and Eureka are decidedly German communities in a predominantly German state. The federal government stopped asking census respondents about their ethnic heritage in 2010, but in 2000 over 40 percent of South Dakotans claimed a German background, the largest ethnicity reported. Out of 208 people surveyed in Hosmer, 141 (78.8 percent) indicated German heritage and 51 (28.5 percent) marked Russian. In Eureka, 706 of its 868 residents claimed German lineage and 207 said Russian. Listen closely and you'll still hear a slight German brogue among locals.
So it might have been easy for Dan and Cris Mayer to feel out of place when they moved to Hosmer in 2000. The Mayers had earned a living revamping restaurants in Scandinavian-rich Minnesota and sought a change of scenery. They attended an auction in North Dakota and learned the following day that their $1,000 bid had purchased a house in Hosmer. "We didn't know what we bid on," Cris Mayer says. "It was a huge leap of faith."
A higher power may indeed have been involved. The city of Hosmer had built a restaurant in 1994, but it lacked consistent ownership. The Mayers, with their extensive restaurant background, bought the business and have been making meals ever since.
The Mayers are admittedly comfortable cooking standard restaurant fare, but the town's German citizenry had grown accustomed to eating a traditional ethnic meal once a week. German cooking was a foreign concept, so they turned to Ruth Schumacher, a Hosmer native who grew up on a farm learning recipes for strudels, dumplings, cheese buttons and hot potato salad from her mother.
"I enjoyed helping my mother any chance I could," Schumacher says. She discovered as a child how seriously her mother treated cooking.
"My mother was very particular about when her bread rose, and when it was time to go into the oven," she recalls. "My brother was mischievous anyway. The bread was ready to put in oven and he pinched it and it flopped down. Mother happened to come in the kitchen. My brother was fast, but mother caught me and I got a spanking. I always said it wasn't my fault, and I blamed my brother until his dying day."
Schumacher taught at a rural school and in Hosmer for 43 years, all while retaining the German recipes she had learned. When her granddaughter began waitressing for the Mayers, she bragged about the German food Schumacher made. The cafe owners invited her to help on Tuesdays. Now she helps plan the weekly meal and keeps track of what is served.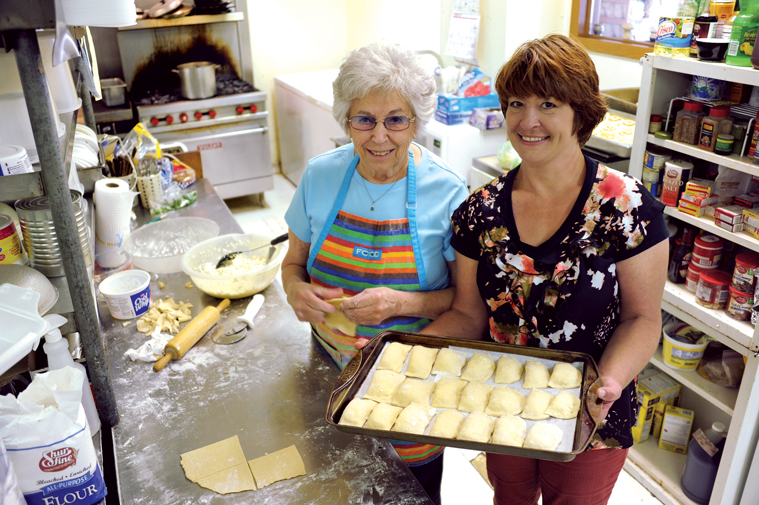 Ruth Schumacher (left) and Cris Mayer prepare a traditional German meal weekly at the Dakota Cafe.
Schumacher was busily preparing batches of cheese buttons on the day I visited. "You can boil them or you can fry them, just a couple of minutes," she says, carefully placing a spoonful of dry cottage cheese mixture onto the dough, and folding it into a tiny pocket.
On the east side of the restaurant, box fans on full blast were busily drying piles of German noodles produced by M.A.'s Noodla, Hosmer's noodle company. Long, flat pieces of dough are run through a machine that produces strings of noodles that can be cooked in soups and dozens of other German dishes. M.A.'s makes 19 varieties that are sold in nearly 30 grocery stores.
Hosmer's Noodle Company had been in business since 1987 when the Mayers and Hosmer resident Sarah Aman bought it in July and moved its operations to the cafe. A portion of the restaurant is blocked off once a week so the noodlers can work. "Noodling was big for the Germans of this area," Mayer says. "They noodled when they first arrived here as pioneers. They'd cut them out and lay them over their cupboards to dry."
Dough foods like noodles, strudels and dumplings are staples of the German diet. They require years to perfect, as I discovered when I met the strudel queen of McPherson County. Vicki Lapka makes a variety of German foods, but she's the person everyone in Eureka seeks when looking for strudels. We visited her restaurant, the Lyric Lanes, on a Tuesday morning as she prepared her weekly German meal.
Lapka, a fifth-generation descendant of Germans from Russia, learned strudels and other German delicacies from her grandmother while growing up around Mound City. But after high school she and her husband moved to the Twin Cities, and those German recipes lay dormant for 15 years. In January 1992 they moved back to Eureka, bought the Lyric, and inherited its Saturday night German buffet. Lapka's mother helped her relearn German cooking, and the weekly German meal, now on Tuesday afternoons, has remained a tradition.
Meals include sausage, dumplings, pigs in a blanket or knoepfle soup, but Lapka's specialty is strudels. It was one of the first recipes she learned, and years of practice have made her an expert. Three electric skillets sat atop her counter when I arrived. She added water, lard, onions and potatoes, then set strudels on top and closed the lid. "If you open them while they're cooking they just drop," Lapka explained. "You'll have flat dumplings and flat strudels. My kids learned the hard way. If I was making dumplings or strudels, they stayed out of the kitchen."
Strudels are a temperamental food. If the water is just a few degrees too cool or too hot, the yeast won't react correctly. And of course they must remain covered. Since Lapka can't see them cook, she tips the pan after 30 minutes of cooking and listens to see if they are frying inside. If there's no sizzle, she knows they need more time. Before I left, Lapka showed me freezers packed with 150 pounds of strudels to fill orders from townspeople.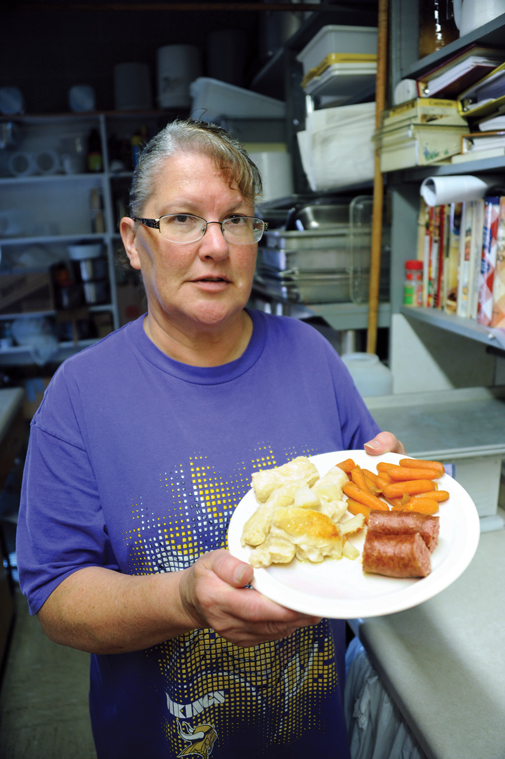 Strudels are a local staple and can be served with sausage and carrots at Vicki Lapka's weekly German meal.
The foods I sampled in Hosmer and Eureka have been staples of the German diet for centuries, and became part of the South Dakota culinary scene because of events that began unfolding in Europe nearly 250 years ago. Eighteenth century Germany was embroiled in near constant war and home to a state religion that all citizens were required to practice. In 1763, German-born Russian empress Catherine the Great extended an olive branch to her people: she offered freedom from military service and 162 acres of land near the Black and Caspian seas.
Nearly 40,000 Germans relocated over the next century, settling in the Volga River valley and the foothills of the Caucasus Mountains. They lived in tightly knit pockets, practicing their own religion, making their food and observing other social customs. Their successful farming practices transformed southern Russia into the region's breadbasket. But in 1871, Czar Alexander II revoked Catherine's edict. Once again, the Germans sought a new homeland.
At the same time, promoters in Dakota Territory were busily recruiting homesteaders to settle the land many Americans derisively called the Great American Desert. Land agents, aware of the Germans' plight, sent literature to the Russian steppes, hoping to lure the farmers across the ocean. The Germans were intrigued by the Dakota proposition and sent five men to Yankton in 1873 to scout settlement locations.
Thus began the great German migration, which coincided with the Dakota Boom years of 1878 to 1887. In 1880, there were 81,781 people in Dakota Territory. By 1890 the population had swelled to 328,808. Many Schwartzmeerdeutsche, or Black Sea Germans, settled in what became known as the German Russian Triangle of southeastern North Dakota and northeastern South Dakota, especially McPherson County. Another pocket emerged around Freeman and Menno in Hutchinson County. "We were the original draft dodgers," explained Sally Roesch Wagner's uncle John in Wagner's Daughters of Dakota series.
Wagner's ancestors left their home in Glueckstahl for a new life in America. Like other German families who endured similar relocations, one comforting constant was food. Wagner wrote that her grandmother's life remained centered around German cuisine. "Grandma cooked like she had in the old country," Wagner wrote. "Halupsi, or pigs in a blanket as we called the rice, hamburger, cream and tomato wrapped in a cabbage leaf she made for us." Other German dishes included hot potato salad, a deep red beet soup called borscht, wine soup, kuechla and kuchen, "the bread dough with a fruit and custard filling that some call a cake and others a pie."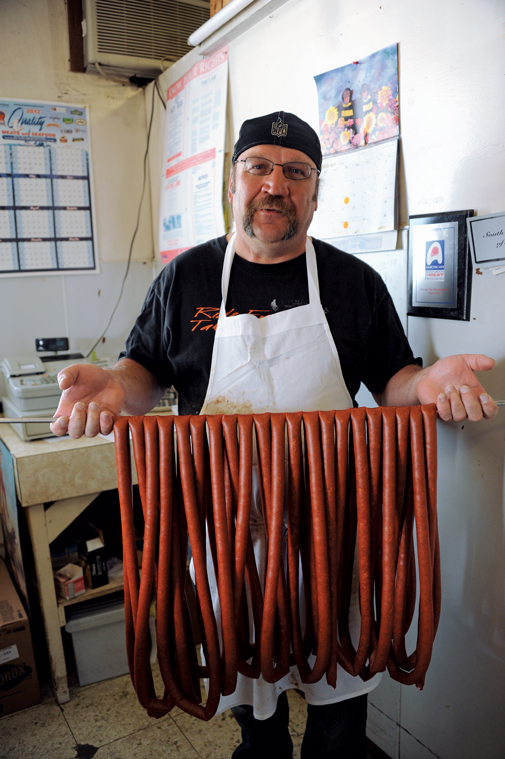 Gerard Heier and his brother David make pepper sticks, sausage and brats at their Hosmer meat market.
Food has remained a constant comfort for South Dakota's Germans in a way that's unmatched among descendants of other European homesteaders. "Nationalities still are associated with cuisines, but the interest in preserving these associations by eating specific foods everyday may vary widely," wrote Gregory Mader in his master's thesis on ethnic food in the Upper Midwest. Norwegians continue their traditional lutefisk feeds during winter months. Danes make pancake balls called aebleskiver every summer at Viborg's Danish Days. And the Dalesburg Midsommar Festival features a Scandinavian smorgasbord annually on the summer solstice. But you can find a traditional German meal in cafes across South Dakota every week throughout the year.
The tiny town of Tolstoy in Potter County was without a cafe until Brad and Joletta Naef arrived in 2009. The Naefs had careers in California, but they retired to the town of 36 people and opened Dakota Jo's Cafe in the old post office. On Thursdays the Naefs serve a German buffet with dishes Joletta learned to make while growing up on a farm five miles northeast of Tolstoy. Favorites include halupii (a cabbage roll with rice, hamburger and tomato), cheese buttons, spaetzle with German sausage, fleisch kuchle and a pumpkin-filled pastry called plachinda. "And there's a group of ladies who leave sad if we've run out of knoepfle soup," Naef says.
The Main Street Cafe in Bowdle serves German food on Thursdays and stages a grand German buffet the first Sunday of the month. Farther south, Rita Hoff responded to the demands of Menno's citizenry and began serving German food on Tuesdays. Another delicacy with German origins is chislic, a local favorite served anytime at Papa's in Freeman or Meridian Corner, at the junction of highways 18 and 81 halfway between Freeman and Yankton. The skewered mutton arrived in Hutchinson County with John Hoellwarth, a German immigrant from Russia. Papa's serves 3, 6, 9 or 12 sticks either deep fat fried or grilled with lemon pepper, garlic pepper, barbeque or plain. Meridian Corner offers chislic with garlic salt or a special Greek seasoning.
All the German food served in cafes is homemade, including the sausage, which most likely comes from the local meat market. Gerard Heier and Larry Kauk may not realize it, but they are among the most respected members of the German food culture hierarchy. "Germans developed butchering and sausage making into a fine art," wrote Rose Marie Gueldner in her book, German Food and Folkways. "Even after the wane of farm butchering in the last half of the 1900s, the reputation of the German Metzger and Wurstmeister was carried on by individuals doing custom butchering and small town grocers making and selling sausage. During settlement and succeeding decades most country people had no reason to patronize the town's meat market except to occasionally buy several rings, sticks or links of sausage from a butcher so esteemed in the craft that his name and products were spoken with a certain reverence."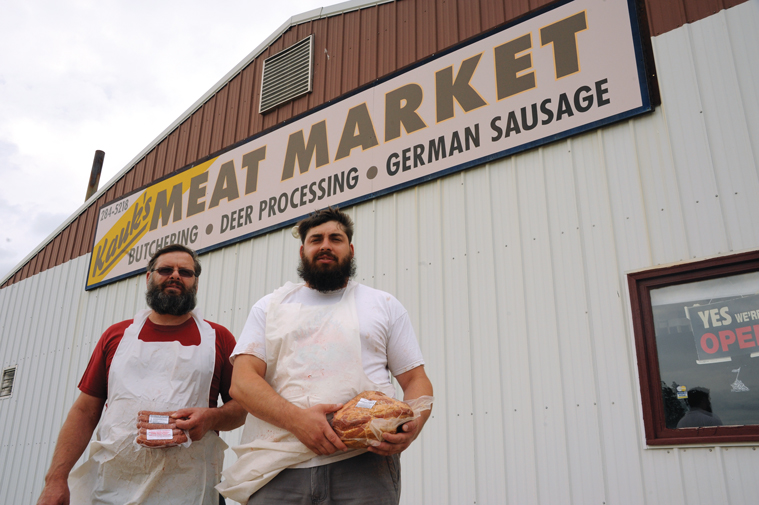 Eureka butchers Larry Kauk (left) and his son Tim ship their authentic German fry sausage from coast to coast.
Meat is king in German cuisine, and pork is the star. German families chose to butcher hogs because cows produced milk and far more meat than a family could consume before spoilage. With hogs, families could "use everything but the squeal," Gueldner wrote. Butchers carved hams, roasts, bacon and sausage. Hog fat became lard, and the intestines provided perfect casings for specialty sausages.
Heier and Kauk both come from butchering families. Heier's ancestors followed the Germany-to-Russia-to-South Dakota route, disembarking the train in Hosmer and homesteading six miles northwest of town. His father, Joseph, opened Heier's Meat Market one block off Hosmer's main street in 1966 using his grandfather's locally famous sausage recipe.
Heier began working in the locker at age 10, but he left Hosmer to work as a computer technician in Rapid City. He returned in 1981 to take over the meat market after his father died. He and his brother, David, have tinkered with the family recipe, and their sausage remains so popular that they make 100,000 pounds every year. "We'll sell the spices, but we won't give out the recipe," Heier says. "We've had a lot of calls from people who want to know, but we won't give it out."
Other wurstmeisters follow the tenets of sausage secrecy, but not Larry Kauk. Both of Kauk's grandfathers were butchers, and he learned the trade on the family farm near Artas. In 1982 he built a huge locker and processing facility on the north side of Eureka along Highway 47. Kauk's meat market produces hams, steaks, brats, but their signature item is fry sausage. They ship hundreds of pounds of fry sausage to McPherson County expatriates from coast to coast.
"There's no secret to it," Kauk says, matter-of-factly. "We make it the way the old Germans did in the old days. You take good, fresh pork meat and add salt, pepper and garlic. I'm sorry if you were looking for some big surprise. The people who used to make it years ago are all in the grave, so that's why I keep doing it. That's what I hear all the time. 'Dad used to make that and now we can't find it anymore.' So we're not doing anything different."
Still, people can't seem to replicate Kauk's fry sausage. That's evident in the 2,000 pounds he and his cadre of butchers make every week.
Traditional German cuisine remains popular around the state. "You should have bought me some liver sausage," one relative said after he'd learned I had visited Kauk's. The butchers and chefs I met are artisans, guardians of a food culture that dates back hundreds of years and across three continents. But I noticed a lack of youth in the places I visited. Perhaps they are steering clear of the heavy German food, especially when so much attention is directed toward obesity. Foods cooked in lard don't necessarily subscribe to any nutritionist's plan for healthy eating. Many German recipes have stood the test of time, but some small town chefs worry that eventually no one will remember how to prepare them.
"That's really sad," Lapka says. "They'll come in and ask for a pan full of strudels. Well they could cook them, but they don't know how. It's so easy to just come buy the strudels, go home and cook them, but they don't want to do that. Once I get up there to where I can't really do it anymore, my kids have never really learned it. My daughter can do knoepfle, but she hasn't mastered strudels yet. I hope to teach them. If we don't keep this going, we're going to lose it all."
If any 20- or 30-somethings want to learn to make strudels, dumplings or fleish kuechle, they will find many willing teachers. In the meantime, a hot bowl of knoepfle soup or a plate of cheese buttons is never more than a few days away.
---
Ruth Schumacher's Cheese Buttons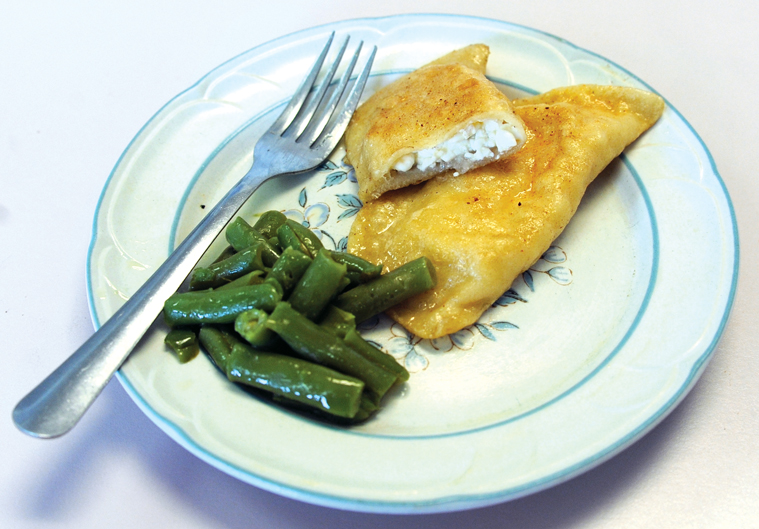 Traditional German cheese buttons can be boiled or fried.
Ingredients
Dough:
3 cups flour
1/2 teaspoon salt
2 eggs
3/4 cup water
Filling:
22 ounces cottage cheese
2 eggs
salt and pepper to taste
Combine ingredients and roll out dough. Cut into 4-inch squares. Put 1 tablespoon of the cheese mixture onto square. Press edges to seal. Boil for 7 to 10 minutes until they float and then drain, or fry in butter at 350 degrees for 2 to 3 minutes on each side. Top with fried breadcrumbs or seasoned salt.