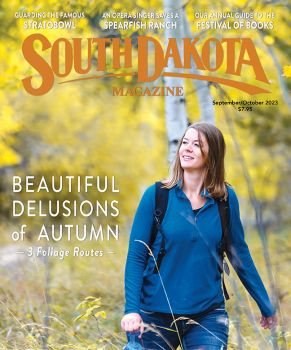 Subscriptions to South Dakota Magazine make great gifts!
Subscribe today — 1 year (6 issues) is just $29!

Sweet Corn for Winter
Sep 17, 2015
By Fran Hill
The first day of autumn isn't until next week, but fall harvest is well underway. Wheat has all been culled from the fields, and the straw baled. The final cuttings of alfalfa are laying in windrows. Silage choppers are converting corn and cane into feed. We are just a few weeks from the beginning of combining corn, followed by milo.
Just as farmers are reaping the rewards of the growing season, our gardens are turning out ripe tomatoes to be canned. Cucumbers are pickled. Onions are drying. Chokecherries, wild grapes and plums have been jellied and apples are waiting their turn. It is all a lot of effort, but incredibly worthwhile.
I was lucky enough to have friends with a large sweet corn patch this year. Last month, we picked, shucked and processed dozens of ears in preparation for winter meals. There are a variety of methods for processing sweet corn, but I favor a simple approach. I don't add extra butter, sugar, salt or cream. I prefer simply frozen sweet corn. Plain corn can be used in so many ways throughout the winter. I can add a handful to soups and stews, defrost and stir into salsas, add to pasta dishes, make the sweet corn gravy that I love for my deconstructed fish chowder or simply have sweet corn as a side dish.
While I may freeze simple sweet corn, the side dish needn't be so plain. A copycat recipe for a famous brand's Corn in Butter Sauce is always a winner for us. It is easy enough for weeknight suppers and dressed up enough to grace a holiday table. Sweet corn harvest is very much worth all the work for Corn in Butter Sauce on my plate.
---
Corn in Butter Sauce
Enjoy summer's sweet corn all year long with recipes like corn in butter sauce.
3 cups frozen corn kernels
1/2 to 1 teaspoon salt
1/2 to 1 teaspoon sugar
4 tablespoons butter
1/2 cup water
1 teaspoon cornstarch
Combine corn (may defrost first, if desired), salt, sugar, and butter in a saucepan. Stir over medium heat until butter is melted and corn is heated through. Dissolve cornstarch into the water. Slowly add to the corn and stir thoroughly. Reduce heat and simmer until sauce thickens and corn is tender. (Serves 6)
Fran Hill has been blogging about food at On My Plate since October of 2006. She, her husband and their two dogs ranch near Colome.