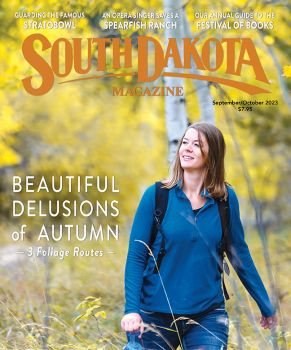 Subscriptions to South Dakota Magazine make great gifts!
Subscribe today — 1 year (6 issues) is just $29!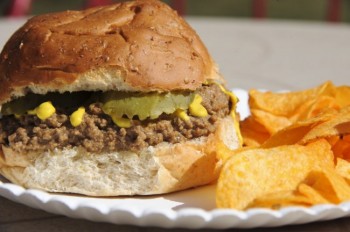 The Humble Tavern
Mar 13, 2012
I've never been much of a proselytizer — it seems impolite to tell people what they ought to believe when they're surely capable of figuring it out for themselves. However, the urge will occasionally strike, usually in fairly absurd places. I discovered one of my soft spots while leafing through the Vangen Lutheran Church cookbook looking for inspiration. It was filled with good, solid, unobjectionable Midwestern cuisine until I got to the tavern section and started looking at the ingredients. Tomato soup? KETCHUP? That's not right at all! Could it be that the good Lutheran women of Mission Hill didn't know how to make a proper tavern?
I felt sick. How could my old friends and neighbors go off to serve their Lord in that great soup kitchen in the sky with these inferior loosemeat sandwich concoctions? Concerned for the state of their souls, I vowed to go forth waving the royal banner and sounding trumpets to gain converts to the one true tavern recipe, the one my grandmother stirred up so many times over the years, bringing delight to all who partook. I'd go out and preach in the streets. Heck, I was even prepared to battle my South Dakota Magazine co-workers over the correct way to make this most South Dakotan sandwich.
Sadly, this religious fervor was soon squelched. I conferred with my aunt, who broke it to me gently: there is no recipe. Grandma followed a very simple procedure, amping up the beefy flavor with beef bouillion granules or cubes if necessary. With no clear law to lay down, my career as a tavern missionary was over before it began.
Now that reality has humbled me once again, I come to you in a less aggressive spirit. How do you like to make taverns? What do you call them? Here's how we do it in my little corner of Yankton County.
---

Taverns, Johnson Style
2 lbs. hamburger
1 large onion
Salt
Pepper
Water, beef or chicken stock
Finely mince onion. Mix onion and hamburger in a heavy pot. Cover with water or stock and bring to a boil. Cover and cook until the mixture turns grainy, stirring whenever you happen to pass by the stove. This could take hours. After the beef has broken down into tiny particles, uncover and let the water cook out until the meat is thick enough to serve on a bun. Add salt and pepper to taste. Serve with mustard and a pickle slice or two.