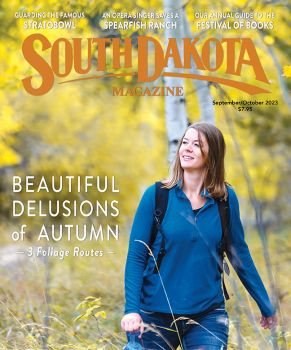 Subscriptions to South Dakota Magazine make great gifts!
Subscribe today — 1 year (6 issues) is just $29!

The Vinegar Man
By Jennifer Thom
It surprised both Lawrence Diggs and the reference librarian at the San Francisco Public Library that they couldn't find any information on vinegar. He had recently purchased balsamic vinegar and wanted to find out how to make his own.
"It intrigued me that vinegar was so common and yet we know so little about it," Diggs says.
His simple inquiry has led to research around the world. Working from his home in Roslyn, he is now one of the world's best sources for vinegar information.
"I started tracking down information and borrowing books from around the world," recalls Diggs, who started his search in 1984. "The information came in trickles at first, which is good, because it gave me time to absorb it. The more I found out, the more I got interested."
Diggs interviewed vinegar makers and talked to professors employed at university wine departments (in some cases, vinegar is wine gone sour). His research has taken him to France, Egypt, Mexico, South America and the Philippines.
Diggs found out not only how balsamic vinegar is made, he has also researched the sociological, historical and economic aspects of vinegar.
"It's turned around my way of looking at history," he says. For example, the Bible reports that Roman soldiers gave Jesus vinegar while he was on the cross. Christians have considered this a cruel act, but Diggs says that Roman soldiers often drank vinegar. The gesture would be an act of kindness when seen in this light.
The ingredients of vinegar vary with the country and cultures of the creator. Vinegar is made from carbohydrates, for example, grapes, grains, coconuts, carrots, rice, milk, dates and wine.
To make vinegar, a cook needs a sugar that can convert to alcohol, which in turn converts to acetic acid, or vinegar. Instead of sweating over chemical reactions, Diggs suggests that cooks buy vinegar off the shelf and then personalize it with herbs, such as tarragon.
"Other people have already done the hard work," he says. Blending vinegars will give you a new one, or you can age store-bought vinegar.
"What's mediocre at two or three years will be excellent in ten years," Diggs says.
The vinegar that started Diggs on his passion, balsamic, is made from wine. The best balsamic vinegars come from Italy's Modena and Reggio regions.
"Balsamic vinegars is where you'll taste the vinegar," he says. "Don't use a lot, just a few drops."
Malt vinegars, made from grains, are traditionally used with fried foods, such as hush puppies or fish and chips.
Bacteria cannot survive in acetic acid, which is why vinegar is a famous pickler. South Dakota farm wives pickle cucumbers and beets using jugs of the common white stuff, made from apples, grains, potatoes or sugar beets.
Apples were abundant early in America's history, so cider vinegar was manufactured. Cores and peels, leftovers from processing apples, are now used to make vinegar for pickling.
Vinegar has other uses in the kitchen. Biscuits, cakes, pies and cookies are all lighter and flakier when baked with vinegar. Vinegar causes baking soda to give up carbon dioxide, translating into lighter biscuits, and it acts on the gluten in flour, making flakier piecrusts. It adds tang to soups and sauces.
Before he could afford more expensive cuts of meat, Diggs used vinegar as a meat tenderizer for dishes such as Swiss steak. The sourness disappears while the meat cooks.
"In some places, vinegar is savored like wine," he says. Diluted to 1 or 2 percent acetic acid, Diggs reports that a vinegar's sourness will be that of lemonade without sugar.
Just as wine lovers have wine-tasting parties, vinegar aficionados can hold organized vinegar tasting events. As a perk for their employees, companies will hire Diggs to host a vinegar tasting party.
He also explains how to taste and score vinegars. Tasters need to use a sugar cube. The cube soaks up the vinegar, then the taster sucks the vinegar off the cube. This gives the taster the flavor of the vinegar, without shutting down the taste buds. The aficionado can then move on to the next vinegar.
He's made numerous connections and acquaintances in the industry, so Diggs fields diverse requests. Vinegar manufacturers contact him to taste-test their vinegars and get his opinion on its strengths and weaknesses and how to market vinegar products. A gentleman requested Diggs' help in exporting vinegar to India.
Diggs' book, Vinegar, is the definite guide to that common liquid found in every cupboard. The 300-page tome is used as a textbook at the University of California-Davis in their winemaking classes.
"I want to make South Dakota the Vinegar Capitol of the World," Diggs says. He's done just that since moving to Roslyn in 1989. Diggs formed the Vinegar Connoisseurs International club and created the International Vinegar Museum on Roslyn's Main Street.
---
CHICKEN ADOBO
This is a traditional dish of the Philippines, usually served with rice and the chicken's head. Diggs encourages cooks to add cinnamon or nutmeg to this stew, and to make your own call on the chicken head.
In large pot, place the following ingredients:
1 chicken, cut into small pieces
1 cup vinegar
1 cup water
2 tablespoons soy sauce
1 bay leaf
5 cloves garlic, crushed
2 tablespoons salt
5 peppercorns
2 mild red peppers
Chop the peppers if you want a hotter; spicier stew. Otherwise, add them whole near the end of the cooking time for a milder flavor. Cook slowly, until chicken starts to come off bones and gravy begins forming. If the stew is too sour, add a little more water. Remove some of the oil if desired.
Editor's Note: This story is revised from the July/August 1996 issue of South Dakota Magazine. To order a copy or to subscribe, call (800) 456-5117.