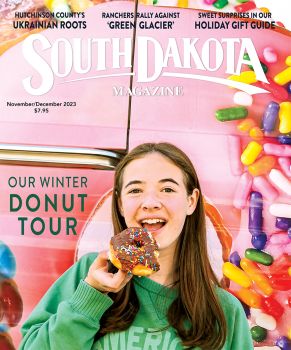 Subscriptions to South Dakota Magazine make great gifts!
Subscribe today — 1 year (6 issues) is just $29!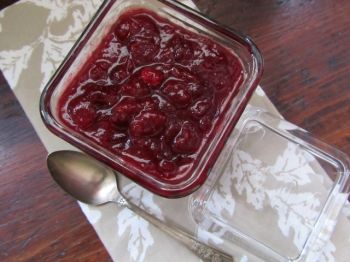 Can the Can
Nov 9, 2017
I grew up with a tube of Ocean Spray jellied cranberry sauce on the Thanksgiving (and Christmas) tables. I loved its tart vibrancy, and still do.
When I married, I was disappointed to not find cranberries of any kind on my in-laws' holiday table. A few years into our marriage when I shared a Cranberry Cake with Warm Butter Sauce, it became clear that cranberries were not my father-in-law's favorite when he complimented the cake by saying, "That sauce kinda kills the taste of the cranberries."
It didn't occur to me that someone might not like the brisk bite of cranberries. To me, they are a given part of the fall and winter season. There is a thrill of excitement when I first see them appear at the grocery store, and I always pick up a few extra bags to toss into the freezer.
Admittedly, I wasn't a fan of the first homemade cranberries I encountered. A friend's mom had made a relish with ground raw cranberries, citrus, nuts, and if memory serves me correctly, onion. It was, to be polite, pungent for my inexperienced palate, and I have since steered clear of cranberry relishes.
However, even though I love the canned delight of Ocean Spray, I couldn't resist the lure of homemade cranberry sauce. Preparing it is so much like the simple jams and jellies I create all canning season, minus the tedious cauldron of boiling water to process and seal the jars. Combine berries, a little orange juice, wine, sugar and just a shake of cinnamon in a pot to simmer. That's it. So simple. So good. Don't tell the turkey, but homemade cranberry sauce could easily be the jewel of the holiday meal.
---
Homemade Cranberry Sauce
1 bag (12 ounces) fresh cranberries
3/4 cup sugar
1 cup orange juice
1 cup white wine (something sweet, like a Riesling, works, but I have used Sauvignon Blanc and Pinot Grigio, as well)
zest of one orange
shake of cinnamon
pinch of salt
Combine cranberries, sugar, orange juice, wine, zest, cinnamon and salt in a heavy pan. Bring to a boil over medium-high heat and then reduce to low and simmer for 20 minutes. Stir occasionally to prevent burning. Remove from heat and refrigerate until ready to serve. Sauce will thicken as it cools.
Fran Hill has been blogging about food at On My Plate since October of 2006. She, her husband and their two dogs ranch near Colome.