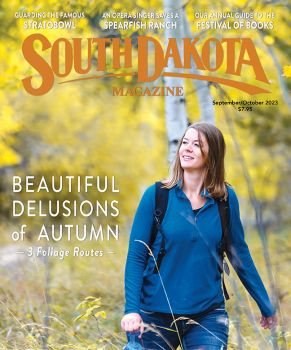 Subscriptions to South Dakota Magazine make great gifts!
Subscribe today — 1 year (6 issues) is just $29!

Thankful for Squash
Nov 22, 2017
By Fran Hill
Sweet potatoes are considered a traditional part of many Thanksgiving menus. Families have their favorite recipes for boiling, mashing or roasting. Some have a back-of-the-box method for topping with a crunchy cereal or nut topping. Many feature toasted marshmallows as the finishing touch. However, I didn't grow up with sweet potatoes on any holiday table. My mother made butternut squash.
Butternut squash was a staple from our family's garden. It makes sense that Mom would incorporate it into a harvest meal of thankfulness. Back in the day, she would peel and chunk the winter squash into large pieces. The flesh would then be boiled until tender, drained, placed in a casserole dish, sprinkled with brown sugar, and topped with A LOT of marshmallows. That casserole would be slid into the oven until the tops of the marshmallows were toasted and golden and the lower portion had melded with the brown sugar to make a syrupy sauce. It was one of my favorite parts of the meal, and I felt a pang of sadness if there weren't enough for leftovers.
Today, I also serve butternut squash as part of our Thanksgiving meal. I have moved past boiling, and instead toss cubes of the sweet squash with olive oil, salt, pepper and just a bit of brown sugar. Those are roasted until tender on the inside and crisped on the outside. It is fabulous.
Sometimes, I do miss those toasted marshmallows, but Roasted Butternut Squash is a healthy and delicious side for which I will always be immensely thankful.
---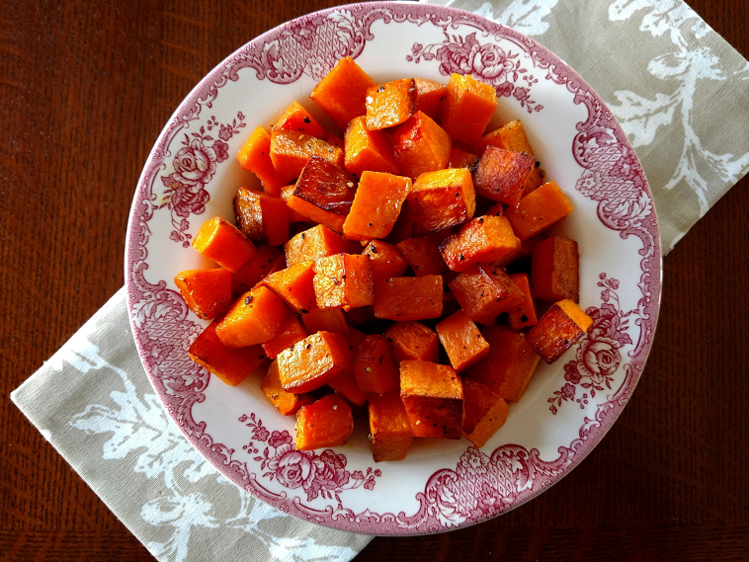 Family tradition puts roasted butternut squash on Fran Hill's Thanksgiving table.
Roasted Butternut Squash
3 cups butternut squash, peeled and cubed
1 tablespoon brown sugar
1 tablespoon olive oil
kosher salt
freshly cracked black pepper
Preheat oven to 475 degrees F. Toss together all ingredients on a sheet pan, making sure to coat well. Arrange in a single layer. Roast for 20 minutes, until squash is tender. Stir halfway through roasting time. (Serves 4)
Fran Hill has been blogging about food at On My Plate since October of 2006. She, her husband and their two dogs ranch near Colome.