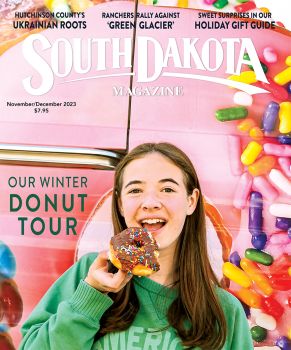 Subscriptions to South Dakota Magazine make great gifts!
Subscribe today — 1 year (6 issues) is just $29!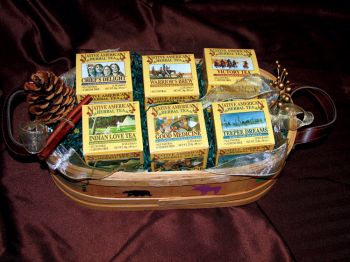 Traditional Tea
By John Andrews
Native Americans have long recognized herbs, flowers and roots as an important component of their diet. The founder of the Native American Tea Company heard elders explain their origins and wanted to ensure that future generations knew the stories. He established the Native American Tea Company in 1987 on the Crow Reservation in southern Montana. When he moved to Aberdeen, so did the business. Now under the guidance of Tom Aman, the Native American Tea Company distributes blends to stores, museums and national parks around the United States.
Each tea is created with a specific story in mind. In traditional Crow culture, successful horse raids were celebrated with Victory Tea. "The Victory Tea has herbs that the camps would take with, like hibiscus and wild cherry bark," says Joe Moore, the company's vice president of sales and marketing. "They would bring them for their quick energy, nutrition and light weight."
There are blends for work and relaxation. Warrior's Brew combines cinnamon and orange peel for a steady stream of energy, while Teepee Dreams contains valerian root, which soothes and calms.
The company donates 5 percent of profits for scholarships at Sitting Bull College, a four year tribal school based in Fort Yates, N.D., with branch campuses in McLaughlin and Mobridge. Aman has a long relationship with the school and the Standing Rock Indian Reservation. His parents met at a pow wow near Little Eagle in 1926. Since then, the family has encouraged economic development and education on the reservation.
Editor's Note: This story is revised from the January/February 2015 issue of South Dakota Magazine. To order a copy or to subscribe, call (800) 456-5117.