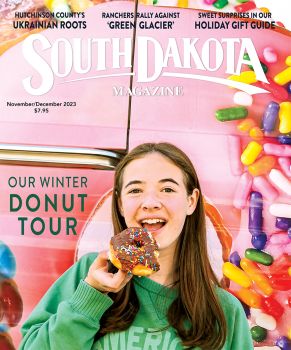 Subscriptions to South Dakota Magazine make great gifts!
Subscribe today — 1 year (6 issues) is just $29!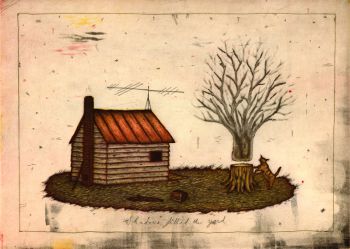 Vermillion via New York
Feb 10, 2016
By Michael Zimny
New Union / Re Union: Fifty Artists Who Know Vermillion and/or the Area Intimately Well — an exhibition of work by regional artists, inspired by the poetry of Cynthia Nibbelink Worley, is now on display at the University of South Dakota campus.
Curator — and Vermillion artist — Sarah A. Hanson first discovered the poetry of Nibbelink Worley through an interlibrary loan request, and was intrigued to find that when the book arrived, from Augustana's Center for Western Studies, "the very book I was holding in my hands had come from [Frederick] Manfred's personal library." The poet, who had once studied with the Lord Grizzly author, had sent him a copy inscribed "to Frederick from Cindy."
Hanson found something else familiar in Nibbelink Worley's poems, something "extremely visual and visceral, brave and solid." And something in sync with her surroundings. Even though Nibbelink Worley has been living and writing on New York City for upwards of 30 years, she still incorporates the imagery of her native northwest Iowa.
Hanson wouldn't know until she met Nibbelink Worley in New York, that Vermillion was a familiar place to her as well. "When I first met [Cindy] in Harlem she discovered I was from South Dakota. She asked, 'Where about in South Dakota are you from?' I responded, 'Vermillion,' with a question in my voice. 'Ahh, I know Vermillion intimately well,' she said with a smile."
So when Hanson was approached by artist Amy Fill — who had worked with her on an earlier community exhibition in which local artists worked under the influence the poem Desiderata, by Max Hermann — about the possibility of another interaction between a work of poetry and area artists, it didn't take long before she realized the answer was in New York.
Nibbelink Worley acknowledges that she has never truly left the pastoral landscapes of her birthplace behind. "Northrop Frye said, 'Poetry is the relaxation of the unconscious,' and to me that's having the integrity allow a poem to flow from your unconscious, which is your truest self. I think that is where my best poems come from and the imagery certainly, and that is reflective of perhaps what I know best, and I think that is a rural landscape."
Hanson selected two poems to guide the project — These Photos Now and How Innocently — from Nibbelink Worley's book Wild Wild Roses.
"I saw the creation of this exhibition as an opportunity to not only organize our community of artists," writes Hanson, "but to also reunite those who know Vermillion and/or the area 'intimately well.'"
Hanson, and fellow artists Amy Fill and Michelle St. Vrain, reached out to artists around the globe who have worked in or around Vermillion.
"Within the exhibition's contents," says Hanson, "there is diversity of thought and experience. You may praise accomplishment and mourn loss. You may be surprised and you may be reminded. Most importantly, you will find community — a celebration each of us share."
The common thread uniting these visions is the poems of Cynthia Nibbelink Worley, the still prairie-inspired New Yorker.
Exhibiting artists include Luanne M. H. Bigbear, Mary Black Bonnet, Keith BraveHeart, Joni Castle Jimnak, Lateesha Caswell, Michele David Mechling, Andrew DeCaen, Julie DeCaen, Amy Fill, Jeff Freeman, Rebecca Froehlich, Alison Galbraith, Nicole Geary, Joshua Haiar, James Halvorson, Nicole Hand, Prairie Hanson, Sarah A. Hanson, Maiko Hasegawa, Susan M. Heggestad, Rayna Hernandez, Phillip Michael Hook, Amy Jarding, David Kitzler, Andrew Kosten, David Langner, David Lethcoe, Danielle Loftus, Kevin Loftus, Krishna Mastel, Angela Meyer, Jess Miller Johnson, Darcy Millette, Klaire B. L. Pearson, Jean Peter-Larson, Cheryl Peterson Halsey, Magil Pratt, Emmalene Aubrey Raasch, Shannon Sargent, Emily K. Short, Eli Show, Mary Sorensen, Tory Stolen, Michelle St. Vrain, Kelsie Jo Thomas, Jordan Thornton, David Versluis, Marc Wagner, Sophia Wermers and Greg Wortham.
New Union / Re Union is on display in Gallery 110 of the Warren M. Lee Center for the Fine Arts, on the campus of the University of South Dakota in Vermillion through Feb. 15
Michael Zimny is the social media engagement specialist for South Dakota Public Broadcasting in Vermillion. He blogs for SDPB and contributes arts columns to the South Dakota Magazine website.