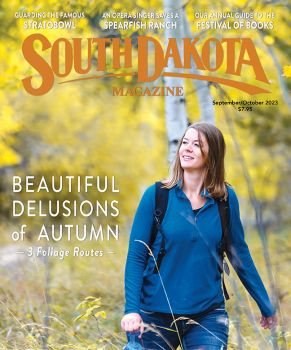 Subscriptions to South Dakota Magazine make great gifts!
Subscribe today — 1 year (6 issues) is just $29!

Wagon Master
A Mitchell area craftsman restores 19th century vehicles to their cowboy-era beauty
Story by Bill Markley
Photos by Greg Latza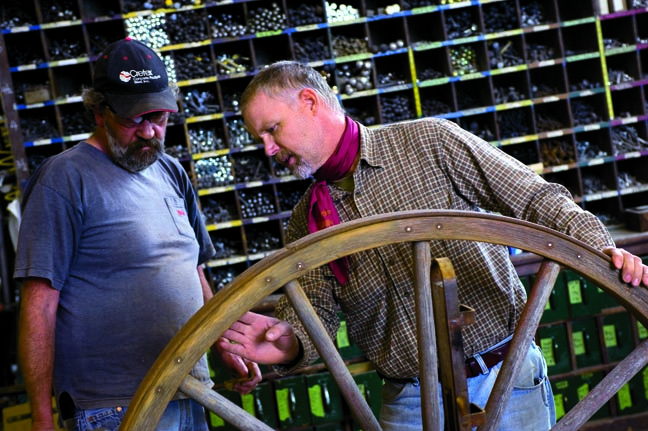 Hansen (in red scarf) directs the renovation of a wagon wheel.
The morning was clear, bright and cool for August. A six-horse team pulling a stagecoach approached the Cheyenne River crossing. Other wagons and riders on the 2008 Fort Pierre to Deadwood Trail Ride had crossed the river and were waiting on the west side. More horse-drawn vehicles lined up behind the stagecoach waiting their turn. As the lead horses descended the steep bank, the two drivers momentarily lost sight of them. The horses shied from the swift-flowing current, turned to their left and began to climb back up the steep bank as the other four horses followed. The drivers tried to correct the situation, but it was too late. The pole snapped in two and the coach broke away from the front wheels as it was designed to do to prevent passenger injury. The horses pulled the drivers, still holding onto the reins, off the coach as it tipped over.
The horses and drivers were uninjured and the stagecoach crew fixed their vehicle with assistance from local ranchers. In less than an hour, everyone was back on the trail.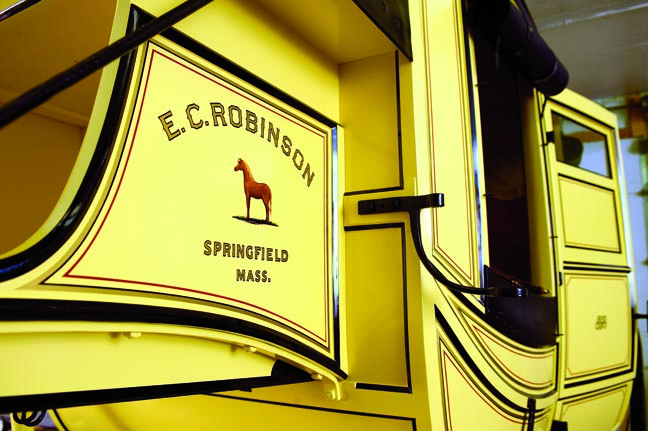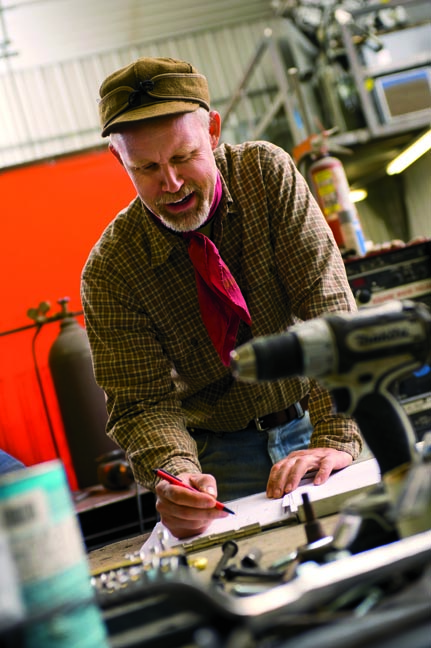 Hansen makes adjustments to a design in his shop. A high level of craftsmanship is used in every piece he and his crew creates or renovates.
"It was the real pioneer spirit," says Doug Hansen, the stagecoach owner. "Because if your stage broke down on the trail you just didn't crawl in a hole and die, you up-righted your stagecoach, patched it up and set it on the front wheels again."
Due to Hansen's efforts to revive the lost art of building heavy-duty wagons, three 19th-century vehicles traveled the Fort Pierre to Deadwood Trail on the 2008 ride. But is a lost art really lost if one man still knows how to do it? That question comes to mind at Hansen's Wheel and Wagon Shop, a 30-year-old business near Mitchell that has become an international success by sending stagecoaches, prairie schooners and other heavy wagons to destinations as far away as Europe and Japan.
Doug Hansen specializes in restoring 19th century vehicles to their cowboy-era beauty. He learned the trade from his family; his mother runs a saddle shop and his father worked with wood and steel. His grandfather spent his boyhood in an uncle's blacksmith shop when horses and buggies were the mode of transportation.
Hansen remembers the day when his mom brought home two dilapidated buggies from an auction sale and he felt the urge to fix them. His grandfather helped him repair the wheels and restore the wagons to their original condition.
Once he discovered his interest in making wagon wheels and other folk craft, Hansen began to read books, visit museums, hang around blacksmith shops and borrow tools from antique collectors. "I wanted to learn how to make things," he says. "It has become my life quest."
Wheelwright apprenticeships are next to non-existent these days. There's not even an online tutorial. "Building heavy wagons is a lost art, and I've been trying to fill the gap by studying the work of the old craftsmen," Hansen says. "As I take apart wagons for restoration, I examine marks on the metalwork and wood. It's my passion to investigate, restore and reproduce their superior design and craftsmanship. I want to understand the joinery and the engineering. We are copying the work of the leading engineers of the 19th century transportation industry. In 1860 they were making top of the line vehicles, attuned to consumer wants and desires."
Hansen found his niche in Old West wagons. "Any Amish community has a buggy shop, but they don't build prairie schooners or stagecoaches. The stagecoach is an icon of the American West. It's the most recognizable American vehicle throughout the world. Everybody wants one."
He and 12 workers fabricate parts in a shop near the James River seven miles north of Mitchell. "Out of necessity we have become self-sufficient," he says. "We take raw materials and turn them into a product. We are not buying stagecoach parts and assembling them."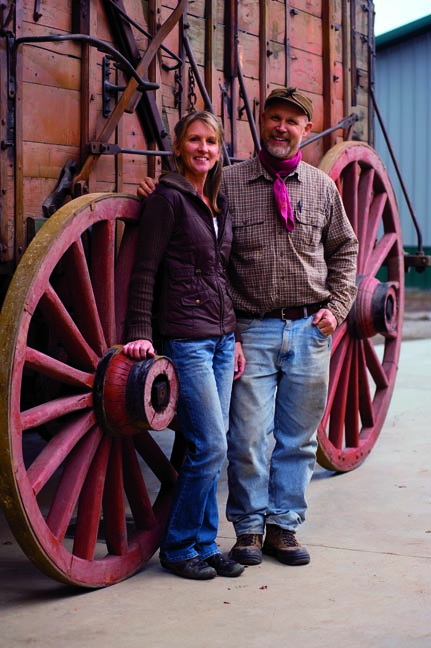 Doug and Holly Hansen are preserving a transportation legacy.
His wife, Holly, runs the office. The rest of the wagon-makers are in the shop. "We have our own blacksmith, wheelwright, coach-maker and upholsterer," he says. "Each craftsman is a specialist in his trade."
Two of the shop's restored stagecoaches and a freight wagon built from scratch traveled with the 2008 Fort Pierre to Deadwood Trail Ride. "The freight wagon's running gear is a restored Studebaker," Hansen says. "I've built wagons 30 years and it's taken me this long to figure out how the freight wagons worked because there is no documentation. There are no freight wagons in the museums. I studied historic photographs and bits and pieces of hardware I collected over the years."
The variety of wagons is endless. Nineteenth century manufacturers produced hundreds of different vehicles for hundreds of different uses. "We rarely restore the same type of wagon twice," Hansen says.
When not restoring old wagons, Hansen's workers are busy building other vintage vehicles from scratch. "We can spend hundreds to thousands of hours on a vehicle," says Hansen. "Sometimes we put as much time in a vehicle as a carpentry crew puts in a house — two thousand hours on some."
Hansen and his team of craftsmen take pride in resurrecting, preserving, and passing on America's transportation legacy for future generations to enjoy.
Editor's Note: This story is revised from the March/April 2010 issue of South Dakota Magazine. To order a copy or to subscribe, call 800-456-5117. To view more of Greg Latza's photos go to www.greglatza.com.