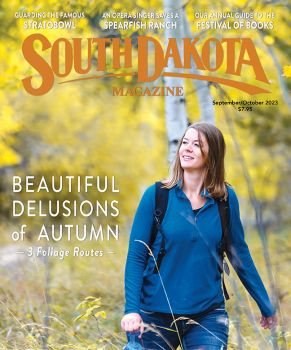 Subscriptions to South Dakota Magazine make great gifts!
Subscribe today — 1 year (6 issues) is just $29!

Walnut Pie Among the Pines
By Bernie Hunhoff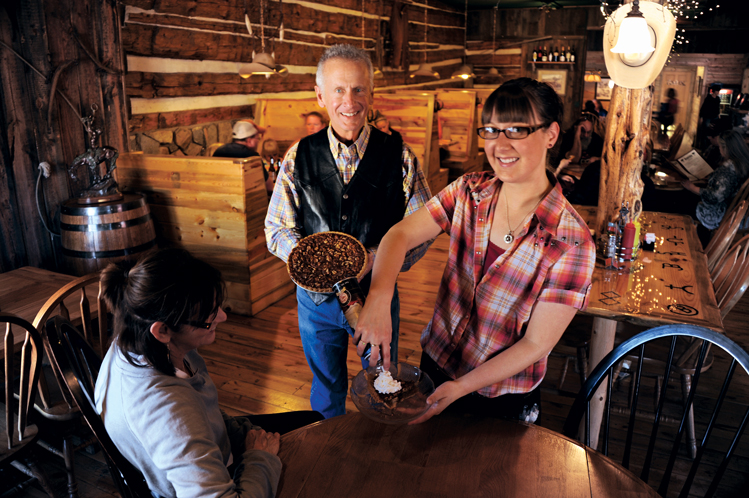 Desperados proprietor Dan Dickey (center) and Carrie Brown serve walnut pie to a hungry diner.
Hear an early-morning clamor in the kitchen of Desperados? Don't be alarmed. It's just Connie Heddles, the baker, crushing walnuts for a favorite Southern Hills pie.
"She beats the walnuts with a mallet," laughs restaurant owner Dan Dickey. "She says she can take out her frustrations while she's working."
Not a bad recipe for venting, but Heddles is obviously joking because Desperados is one of those restaurants where everybody ­— locals, tourists or the staff — seem happy. Dickey and his wife Pat sensed that good energy, at the restaurant and all along Main Street, six years ago when they were looking for a business to buy.
"The town is perfectly located between Mount Rushmore and Crazy Horse," says Dan, who worked as a pension consultant in Minneapolis before he and Pat became enamored with the Southern Black Hills. "But it's more than that. There's lots of good leadership in town and everybody is pulling together. It's been great. This is our sixth season and every year has been a little better."
Give the walnut pie a slice of the credit. It was devised by Laurel Schaub, the previous owner, and perfected by Heddles over the past several years. The taste is similar to pecan pie, but not as sweet and rich.
Desperados is also gaining a reputation for buffalo. "We only use grass fed buffalo meat from Wild Idea Buffalo Company," says Dan. Wild Idea is run by well-known Black Hills author Dan O'Brien. Dickey started serving a buffalo roast dinner this summer that quickly became a staple on a big menu with steaks, salads, muleskinner chili dogs and cornbread muffins baked daily by Heddles. The walleye is also popular. Desperados has a special process of seasoning, breading and grilling the fillets.
A creative kitchen keeps customers coming back, but first-timers are often attracted to Desperados by history. The log structure was built of Black Hills pine in 1885 as a saloon and then converted into newspaper offices for the Harney Peak Mining News. It has also served as a book and gun store, fly-fishing headquarters and fix-it shop.
Dickey believes it is the oldest hand-hewn log commercial building in South Dakota. The exterior was charred by disastrous fires that crippled Hill City in 1891 and 1902, so the exterior walls are sided with clapboard. But the old logs create an authentic Old West atmosphere inside. Some of the pines are crooked, the gaps evened by kinking and correction logs. They were kilned from trees killed by mountain pine beetles, again a scourge of the Black Hills.
"They say the trees were still standing when the logs were cut," Dickey says. "The logger probably liked the bug wood because the tree was already dead, so the logs were lighter and easier to square cut."
The building was placed on the National Register of Historic Places in 1977, more than 25 years before anyone hammered out a walnut pie in the back room. That's one of the charms of Hill City, population 962. The history just keeps getting better.
Desperados opens daily for lunch and dinner from May through September.
---
Desperados' Walnut Pie
12 eggs
4 c sugar
1/2 c flour
4 c corn syrup
8 tbsp melted butter
4 tsp vanilla
1 tsp salt
6-7 cups walnuts
4 pie crusts
Heat oven to 400 degrees. Mix together eggs, sugar, flour, corn syrup, butter and vanilla. Gently place walnuts on crust. Pour sugar mix over walnuts arranging nuts as necessary. Bake at 400 degrees for 15 minutes, then reduce heat to 350 degrees and bake 35 to 45 minutes. Makes 4 walnut pies.
Editor's Note: This story is revised from the September/October 2013 issue of South Dakota Magazine. To order a copy or to subscribe, call (800) 456-5117.