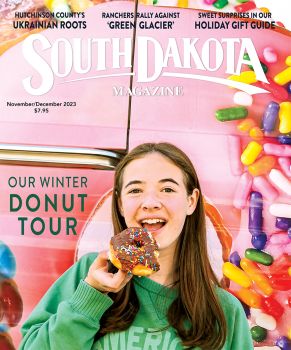 Subscriptions to South Dakota Magazine make great gifts!
Subscribe today — 1 year (6 issues) is just $29!

Improving with Age
Hill City's heralded winemakers trace their heritage to 19th Century Mobridge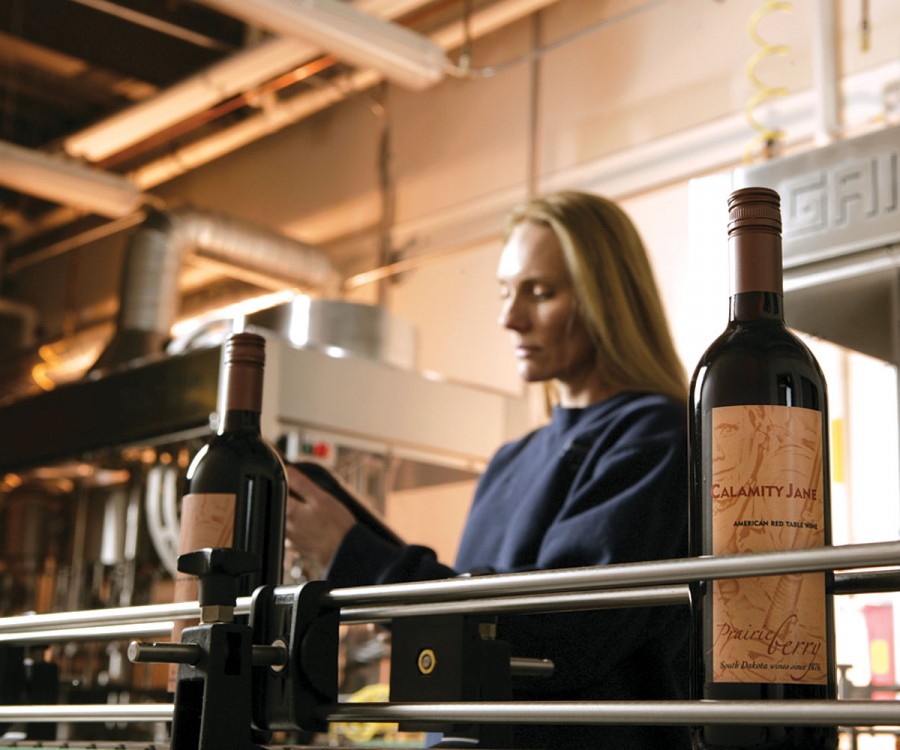 Prairie Berry Winery relocated from Mobridge to Hill City in 2004. Larger tanks let Sandi Vojta experiment with wines and begin the fusion label, which blends two fermentations into another style of wine.
Sandi Vojta became a fifth-generation winemaker at the age of four when she experimented with yeast and fermentation. Her dad would take her out to pick chokecherries for wine, tying a piece of twine with a pail attached around her waist so she could pick berries with both hands. "But my favorite part was, and still is, getting the fermentations started; getting the first smell of the fruit's potential."
"It has been a way of life. It's just who I am," she says. Neither she nor her father has copied a recipe for the family wines. "Instead, we used a taste of the wine that he grew up with. When he made his wine he was trying to replicate that taste, so that is what I tried to do with my wine," she says.
The winery won a double gold medal at the 2011 San Francisco Chronicle Wine Competition for its Brianna wine in the white hybrid category. The Brianna grapes are grown at Lewis and Clark Vineyard in Yankton. Their wines have been winning awards at prestigious wine shows for years. "It's awesome because people are paying attention to the state of South Dakota, and it's great for our entire state's wine industry," Sandi says.
Prairie Berry currently makes about 30 varieties of wine — including the popular, funky Red Ass Rhubarb. The Hill City winemakers are branching out into new tastes, including a fermentation made from West River prickly pear to be released this fall. Vojta has a flavor vision of what she wants to accomplish with each new wine. "Sometimes I feel like I nail it the first time around. For others, I feel like I'm just getting closer to the vision with each release. I'm always trying to make things better. I'm never content."
---

Perfect Pairings
Sandi Vojta's parents taught her how to make wine and how to cook. "We grew up eating a lot of chili, and mom often followed it with steamed apple dumplings," she says. This dumpling recipe is her mom's, and the chili is "pretty close to what she used to make." Vojta chose these recipes as perfect pairings for her Buffaloberry Fusion, Gold Digger and Crab Apple wines.
White Bean Chili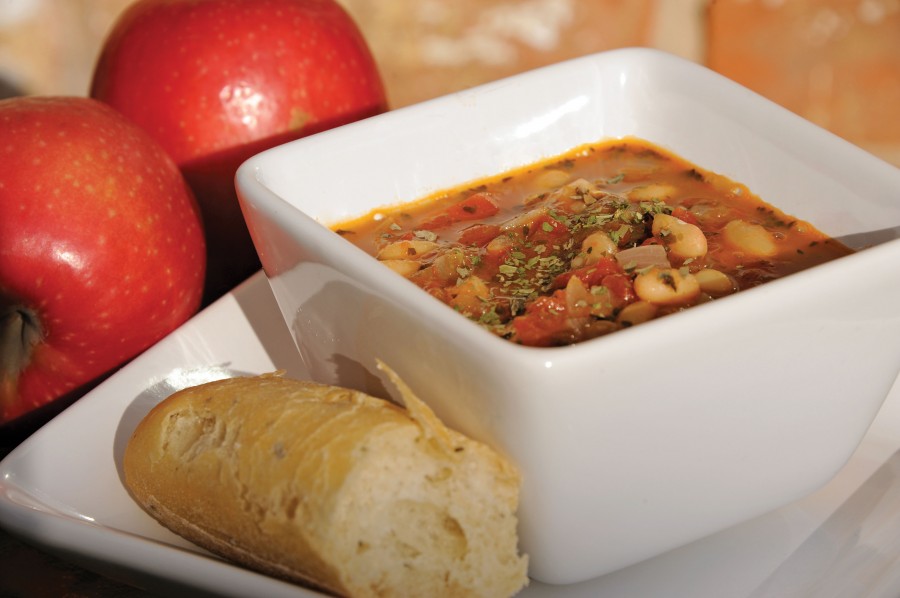 Pair Vojta's chili with Prairie Berry's Buffaloberry Fusion wine.
Serves 2 - 4
Paired with Prairie Berry's Buffaloberry Fusion wine
1/4 yellow onion, chopped
1 clove garlic, minced
1 teaspoon Italian seasoning
1 1/2 teaspoons ground cumin
1 teaspoon olive oil
1 cup no-salt added crushed tomatoes (not drained)
4 tablespoons canned chopped green salsa
1 cup water
1 cup canned Great Northern beans, drained and rinsed
Juice from 1/2 lime
Sauté onion, garlic, Italian seasoning, and cumin in oil over medium heat for 3 minutes. Add tomatoes, green salsa, water and beans, and bring to boil. (If desired, add 2 ounces cooked ground turkey or diced chicken breast.) Simmer 10 minutes, and serve with lime juice on top.
Steamed Apple Dumpling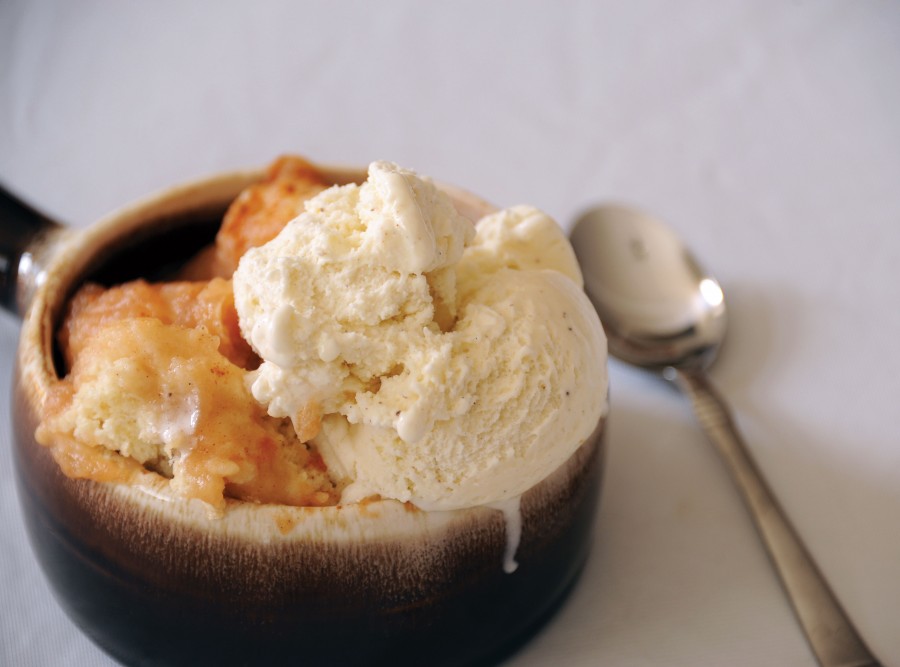 Try Prairie Berry's Gold Digger or Crab Apple wine with these apple dumplings.
Serves 6 - 8
Paired with Prairie Berry's Gold Digger or Crab Apple wine
2 cups flour
3/4 teaspoon salt
4 teaspoons baking powder
1 tablespoon sugar
2 tablespoons vegetable shortening
3/4 cup milk
1 quart boiling sweetened apple sauce
Bring the applesauce to a boil in a non-stick Dutch oven. Sift together the dry ingredients, rub in the shortening with fingertips keeping the mixture coarse. Moisten with the milk, mix, turn onto a floured board and pat to one-half inch thickness. Shape with a biscuit cutter and place in the boiling apple sauce.
Cover tightly and boil 20 minutes. Additional sugar and cinnamon may be added to the boiling applesauce if desired.
EDITOR'S NOTE – This story is revised from the May/June 2011 issue of South Dakota Magazine. To order this back issue or to subscribe, call 800-456-5117.