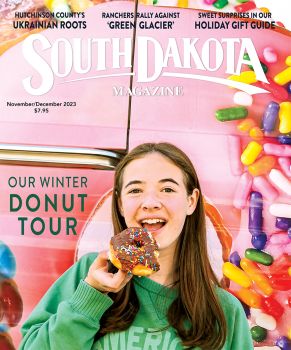 Subscriptions to South Dakota Magazine make great gifts!
Subscribe today — 1 year (6 issues) is just $29!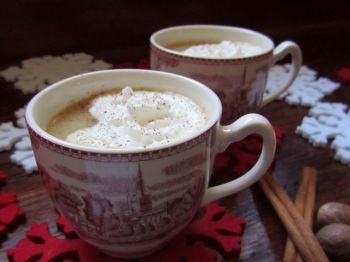 Warm Inside and Out
Dec 24, 2014
I have a thing for twinkly lights — Christmas lights, to be precise. The Friday after Thanksgiving, you won't find me at door buster sales. I will be determining which strands of Christmas lights from storage are "busted." I assemble Christmas trees in every room of the house, swag garland over the stairs and windows, and string lights over most available surfaces. There are icicle lights dripping from the eaves of our home and a sparkly twig tree lit in the backyard.
After Hubs and I make the trek to acquire a fresh tree for the living room and it is wound with dazzling white lights, mounds of gifts are carefully wrapped and tied with festive ribbon. I sit at night and stare into it. I am mesmerized by its beauty and overtaken by the peace and calm and love that it represents in this world that is full of so much that isn't. Lights are my thing. They make my Christmas.
Now you might think that a food blogger would be singing the praises of holiday goodies instead of lights. Cookies, candies, popcorn balls, dipped pretzels, fudge and bon-bons are the currency of the season. But the truth is that I really don't like to bake. Sometimes I do: I'll grumble and mumble, bake multiple types of cookies, arrange them on trays and gift everyone within 100 miles. Sometimes I whip up a pan of fudge and call it good. Sometimes I don't bake anything.
This is one of those years that borders on not baking anything, and I am OK with it. Baking isn't my thing. Everywhere we go this holiday, people offer us sweets and treats. We certainly aren't doing without. And if you drop by my house, I will probably bring out a few of the goodies I did create, along with a plate of cheese and crackers and a mug of Hot Buttered Rum.
This warm beverage is sweet, slightly spiced and will warm you from the inside out. Topped with a little whipped cream and freshly ground nutmeg, you will savor each creamy sip. You will wrap your hands around the mug and gaze with me into the sparkling lights of the Christmas tree and know that even without baking, I wish you and yours peace, love and happiness.
---
Slow-Cooker Hot Buttered Rum
2 cups brown sugar
1/2 cup unsalted butter
1/2 teaspoon salt
4 sticks cinnamon
6 whole cloves
1/2 teaspoon nutmeg
2 quarts hot water
2 cups spiced rum
fresh nutmeg (grated for garnish)
real whipped cream (Redi-Whip in a can is good for this.)
Create a cheesecloth sachet for the whole cloves, or use a tea strainer to contain them.
Add all ingredients (except fresh nutmeg for garnish and whipped cream) to a slow cooker. Stir to combine. Cover and cook on high for at least 1 hour, stirring occasionally. Then, turn heat to low and continue to simmer until serving.
Serve topped with real whipped cream and grated fresh nutmeg. (If you wish, keep the bottle of spiced rum on the side for those that like to add a little more kick.) Serves 20.
Fran Hill has been blogging about food at On My Plate since October of 2006. She, her husband and their two dogs ranch near Colome.