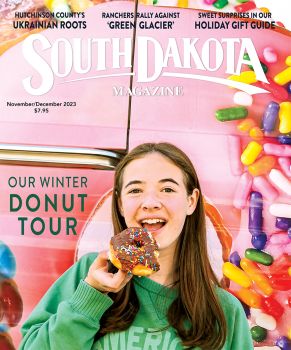 Subscriptions to South Dakota Magazine make great gifts!
Subscribe today — 1 year (6 issues) is just $29!

The Weapon and the Warrior
Dec 20, 2011
Pheasant hunters have an odd relationship with their firearms. How they pick them, what they pay, how many they own are just a few of the perspectives that may not make sense to the un-field-tested eye.
The warrior is looking for beauty, for those sleek curves and fine lines that send strong signals of integrity, dependability and fulfillment. The warrior and his weapon are making a lifetime commitment. There may be a few other firearms that catch his eye for a second, but that one — that perfect fit — is going to be reached for every time when he heads to the field for the big dance.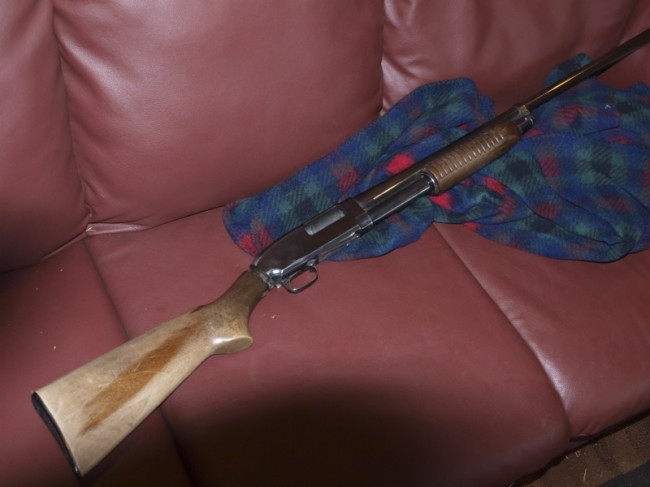 My first shotgun came by happenstance, and the romance is still there 25 years later. Dad didn't hunt and we didn't have a shotgun in the house. When I came home from law school, I saw that Grandpa Tony had an old gun that he brought with him when he moved off the farm. It was a Remington Model 25. Remington only made the Model 25 for 5 years, from 1945 to 1950. Like their big brother, the Model 12, they are durable. The Model 25 I got from Grandpa outlived the store (Jeske's Hardware) and the town (Lily) where he bought it — and it outlived Grandpa. It's been reblued twice, and has had cases of 2 ¾-inch pheasant loads pass through its chamber. It's a little worse for the wear at the moment, but I'm confident Cliff the local gunsmith can fix that.
Based upon hunter preference, the Remington Model 12, Winchester 870, Benelli Nova, and Browning A-5 ("the humpback") are America's shotguns of choice. There are many fancy and more expensive options out there, but the warrior that shows up with one of these is immediately recognized as a dependable hunter. Winchester doesn't make the Model 12 any more. Some cynics contend that Winchester quit because you couldn't sell a hunter two of these super durable weapons in a lifetime. In its 89 years of production, Americans bought 2 million of the shotgun known as "the perfect repeater." The "Humpback" was produced continuously for almost 100 years, beginning in 1889.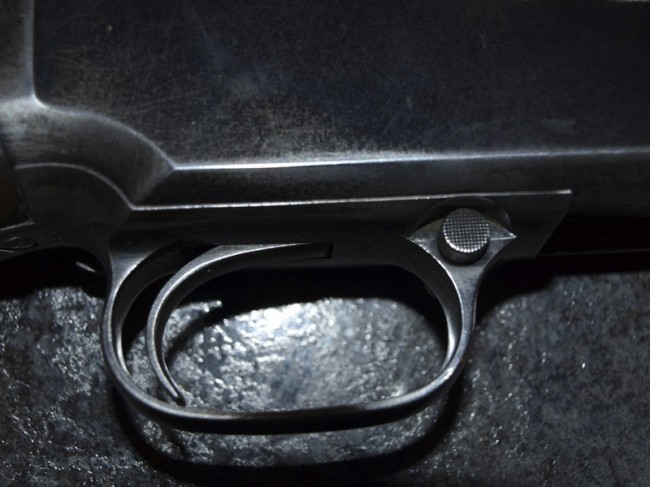 I carry my firearm in the field, one-handed, like a pistol, with the trigger finger leveraged against the front of the trigger guard. I don't hunt with gentlemen. My buddies are about dropping birds on a first-come, first-serve basis. If you need to fumble for the safety, you get to watch somebody else shoot the bird. So for me, I can only shoot a Benelli or a Winchester, as no other manufacturer puts the safety on the front of the trigger guard. That safety location allows the shooter to swing on a flushing bird, while drawing down the weapon, and hitting the safety as the shooting finger comes off the guard and squeezes for the trigger. The whole motion, of course, takes about a second, which is also the difference between birds on the ground and birds flying away on a windy South Dakota afternoon.
Manufacturers have invented new and improved ways to make and market shotguns — the choke is one such feature. If you don't hunt, then things like chokes mean nothing to you. If you use a Model 12, which is a full choke, you don't care either. Chokes are tubes that are screwed in the end of the gun, to affect the spread of the shot pattern as the shot leaves the barrel. The fancy options are called "improved" or "modified," to give a wider pattern spread. The old-timers, shooting dependable weapons like the Model 12, have only one option — the full choke. It delivers a tight pattern. For a blocker, it's like poking a fly coming at you, with a pencil. But if you learn to drop birds with a full choke, you'll bring home the birds every time. As for those other choke options, they are designed for the "choke excuse": "Dang, missed that one 'cause I had the modified in." Young hunters from the 5-7 zip codes should be raised on a full choke. They will never be confused with "out-of-staters," and they won't need to learn the "choke excuse."
What the warrior will pay for his weapon is another mystery. Go to an auction and watch the crazed warriors bidding on firearms off the flatbed. Afterwards place a call to Vic Carter at Kones Korner, which is like accessing an internet volume of information on firearms options and prices. You'll soon find that the same weapon was available for 10 or 20% off, but of course Vic's sales don't satisfy the same visceral competitiveness that winning the gun at the auction provides.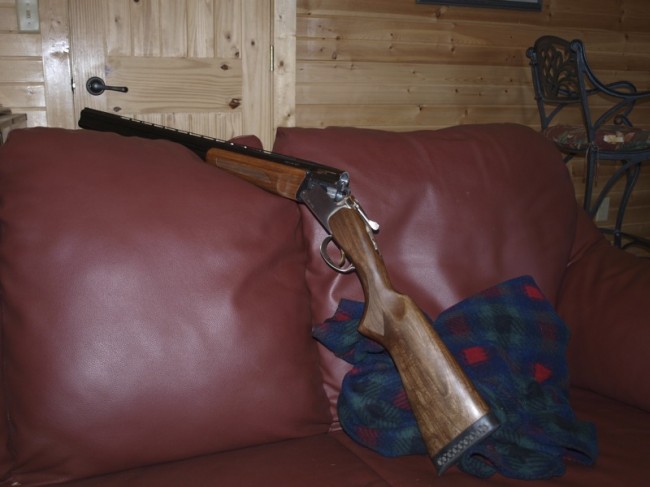 I own a $5,000 shotgun. It's obviously not the Model 12 or 25, which go for about $300. It isn't even one of those fancy Belgium Brownings like my FBI brother-in-law shoots. It's not an automatic, has no fancy tubes, and it doesn't make pizzas. No. I got mine at the Webster Museum of Science and Industry benefit auction. For twenty years I have been buying raffle tickets at $20 a pop for guns at banquets to benefit habitat for about everything except ground squirrels — and I have NEVER won the gun. Didn't win one at DU, Pheasants Forever, Pro Pheasant, Rocky Mountain Elk, or even the greased pig foundation. This spring though, at a museum banquet of all things, I finally won the gun. I figure I've got at least $5,000 into that shotgun I finally won, even if Vic said I could buy one new from him for under $300.
The warrior's weapons case inevitably includes firearms with special significance — real South Dakota family heirlooms — the kind kids fight over when the warrior is gone. We have one such shotgun. When the feds made us give up lead shot for waterfowl, and before the days of 3-inch shells in 12 gauges, there was the 10 gauge. The 10 gauge has about the same amount of iron in it as the cavalry cannon pieces at Fort Sisseton, but without the carriage and wheels. It was a goose hunter's signature weapon. Today there are fancier and more mobile firearms to bring down the now common Giant Canadian, but in 1987, when the feds took away our lead, the 10 gauge was king.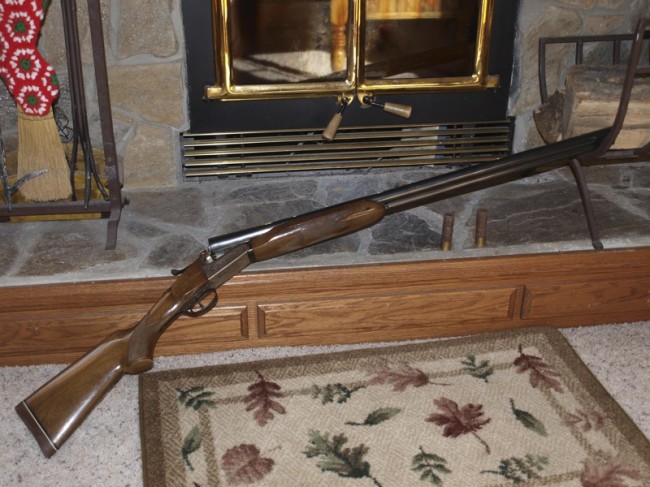 At our wedding rehearsal dinner in Kranzburg that year, the gift my bride gave this warrior was a Zabala double barrel side-by-side 10 gauge. The thing shoots shells the size of small mortars. I think Arnold Schwarzenegger was carrying one of them in one of his army movies. But the treasure of this weapon came in the presentation. In front of all of my family and all of my soon-to-be family, my wife presents this broken (as in not put together) shotgun. The unique feature of my only shotgun, the Model 25, was that it couldn't be broken down. I had no idea how to connect the pieces standing there at the head table — looked like a Rubik's Cube to me. My soon-to-be-wife, from a serious pheasant hunting lineage, reached over, took the parts and made them into a gun in about 45 seconds.
I've been working to catch up in the warrior category ever since.
Lee Schoenbeck grew up in Webster, practices law in Watertown, and is a freelance writer for the South Dakota Magazine website.