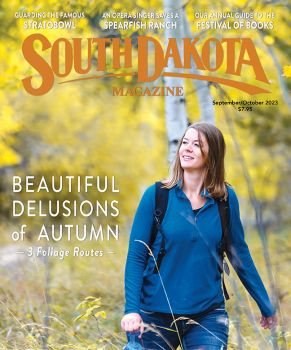 Subscriptions to South Dakota Magazine make great gifts!
Subscribe today — 1 year (6 issues) is just $29!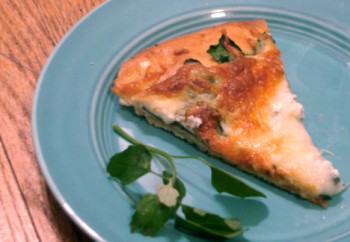 Weed Eater
May 3, 2012
Who doesn't love a free meal? It's long been an interest of mine. I've never gone dumpster diving myself, but I have friends who enjoy it. I have gleefully partaken of their spoils in the past — well-aged candy, day-or-two-old bread, slightly expired juice and more. We're all still alive, too.
It wasn't until recently that I realized that free food is all around us. It's coming up out of the ground, in fact. It's darned hard to stop these tasty plants, which some of you call "weeds." Why spend a lot of time and energy eradicating them when you could be feasting? Once I bought a house and had control over what went on in my yard, I decided to experiment. Did you know the leaves of the often cursed dandelion are delicious before the flower buds form and turn them bitter? You can use them raw, steamed or sautéed. The roots are edible also, and the flowers can be converted into fritters, jam or wine.
A lady from my knitting group hooked me on my latest weed-eating obsession — lamb's quarters. If you've ever pulled a weed, you'll recognize these dusty-looking plants. (As with all foraged foods, check with someone who knows about wild edibles before you start snacking for the first time.) Lamb's quarters are related to quinoa, and are extremely nutritious — full of vitamins A and C and other good things. It's much better for you than expired candy.
Treat these weeds like you would spinach – the flavor is similar. I've seen recipes for lamb's quarters pesto, lasagna, omelet and soup. All sound very lovely, but I tend to use my backyard bounty the same way I use all edibles — in pizza, nature's perfect food. Here's a rough recipe that'll give you an idea of how I do it.
---
Lamb's Quarters Pizza
Crust — From the Betty Crocker Cookbook
Makes 2 — or split it up into smaller portions and freeze what you do not use right away, as I do.
1 packages regular or quick active dry yeast
1 cup warm water (105-115 degrees)
2 1/2 cups flour
2 tbsp olive or vegetable oil
1/2 tsp salt
Olive or vegetable oil
Cornmeal
Dissolve yeast in warm water in medium bowl. Stir in flour, 2 tablespoons oil and salt. Beat vigorously 20 strokes. Cover and let rest 20 minutes.
Move oven rack to lowest position. Heat oven to 425 degrees. Grease 2 cookie sheets or pizza pans with oil. Sprinkle with cornmeal. Divide dough in half; pat each half into 11 inch circle on cookie sheet with floured fingers. Prick dough thorougly with fork. Bake about 10 minutes or until crust just begins to brown. Remove and add toppings.
Toppings
The amount of each topping you need will vary depending on how much pizza you're making, of course.
1 or 2 garlic cloves
Olive oil
Salt
Lamb's quarters, washed well, drained and patted dry
Mozzarella, grated
Goat cheese, crumbled or sliced
Whatever sounds good to you on pizza
While crust is baking, mash garlic cloves with salt in a mortar and pestle, adding olive oil to make a sauce-like substance, or just mince garlic and spread on crust with oil. Add a layer of lamb's quarters, making sure you've got them pretty dry. Add grated mozzarella and top with hunks of goat cheese. Bake until mozzarella has melted and pizzas look bubbly, about ten minutes.