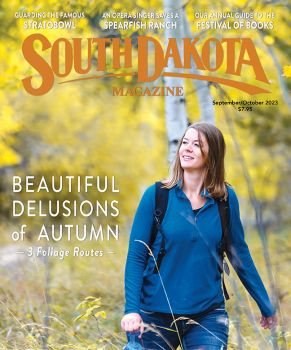 Subscriptions to South Dakota Magazine make great gifts!
Subscribe today — 1 year (6 issues) is just $29!

When Asparagus Met Pizza
Jun 9, 2016
By Fran Hill
Asparagus is the holy grail of spring and summer for Hubs and I. We enjoy it roasted, steamed, grilled, pickled or fresh and savor it as part of breakfast, brunch, lunch and dinner at least twice a week, if not more, during the peak season. I've bragged about my little patch in the backyard and told of my husband's fierce wild asparagus hunts.
Our love for asparagus might only be equal to our devotion to pizza. If we haven't tackled a slow roasting or smoking meat project on a Sunday, you can almost be assured that pizza will be for dinner that night. We wondered why pizza and asparagus couldn't collide for an exquisite pie of excellence.
Garlic, Bacon and Asparagus Pizza is just such a collision. Garlic is tossed in the hot grease of crispy bacon just long enough to become fragrant, and then tops our favorite thin crust, loaded with tender shavings of fresh asparagus and melty cheese. The recipe from which this masterpiece evolved originally used pancetta, but that ingredient isn't available in every small town grocery store on the South Dakota prairie. Bacon is a staple, and a delicious substitute.
The crust has become our tried and true. Hubs and I began making pizza together from a Chef Boyardee box while dating and have journeyed through crusts both frozen and from a tube to find our home with this excellent homemade recipe that makes two thin crusts. One will keep in an oiled, covered bowl in the fridge for a couple of days to make an easy weeknight dinner, or par-bake and freeze for another time. If thick crust is your thing, use all the dough for one large pizza, but be warned that it may need to bake a little longer to cook through.
---
Garlic, Bacon and Asparagus Pizza
(adapted, in part, from Cooking Light)
Pizza Crust (makes 2 thin crusts):
1 cup warm water (100 to 110 degrees)
1 tablespoon sugar
1 packet (1/4 ounce or 2 1/4 teaspoons) Active Dry Yeast
2 1/2 cups flour, plus additional for shaping
1/2 teaspoon salt
olive oil
corn meal
In a 2-cup measuring cup, combine the water and sugar. Stir in the yeast. Allow to sit for 10 minutes for the yeast to bloom.
Meanwhile, in the mixing bowl of a stand mixer fitted with a bread hook, add 2 1/2 cups of flour and stir to form a well. Pour the bloomed yeast/water combination into the bowl and stir with the mixer to combine. Use a spatula to push any flour from the edges into the dough. When dough has pulled together, sprinkle in the salt and drizzle in 1-2 tablespoons olive oil. With the mixer, knead for 6-8 minutes, until smooth. Add more flour as kneading, a tablespoon at a time, if dough seems sticky. (This will depend on the weather and temperature of kitchen.)
When dough has kneaded and is smooth, pull out of mixing bowl. Coat the bowl with additional olive oil and replace the bowl. Cover with a clean kitchen towel and let rise in a warm (but not hot) place for 20 minutes. Preheat oven to 450F and place pizza stone (if using…we do have the best crispy crusts with a preheated stone) in the oven to preheat.
Meanwhile, prep the toppings.
Garlic, Bacon, and Asparagus Pizza Toppings:
5-6 slices bacon, chopped (I prefer thick cut)
2 cloves garlic, minced
2 teaspoons fresh thyme
1 cup very thinly vertically sliced (shaved) asparagus (I do this with a vegetable peeler, but a mandolin would work, too. If you don't want to tackle shaving, just cut thin asparagus spears into 2-inch pieces.)
1/2 cup shredded mozzarella cheese (shred your own for the best melt)
1/4 cup grated Parmesan cheese (again, you should really grate your own)
freshly ground black pepper
While the dough is rising, cook the bacon pieces over medium heat, stirring occasionally to evenly brown. When the bacon is just about cooked through and crisp, add the garlic and thyme to the pan. Sauté briefly, just to heat the garlic and release its flavor and aroma. Remove the bacon mixture from the pan and drain on a plate lined with paper towels.
After the 20-minute rise, divide dough in half and shape into a 10-12 inch round on a floured surface. Remove preheated pizza stone from oven and sprinkle with cornmeal. Arrange the crust on the stone. (Alternatively, sprinkle a pizza peel with cornmeal and arrange the crust on the peel. After toppings are added, use the peel to transfer pizza to the hot stone in the oven. Hubs has perfected this technique. I have not.)
Spread the bacon mixture evenly over the dough. Arrange shaved asparagus over bacon. Sprinkle evenly with cheeses and crack black pepper over the entire pizza. Bake 12-15 minutes until cheese is melty and bubbling and crust is golden brown. (Makes 8 slices pizza.)
Fran Hill has been blogging about food at On My Plate since October of 2006. She, her husband and their three dogs ranch near Colome.