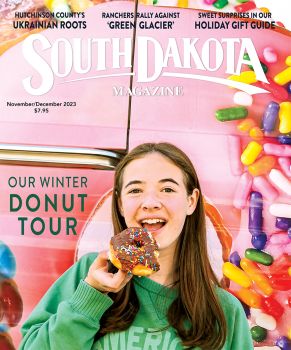 Subscriptions to South Dakota Magazine make great gifts!
Subscribe today — 1 year (6 issues) is just $29!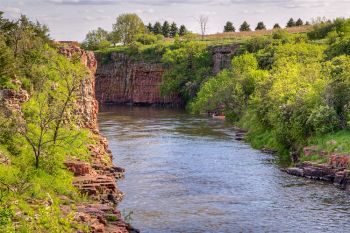 A Week at the Dells
May 25, 2016
By Christian Begeman
Six evenings and a day. That's the time I set aside in the month of May to search out and photograph springtime ornaments at one of my favorite places found within 20 miles of my home. Six evenings and a day… and I wish I could have gone more. The place? The Dells of the Big Sioux River just south of Dell Rapids. The reason? To search for pretty little things to photograph. Things like wildflowers and warblers. The terrain is unique with steep cliffs, natural stairs and stony perches that help to get to eye level with our feathered friends. And to be honest, that's really how I first came to think of the Dells as more than just a neat place where the river had cut through 40 feet of Sioux quartzite, carving an impressive canyon in the middle of the eastern South Dakota prairie.
A couple years ago, I stumbled upon the warbler migration that travels through our state in May right there at the Dells. As I was sitting on a stony perch watching for Baltimore Orioles and Northern Cardinals, I noticed a variety of birds deftly catching winged insects in the trees at my feet and eye level. These birds were new to me. I took their portraits as best I could, and discovered later that I had seen birds with names like the Magnolia Warbler, Wilson's Warbler and Palm Warbler. I was hooked on warblers after that. This year, I saw a Blackpoll Warbler on his way from South America to Canada at the Dells, as well as a Blue-headed Vireo.
Ruby-throated hummingbirds are residents at the Dells as well. Five out of my seven times, I spotted a handsome male perched on a high branch surveying his kingdom of blooming honeysuckle and other wildflowers. The first day, he flew very near me and began to fly vigorously in a tight "u" shape while making noises with his wings. Later, I read it was his way of impressing the ladies. Turns out, there must have been one hiding in the leaves and branches and I actually spotted her a couple days later and almost on cue, the male did his "u" dance in the air again.
There are also big birds that call the Dells home. On the full day that I spent there, about mid-afternoon a Great Horned Owl started hooting from the other side of the cliffs. It wasn't long until it flew out and perched on a branch to see what the commotion was (me). I'm sorry if I woke him from an afternoon snooze, but I'm grateful he decided to let me snap a couple photos.
Birds aren't the only attraction for photography at the Dells. The cliffs themselves are incredible, and full of unique plants like fragile prickly pear cactus. If you have a macro lens, you could spend hours photographing the close-up details. I know because I did. I also saw three different kayakers and canoers plying the waters below, and someday would like to join them to see the view from the river level.
Six evenings and a day in May at the Dells. Not a bad way to experience spring in southeast South Dakota. I wish I could have gone more.
Christian Begeman grew up in Isabel and now lives in Sioux Falls. When he's not working at Midcontinent Communications he is often on the road photographing South Dakota's prettiest spots. Follow Begeman on his blog.