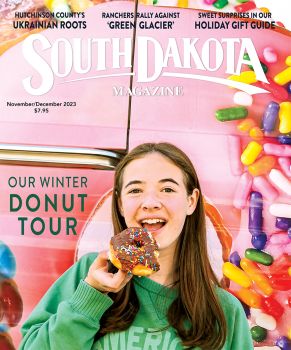 Subscriptions to South Dakota Magazine make great gifts!
Subscribe today — 1 year (6 issues) is just $29!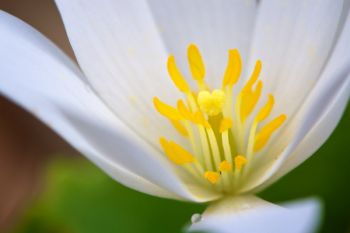 Dirty Work
Jul 7, 2014
I have to admit that my photography hobby could fool people at a casual glance. If you didn't know me and happened to catch me when the photography muse strikes, I could forgive you for thinking that my elevator may not reach top floor. What other passion takes you out in the middle of clear, moonless nights for hours at a time miles from home … on a weeknight? What other hobby causes a grown man to sprawl spread eagle on the open prairie, awkwardly avoiding cactus and cowpies while brushing off bloodthirsty creepy crawlies just to get the best angle of light on a flower?
I've ripped countless jeans in far too many places from pesky barbed wire or simply awkward positioning in the heat of the photography moment. I single handedly keep insect repellent companies in business during the summer. I've gone to work looking like I was in a bar fight the night before because a gnat bit my eyelid and it nearly swelled shut. I got a satisfying kick out of saying, "you should have seen the other guy … squashed him like a bug," to any co-worker who asked (and some who didn't). Photography is probably proving that I'm a touch on the crazy side.
Lately, I've been obsessed by country churches and stormy skies. There is something, however, that can break me away even from those pursuits. Anytime I spot a patch of blooming wildflowers, I can't help but grab a camera and start shooting. When I can get flowers with a country church, then it's near photographic nirvana.
It's been a late and wet spring. That means wildflowers have been going strong this year. I took a trip in late May to the western half of our state and found hillsides in bloom in Wind Cave National Park and Custer State Park. On my way back east, I stopped at Sica Hollow State Park to find more woodland beauties. Most of the spring flowers are done now, but the sunflowers, coneflower and prairie roses of early summer are out just waiting for you take their photos. Here are a couple suggestions on shooting wildflowers to get you prepared:
If possible, buy or borrow a macro lens. These lenses are engineered to allow very close focusing, which allows small buds and petals to appear large and detailed in a photograph. The first time I put on one my camera, I didn't want to take it off for days. It can transform how you see a flower or even a bug.
Make use of a wide angle lens. Shooting as wide as possible does two things: it makes your depth of field rather big so more of the scene will be in focus, and it allows you to show the general area where the flowers are found. So you can show the entire hillside of flowers instead of just a few.
Don't be afraid to get dirty. Anybody can shoot a flower from a standing eye level looking down. Interesting angles and details not always seen can be found at or below the flower's level.
Watch for distractions in the shot. I've been frustrated more times than I like to admit when I notice an odd piece of grass in the composition that I didn't notice while shooting. It is easy to get so focused on the flower that the surrounding details don't get noticed. This is a tough one for me, but it pays to pay attention to everything in the frame.
Christian Begeman grew up in Isabel and now lives in Sioux Falls. When he's not working at Midcontinent Communications he is often on the road photographing South Dakota's prettiest spots. Follow Begeman on his blog.