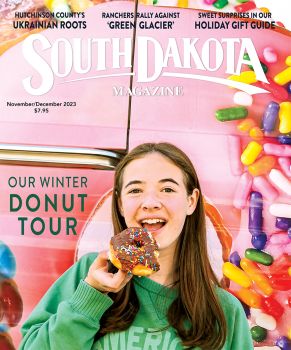 Subscriptions to South Dakota Magazine make great gifts!
Subscribe today — 1 year (6 issues) is just $29!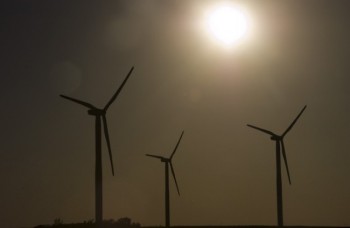 Wind Won't Be Stopped
Dec 9, 2011
By Bernie Hunhoff
State legislators and energy lobbyists gathered on the fourth floor of the State Capitol on Monday night to hear a review of various issues from the Public Utilities Commission.
If there is any issue that unites Democrats and Republicans in South Dakota, it is the omnipresence of our prairie breezes. They say a real Texas oilman can almost smell where to drill. It is in his bones and nostrils, maybe the way a Northerner can feel the wind even when indoors or in a truck. We live with wind, and we believe in its power.
So the news from PUC commissioners Gary Hanson and Chris Nelson was heartening on that cold night in Pierre, who reported that in a scant decade our state has grown its wind energy industry from nothing to nearly 800 megawatts.
We lead all states in wind development when you rank it as a percentage of total in-state generation. Wind represents 23% in South Dakota. Iowa is second at 17%, followed by North Dakota and Minnesota at about 13%.
But our potential has hardly been tapped by the existing turbines. We could produce up to 4,000 MWs — twice the total annual peak demand for electricity in South Dakota. Consequently, if we are going to expand in the future we'll need to export our energy to urban areas.
News came this week that a $730 million transmission line will be finished that will carry wind power from the Buffalo Ridge country in Brookings County to the Twin Cities. It is one segment of a string of proposed lines from North Dakota eastward.
Transmission towers are more important than turbine towers at this stage of the game. Also critical is a federal tax subsidy that pays developers up to 30% in construction costs. The federal credit has been an on/off program and it is currently scheduled to be switched off again in 2013, so next year is an important construction season for projects currently being planned.
The only downside to wind energy has been the realization that, beyond construction jobs, it doesn't seem to create as many rural jobs policymakers had hoped. The PUC staff reports that only about 3 to 7 maintenance and operation positions are created in a 100 MW project.
But the other benefits — lease payments to landowners, tax receipts for state and local governments, cleaner air and less dependence on foreign energy — have all become realities in South Dakota.