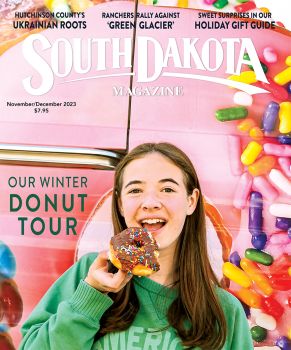 Subscriptions to South Dakota Magazine make great gifts!
Subscribe today — 1 year (6 issues) is just $29!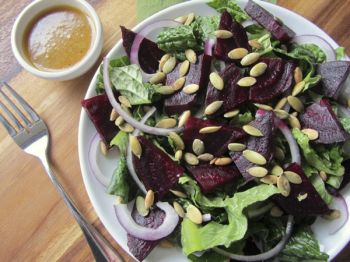 Beeting the Winter Blues
Jan 23, 2014
Winter in South Dakota has its challenges. I could complain about the wind, sub-zero temperatures, gray days, and endless, dead, brown of a snowless winter. All are valid criticisms. But do you know what my biggest grievance about winter is? Tomatoes. I miss red, ripe, juicy, garden tomatoes.
Summer spoils me with my backyard garden always overflowing with fruit laden tomato plants. I slice luscious platefuls, add mouth-watering layers to sandwiches, sauté wedges with other colorful garden veggies, toss divine dices with hot and cold pastas, and chunk into sumptuous salads.
Winter leaves me cold and blue in the produce aisle. Grocery store tomatoes are pasty. Mealy. Gross. Occasionally, I may stumble upon a semi-decent hot house tomato, but they never really compare to my summer loves.
How do I beat this gloomy winter challenge? With beets. Roasted ruby beets are the perfect vibrancy for my winter salad. Paired with hearty greens (I chose romaine, but you could easily step it up with kale, if you lean that way), the crisp acidity of red onion, and earthy pumpkin seeds, beets are a solid stand in for tomatoes. A dynamic, almost mustardy dressing is the ideal finish for this winter salad that eases my mourning for summer tomatoes.
---
Beet and Romaine Salad
(adapted from foodloveswriting.com)
2 heads romaine lettuce, chopped
1 large red beet, roasted, peeled, and thinly sliced
1/4 small red onion, thinly sliced
1/2 cup pumpkin seeds, toasted
Kosher salt
freshly ground black pepper
Dressing:
2 shallots, finely diced
1 tablespoon fresh lemon juice
2-4 tablespoons maple syrup (to taste, we liked the added sweetness of more)
dash of cayenne pepper
1/8-1/4 cup olive oil
kosher salt
freshly ground black pepper
Arrange the sliced beets on a cutting board and season with kosher salt and freshly ground black pepper. Cut each slice into quarters.
Layer the greens, red onion, beets, and pumpkin seeds in salad bowl.
For the dressing, add finely diced shallot to the mixing cup for a wand blender (or a small food processor). Blend until pulverized. Mix in the lemon juice, maple syrup, cayenne, salt and pepper. Add the olive oil and blend until smooth. Taste and adjust seasonings.
Drizzle dressing over salad and toss. (There may be more dressing than needed for your taste. I saved the extra and drizzled over roasted beets and potatoes.) Serves 2 for dinner salads, 4-6 for side salads.
Fran Hill has been blogging about food at On My Plate since October of 2006. She, her husband and their two dogs ranch near Colome.