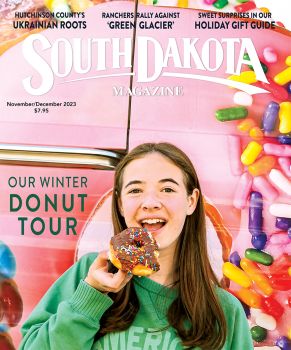 Subscriptions to South Dakota Magazine make great gifts!
Subscribe today — 1 year (6 issues) is just $29!

The Resourceful Chef
Oct 25, 2018
By Fran Hill
In South Dakota, you plan a Halloween costume that fits over your snowsuit … just in case. We all know that autumn often means at least one short-lived snowstorm, and most people are prepared. As the forecasters warn of the fronts moving in, farmers hustle to harvest crops and ranchers bed livestock. We make sure winter coats still fit and find matching gloves. If the storm is severe, there is a run to the store for milk, bread and toilet paper. Some years, the storms rage and there is devastation. Most often, an inch or so of white covers our world and melts quickly in the 50- to 60-degree days that follow. This is a South Dakota autumn.
Earlier this month when our first snows fell, I wasn't concerned. Hubs and I had been out of town for a couple of days, and my introvert side wanted some downtime. I needed to be home to tend to neglected chores and a few work-from-home items. In our driveway, my car sat through the rains that turned to snow and while I wouldn't call it buried, it was thoroughly blanketed in white. Even though the following days were warmer, there wasn't much melting with the car parked in the shade. However, digging into my to-do lists, I didn't even think about it.
I was running late for an appointment a day or so later when I walked out and discovered my snow- and ice-covered mess. I was even later when I realized I didn't have an ice scraper. I wasn't prepared, but I was resourceful as I dashed back into the house and grabbed a wooden spatula from the crock of utensils beside my range. I carefully chiseled ice from the windows and managed to only be slightly late that morning.
I have said it before, and I will say it again: Round wooden spoons are useless. Go for the flat wooden spatula. Round spoons don't get into the edges of a pot and don't connect with enough surface area to scrape foods from the bottom. They also won't work as a stand in for an ice scraper. Wooden spatulas are where it's at.
When you aren't scraping ice with your spatula, it works perfectly to stir up a pot of Kielbasa and Cabbage. This is a simple dish that really doesn't need a recipe. Onions and garlic are softened and fragrant before kielbasa (or other link sausage, or even crumbled bulk sausage) is browned. Toss some chopped cabbage and shredded carrots to the pan and steam with just a bit of stock until wilted. My family likes to stir in buttered egg noodles before serving (often with steamed green beans and a loaf of crusty bread to complete the meal), but the dish is just as delicious without.
No fancy equipment is needed to prepare for Kielbasa and Cabbage, just a cutting board, a knife, a large skillet with a lid and something to stir it all up. I recommend a wooden spatula.
---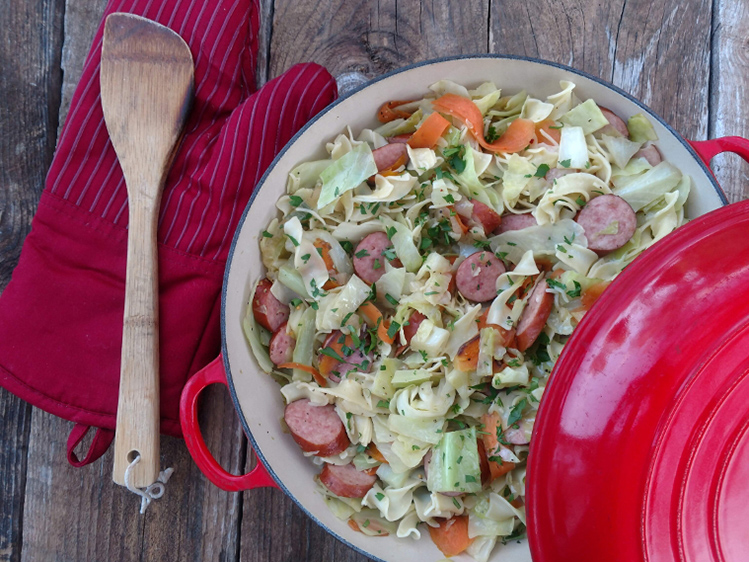 Kielbasa and Cabbage hardly needs a recipe, but a wooden spatula sure is handy.
Kielbasa and Cabbage
1 small onion, diced
1 clove garlic, minced
1 tablespoon butter
2 tablespoons olive oil
1 ring kielbasa sausage, sliced
1 small head cabbage, coarsely chopped
1 medium carrot, sliced into ribbons with a vegetable peeler
1/4 cup chicken broth
1 tablespoon parsley, chopped
salt and pepper, to taste
Heat butter and oil in a large skillet. Sauté onion until tender. Add the garlic and heat until fragrant. Add the sliced kielbasa and cook until browned and heated through. Stir in the cabbage and carrot. Add the broth and season with salt and pepper. Cover and cook until cabbage is tender. Taste for seasoning and garnish with parsley. (Serves 4)
Fran Hill has been blogging about food at On My Plate since October of 2006. She, her husband and their three dogs ranch near Colome.