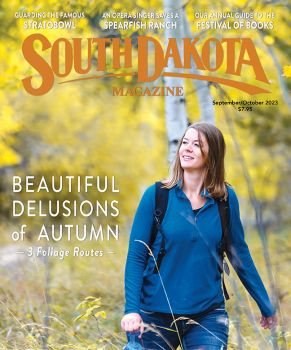 Subscriptions to South Dakota Magazine make great gifts!
Subscribe today — 1 year (6 issues) is just $29!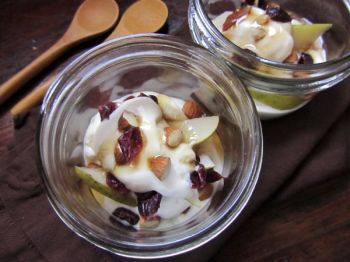 What Time Is Dinner?
Nov 14, 2013
By Fran Hill


Thanksgiving is just two weeks away. What time is dinner?
Do you get up at the crack of dawn to wrestle the turkey into the oven and frantically chop, stuff and whip the menu into submission for a prompt noon presentation? Or, are you a little more laid back, like me? Do you schedule a late afternoon meal and leisurely prep the dressing and mashed potatoes while saving your panic for when the gravy doesn't come out properly?
There are a variety of reasons why I prefer a 4 or 5 pm dinner time for holidays. Hubs doesn't have the stress of rushing through morning chores at the farm. My lazy side doesn't have to get up with the chickens to cook. The candles look prettier as dusk starts to fall. And, most importantly, there is the food — precisely, MORE food.
With a noon dinner for Thanksgiving, there is the tendency to skip breakfast, and who has time for appetizers? Serve the meal a little later than lunch, but before a traditional evening dinner, and you have a day set up perfectly for my favorite type of eating: grazing.
My ideal Thanksgiving starts with a light and simple breakfast. It extends with trays of snack foods such as hummus and fresh veggies, spinach artichoke dip and crackers, crab stuffed mushrooms, spiced nuts, pickles and olives, and cheese and salami to be nibbled, but not devoured. Then, the feeding moves seamlessly into the full meal loaded heavily on the table with the grand turkey, rich and creamy gravy, savory sage dressing, garlic mashed potatoes, roasted winter squash, sautéed Brussels sprouts, cranberry sauce (canned is OK with me) and fluffy dinner rolls. There is a brief break for clearing the main dishes from the table and possibly washing up, and then desserts roll out. Cakes, pies, tortes, and tarts, sometimes as many as one per person, are slivered up for everyone to finish with a sweet taste.
Admittedly, it is a bit of a gluttonous day of food. However, I never gorge myself with any one thing. For me, it is more of a day of sampling. There is a taste of this, a nibble of that, savoring all the flavors and being thankful for the blessing of so many indulgences.
If you wish to model your Thanksgiving day of feasting after my plan, I suggest starting out with Autumn Yogurt Parfaits. The thick creaminess of Greek yogurt pairs well with a seasonal blend of crisp pears, tart cranberries, crunchy almonds, and sweet maple syrup, but isn't so heavy as to weigh me down. The parfaits can be customized individually, or made ahead of time for less kitchen fuss. I like small portions, just enough to take the edge off the morning hungries and ward off the what-time-is-dinner grumbles before the appetizers appear. Remember: The key to all day eating is to stuff the turkey, not yourself.
---
Autumn Yogurt Parfaits
Adapted from Real Simple Magazine
Honey-vanilla greek yogurt (or plain, if you wish)
1 pear, sliced thinly
Dried cranberries
Roasted unsalted almonds, chopped
Real maple syrup

Layer the yogurt with the pear slices, dried cranberries and almonds. Drizzle with maple syrup.
Fran Hill has been blogging about food at On My Plate since October of 2006. She, her husband and their two dogs ranch near Colome.