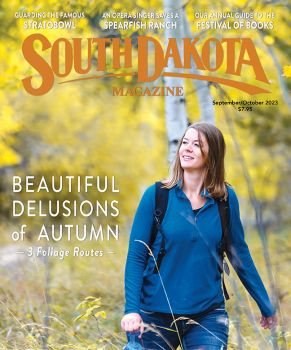 Subscriptions to South Dakota Magazine make great gifts!
Subscribe today — 1 year (6 issues) is just $29!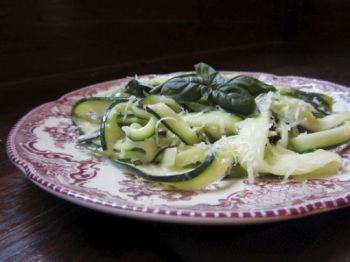 Fear No More
Aug 9, 2012
In small towns all around the state, doors were locked yesterday. Cars, houses and garages were shut up tightly. I heard rumors that a few small businesses even did pat downs before allowing entrance. The residents of our state were not fearful of terrorists or burglars. They weren't panicked by a common criminal. The boogeyman that had everyone in our normally quiet neighborhoods on their toes was much more real. August 8th was National Zucchini Day.
Yes. Zucchini and the fear of someone celebrating "Sneak Some Zucchini Onto Your Neighbor's Porch Day" sparked uneasiness and angst among South Dakota's citizens. Perhaps, they didn't know about the plethora of recipes from South Dakota Magazine's past zucchini cook-off? Brownies, cake, cookies, chili and a quiche-like pie were offered up for that judging. Quick breads with blueberries, side dishes sautéed with cherry tomatoes, and condiments stewed into a cinnamon "apple" butter (and many more recipe ideas) are covered on my blog, On My Plate.
It is clear that I am not afraid of the green (or sometimes yellow) garden vegetable. I welcome it into my home. Shredding it into desserts is delicious. Roasting, grilling, and sautéing it with garlic, chiles or sometimes exotic (to my Midwestern kitchen) spices is delightful. Sweet to savory, zucchini is the chameleon of food. It can be anything you need it to be, and shouldn't be feared. It should be embraced and loved.
I love to pair garlic with zucchini (actually, I love to pair garlic with pretty much anything); adding cream and some Parmesan cheese is an outstanding method to create Zucchini Alfredo. Choose small zucchinis that are tender, don't require peeling, and have no large seeds. I use a mandolin slicer for ease of prep, but a plain old kitchen knife would do the job with just a little care. Crafting "noodles" of thinly sliced zucchini is pretty genius, in my book. Of course, it isn't the same as a big plate of pasta, but in the heat of summer, who wants the misery of a belly full of carbs? I bet some creamy, lightly garlicky, beautiful Zucchini Alfredo will change your mind about the garden's most feared vegetable.
---
Zucchini Alfredo
2 small zucchini
1/2 tablespoon olive oil (Honestly, I eyeball this.)
1/2 tablespoon butter
2 cloves garlic, minced
Splash of dry white wine (I have used Sauvignon Blanc or Pinot Grigio…whatever not too sweet wine you may have.)
3-4 tablespoons heavy cream (You want enough for sauce, but not enough to drown the zucchini.)
2-4 tablespoons grated Parmesan cheese (NOT the green can, please.)
Kosher salt
Freshly ground black pepper
Additional grated Parmesan cheese, basil, or herbs of choice for garnish
With a mandolin slicer, slice the zucchini into thin ribbons, roughly just under 1/8" thick. You want the slices to be thin enough to become pliable like noodles, but not so thin that they disintegrate into mush during the quick sauté and thickening of the sauce. Cut the ribbons of zucchini into 1/4" strips, similar to fettuccini noodles.
In a large heavy skillet or braising pan, heat the oil and butter together. Add the garlic and briefly sauté until fragrant. Be careful not to burn; burnt garlic isn't nice. Add the zucchini noodles and stir gently to coat with the garlic-infused oil. Add the splash of wine, again tossing the zucchini to coat and allowing some of the alcohol to cook off. Add the heavy cream and the parmesan cheese. Push the zucchini to the edges of the pan and allow cream to reduce slightly and thicken for sauce. Season with salt and pepper. Stir carefully, as to not break the zucchini noodles, to coat the zucchini with the sauce.
Serve topped with additional grated Parmesan cheese and fresh herbs. Serves 4.
Fran Hill has been blogging about food at On My Plate since October of 2006. She, her husband and two dogs reside near Colome.