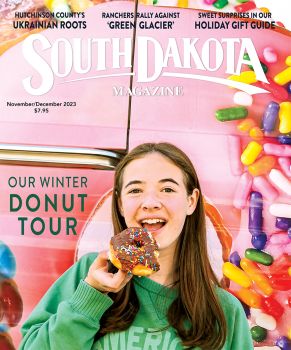 Subscriptions to South Dakota Magazine make great gifts!
Subscribe today — 1 year (6 issues) is just $29!

Art, Violence and Poker Alice
Aug 2, 2017
By Michael Zimny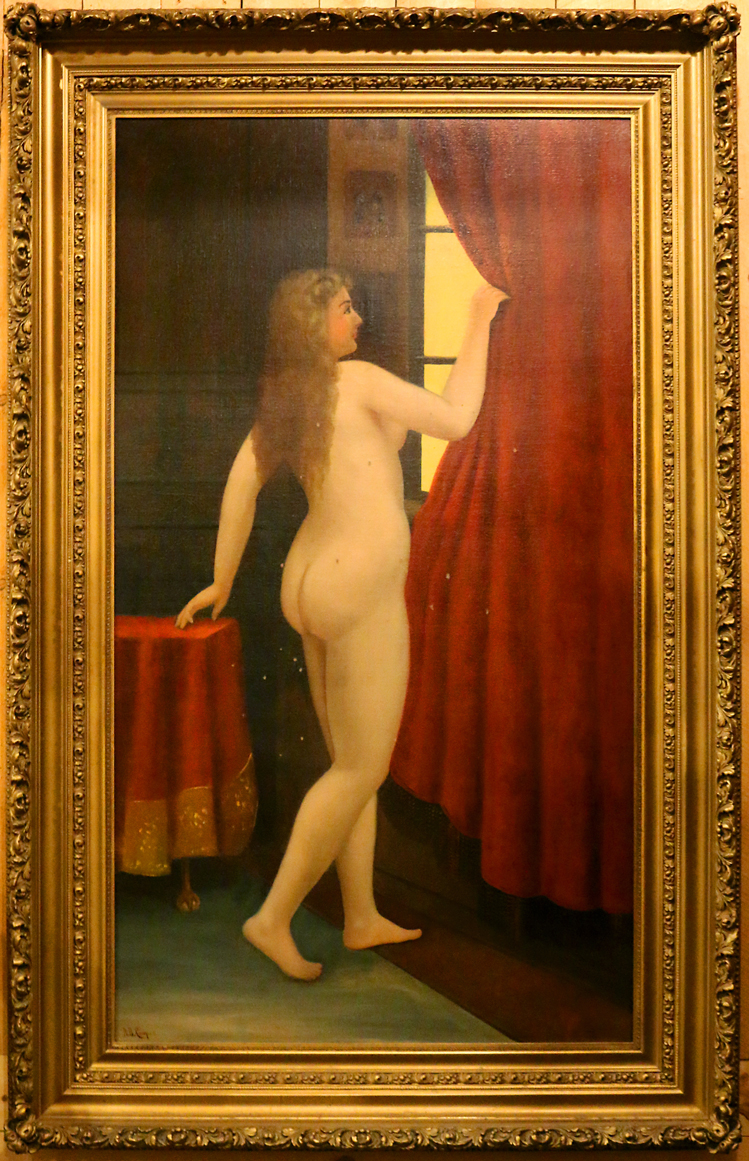 Legend says that Poker Alice damaged this painting when she fired her shotgun inside her Sturgis brothel. Image courtesy of the Days of '76 Museum.
There is art that memorializes, mourns, celebrates or foments violence. Then there are works that get a value-upgrade out of real acts of violence.
Henry Ford paid a mint for the rocking chair Abraham Lincoln was reclined in when John Wilkes Booth shot him. The Metropolitan Museum of Art houses killer art from shrunken heads to arms and armor. John Wayne Gacy's clown paintings are creepy enough on their own, but his artist's bio helps move the merchandise. If the platter Salome used to bring Herodias the head of John the Baptist could be certified, it would fetch some serious coin at Sotheby's.
Legend says Poker Alice used her shotgun to value-appreciate a decent if unremarkable nude that used to hang on her brothel wall. The painting is now in the collections of Deadwood's Days of '76 Museum. Reportedly, Alice laced it with holes at her Sturgis brothel and willed it to fellow madam Big Hulda. Local artifact collector Don Clowser later located it at a bar in Gillette, Wyoming. The museum has since had the painting restored.
Is the story true? What can be verified is that Poker Alice was familiar with firearms. There is plenty of legend to go around about Deadwood's famous card shark. It's hard to know whether she became a gambler from a young age as some suggest, or as the cigar-chomping elder in the famous photos; or if she impressed future husband Warren Tubbs by shooting a man, who aimed to stab him, with her .38.
She did kill a man. More than a dozen rowdy soldiers burst into her brothel one night in 1913, and according to the Deadwood Pioneer-Times, "started to clean out the place … by cutting the electric light wires and throwing rocks through the windows." Locked and loaded, Poker Alice "started shooting into the crowd with a .22 rifle," hitting two soldiers. Private Fred Koetzle was mortally wounded. Two days later the Pioneer-Times reported that the state's attorney would not file charges against her for the shooting, though she would be charged with "keeping a house of ill fame."
"Ill fame" surrounded Alice the rest of her days. At 78, some forgotten state's attorney shut down her business and prosecuted her for prostitution and violating Prohibition. Gov. William Bulow pardoned her. By then she was already a legend, making appearances as an icon of the Old West at the early Days of '76 parades.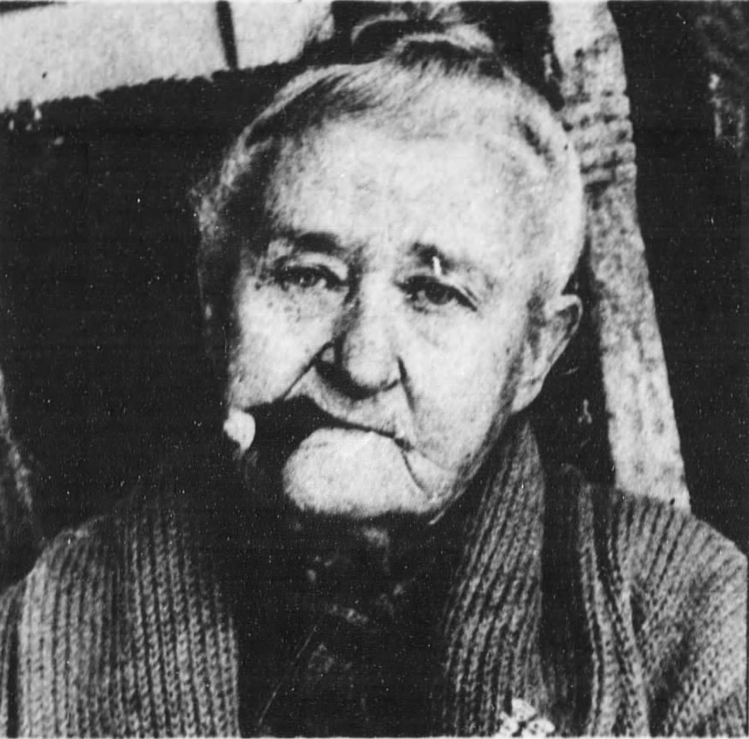 Poker Alice.
For decades, she gambled with accomplished gunslingers and took them for everything they had. She outlived three husbands and nearly all the more-famous fellow outlaws — like Wild Bill and Calamity Jane — she may have knocked one back with in the saloons of Deadwood's "Badlands" district, into an era of gentrification (Black Hills style) that capitalized on the legend of the old days to attract tourists.
So it wouldn't have been out of character for her to shoot up the place and lodge some shot in an artist-rendered lady of the evening's backside.
The painting itself is not by an unknown. Astley David Middleton (A.D.M.) Cooper was a renowned artist and protégé of George Catlin, who had retraced Catlin's journeys through the American West and often depicted Western, particularly Native American subjects. Like Catlin, he saw the tragedy of westward expansion. His best works serve as elegies for lost ways of life.
He was well regarded in his time, earning enough to build a garish Egyptian-themed studio in his home base of San Jose, and still has a cult following, though his stature has waned with time. He was also the kind of guy who would enjoy a night at a joint run by Poker Alice. He liked the nightlife and left behind a prodigious output of lowbrow nudes that may have been used to pay off bar tabs.
That's the kind of Cooper that hung on the wall at the Poker Alice joint in Sturgis, and that legend says she honeycombed with buckshot. If it's true, she may have embellished the work of a (sometimes) funereal artist with the forensic debris of some john's last night on the town.
Michael Zimny is the social media engagement specialist for South Dakota Public Broadcasting in Vermillion. He blogs for SDPB and contributes arts columns to the South Dakota Magazine website.