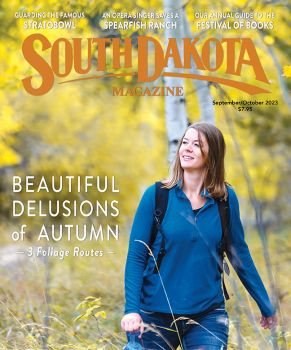 Subscriptions to South Dakota Magazine make great gifts!
Subscribe today — 1 year (6 issues) is just $29!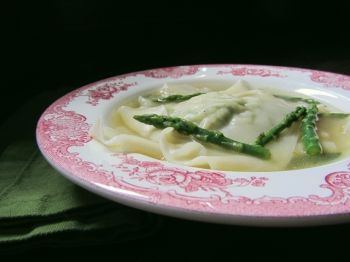 Wild Asparagus Secrets
May 15, 2014
Across the state, little spires are poking through the grass in roadside ditches, creek beds and under giant cottonwoods. Tender and with a flavor unlike anything from the produce section of the grocery store, wild asparagus season is upon us.
My husband always jumps into the hunt with both feet every spring. If he isn't planting crops until dusk (and sometimes even if he is), I can guarantee that at least one night each week his return home for supper will be significantly later than he has told me it would be. However, when he walks in the door with the most gorgeous bouquet of freshly cut wild asparagus, I forgive him.
Even in the unending (but much needed) rains of Mother's Day weekend, my asparagus warrior couldn't stay away from stalking the stalks. He presented me with two armfuls of delicious green stems of asparagus.
As I arranged one harvest on my cutting board for a quick photo, he was genuinely alarmed that I planned to share the glory of our bounty on the Facebook page for my blog, On My Plate. Just like a hunter doesn't want to give away the location of a trophy whitetail, Hubs holds the whereabouts of his asparagus hunting grounds close to the vest. When someone questions him about the prize asparagus patches, he usually says, "west of Minneapolis." If pressed further, he will concede that the area is more specifically "north of Springview, Nebraska and south of I-90."
It isn't that difficult to find your own wild asparagus hunting ground. The plants like damp, undisturbed soil. Ditches and fence lines are common spots. In the spring, look for the dried, yellowed remains of bushy, almost tumbleweed-like growths. These are the branchy stalks of asparagus that grew up and went to seed. At the base, new sprouts will be growing.
Hubs is insistent that no matter where you hunt (and especially if you stumble into his territory) that you cut your harvest properly. Never, NEVER, just snap the heads off the stems. This tragedy essentially ends the production of the plant. Always cut asparagus shoots as close to the ground as possible. When cut at (or just below) the ground, the root will continue to send up new stalks and provide a crop to enjoy all season long.
We love to simply steam asparagus and serve with a little butter, salt, pepper and maybe a squeeze of lemon. Roasting in a hot oven after tossing with olive oil, salt and pepper is another favorite quick dinner prep for us. However, the cooler weather of this early wild asparagus season is very fitting for soup. Asparagus Ravioli in Parmesan Broth is the unlikely combination of both light and filling. The asparagus and mascarpone-filled pasta pouches could easily be drenched with a creamy sauce for a traditional pasta meal, but the rich Parmesan broth is perfect for spring. The flavors are green and earthy — everything asparagus should be.
Fran Hill has been blogging about food at On My Plate since October of 2006. She, her husband and their two dogs ranch near Colome.
---
Asparagus Ravioli in Parmesan Broth
(adapted from Gourmet Magazine)
1 pound asparagus, trimmed
5 cups chicken stock
1 rind from a wedge of Parmesan cheese
1 bay leaf
1/2 cup grated Parmesan cheese
1/4 cup mascarpone cheese
1/4 cup fine dry bread crumbs
1 teaspoon grated lemon zest
1 package wonton wrappers
Cut off asparagus tips and set aside.
Bring stock, cheese rind and bay leaf to a simmer.
Add asparagus stems and cook uncovered until stems are tender.
Transfer stems to paper towels and cool slightly. Reserve broth.
Puree asparagus stems in a food processor with grated Parmesan, mascarpone, breadcrumbs, zest, and 1/2 teaspoon each of salt and pepper.
Arrange wonton wrappers on a work surface and place 1 tablespoon of the asparagus filling in the center of each.
Working with one at a time, moisten the edges with water and lay another wrapper on top; seal the edges, pressing out any air.
Repeat with the remaining wrappers and asparagus filling.
Bring a pasta pot of salted water to a boil, then reduce to a gentle boil.
Bring reserved broth to a simmer; add asparagus tips and simmer until tender.
Season broth with salt and pepper (to taste, if needed) and divide it and asparagus tips between 6 shallow bowls; discard cheese rind and bay leaf.
Add a few of the ravioli to gently boiling water, carefully stirring to separate. Cook until pasta is tender, 2-3 minutes.
Lift ravioli with a slotted spoon, draining well over the pot, and transfer to bowls with broth.
Repeat with remaining ravioli. (Serves 6)