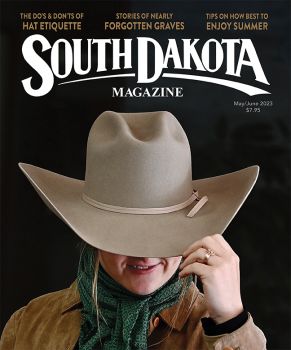 Subscriptions to South Dakota Magazine make great gifts!
Subscribe today — 1 year (6 issues) is just $29!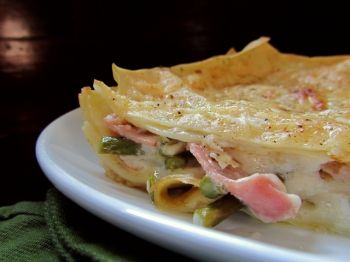 New Traditions Are Rising
Apr 17, 2014
When I was a kid, Easter always meant ham. Of course, many Sunday dinners meant ham in my childhood home. It was easy for my mother to toss a bone-in picnic ham into the oven before loading the brood into the car and heading to Sunday school and church. Returning to the smoky, salty aroma filling the house was wonderful. Potatoes were boiled and mashed. A vegetable was prepped. Dinner rolls were warmed. Gravy was made. Easter dinner — or any random Sunday dinner — was served.
When I began hosting my own spring holiday dinners, I also leaned heavily on that big, baked ham. I experimented by adding a sweet and cidery raisin gravy, whipped spinach into my mashed potatoes, vibrant fruit salads and all the fresh asparagus I could find. Lemon and strawberry pies hit the table for dessert, and dinner was served.
These days, family and friends are pulled in many different directions every holiday. Sometimes, I get to place an eggcup with pastel-dyed eggs at each place setting of a big Easter table, and sometimes it's just Hubs and me. With only two of us, I tend to pull away from standard dinner traditions. We might do brunch and pizza later, or maybe the Ham and Asparagus Lasagna recipe that I tried last year with the garden's bounty of fresh asparagus.
Ham and Asparagus Lasagna has the familiar flavors of Easter dinner with the added comfort of pasta, cheese and a creamy sauce. The alluring layers are not a letdown for a special holiday table, and the dish would pair beautifully with a bright spring salad, garlicky dinner rolls, and (of course) something lemon or strawberry for dessert. Perhaps a new Easter dinner tradition could rise from Ham and Asparagus Lasagna.
Fran Hill has been blogging about food at On My Plate since October of 2006. She, her husband and their two dogs ranch near Colome.
---
Ham and Asparagus Lasagna
(adapted from Rachael Ray)
1 pound asparagus, cut into 1-inch pieces
1 pound lasagna noodles
4 tablespoons unsalted butter
1 small onion, finely chopped
1/2 cup flour (I like Wondra for sauces and gravies.)
4 1/2 cups whole milk (I may or may not have subbed heavy cream for part of this milk.)
2 cups freshly grated Parmesan cheese (Put away that green can and buy a wedge of real cheese to grate yourself. You won't regret it.)
1 teaspoon freshly grated nutmeg
Kosher salt
freshly ground black pepper
1/2 pound deli-sliced baked ham, cut into 1/2-inch ribbons (Diced ham would also work.)
Preheat the oven to 375 degrees F. Bring a large pot of salted water to a boil.
Cook asparagus in the boiling water until tender (about 2 minutes). Remove from pot with a slotted spoon and drain well.
Bring the water back to a boil and cook the lasagna noodles according to package directions (about 8 minutes). Drain and set aside.
Meanwhile, in a medium saucepan, melt the butter. Add the onion and cook, stirring occasionally, until softened. Stir in the flour and cook a few minutes. Slowly whisk in the milk and bring to a boil. Reduce heat and simmer, whisking constantly, until thickened. Remove from heat; stir in half of the Parmesan and half of the nutmeg; season with salt and pepper.
Spread about 1/3 cup of the cheese sauce into a 9x13-inch baking dish. Layer 4 noodles on the sauce and top with 3/4 cup cheese sauce. Sprinkle 1/4 of the ham, 1/4 of the asparagus and 3 tablespoons Parmesan over the sauce. Repeat the layering process 3 more times. Top with the remaining noodles, cheese sauce, Parmesan and nutmeg.
Cover with foil and bake about 30 minutes. Uncover and bake 10 additional minutes. Let stand 10-15 minutes before serving. (Serves 6)