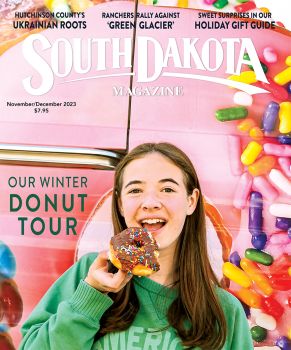 Subscriptions to South Dakota Magazine make great gifts!
Subscribe today — 1 year (6 issues) is just $29!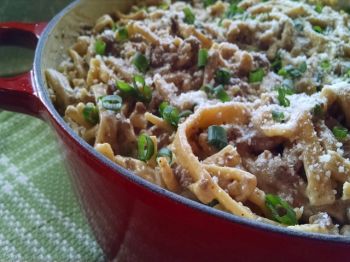 Happy and Hearty
Feb 19, 2015
Cold enough for ya? Isn't that the general greeting in South Dakota these days? We have reached the portion of winter where the novelty of snow has worn off for many people, and all those stylish new sweaters, boots and scarves that were anxiously purchased in the dog day heat of September just don't seem so cute anymore. We dream of sun that isn't tempered by a wind chill factor and search for tropical vacations.
I actually like winter. I could do without the bitter chill, but snow is a joy for my heart. However, when offered an opportunity to head south to the Caribbean late last month, I jumped on that plane as quickly as possible. Trading snow drifts for white sandy beaches, brilliant blue waters, and sun, sun, glorious sun was pure bliss.
Between napping in a lounge chair, squishing our toes in the sand, splashing in the salty waters, reading fluffy novels, sightseeing and relaxing with amazing sunsets, we sampled lots of delicious food. Lots. And lots. All you can eat lots.
There were ripe and juicy mangos, pulled pork flatbread pizza, tuna spring rolls, seafood queso dip, tuna ceviche, crab-topped fries, calamari, yogurt parfaits, pork belly, grilled wahoo, jerk chicken and pork (topping fries, chips, stuffed into paninis and all on its own), scallops and pasta, smoked ribs, lobster (in spring rolls, salad, bisque, lobster thermidor, mac and cheese and, of course, grilled lobster tails), coleslaws with papaya and peppers, endive with smoked salmon and avocado, sushi fit for a king, edamame, dessert coffees, lychee fruits, curried dishes, fish tacos, poutine, tropical drinks and locally brewed beers, lion fish ceviche, key lime pie, rum cakes, and rum raisin gelato, guacamole, Caesar salads, crepes (filled with bananas and Nutella, strawberry rhubarb, and fresh peaches), caprese salad, golden beet borscht, quiche, nicoise salad, lobster tacos, breadfruit fries, a decadent molten brownie swimming in bacon caramel sauce, and more that has escaped me at the moment, but never failed to thrill me when placed on our tables.
Do you notice anything missing from that delightfully gluttonous menu? How about beef? That's right. Beef was certainly available on that luxurious tropical island, but I consciously avoided it. Why? Because I live in South Dakota, one of the greatest beef producing states in America. I can walk to my small town's main street and get a fabulous, locally grown cheeseburger that will make you drool. Steaks and steakhouses are our way of life. More people than not have a side of beef in their freezer that was raised on their own farm or the ranch of a friend. We know beef in South Dakota, and when I travel I simply don't want any other.
But now I'm home. It's cold. And I have a pound of ground beef defrosted in the fridge. It is time to put aside the tropical indulgences and dig into something hearty and comforting. Beef Stroganoff is my kind of comfort food for a chilly South Dakota day. I prefer it made with homemade egg noodles, but store-bought dried work just as well (and make it even easier to get on the table for a weeknight meal). We can't all escape the cold with a sunny vacation, but in cattle country Beef Stroganoff for dinner is warming from the inside out.
---
Beef Stroganoff
(adapted from Kraft)
2 cups uncooked egg noodles (homemade rock, but use what is handy for you)
1 teaspoon beef bouillon (granules, cubes, or best is the Better Than Broth paste)
2 tablespoons unsalted butter
1 onion, chopped
2 cloves garlic, minced
8 ounces fresh mushrooms, sliced
1 pound ground beef
3-4 tablespoons Worcestershire sauce
1/2 teaspoon pepper (or more, to taste)
2 tablespoons flour
1 cup beef broth
1 cup sour cream
4 tablespoons grated Parmesan cheese, divided
1/4 cup green onions, sliced, divided
Heat oven to 375 degrees F.
Stir the beef bouillon into a large pot of water and bring to a boil. Add the noodles and cook according to package directions. (Usually 20-30 minutes for frozen or dried homestyle egg noodles, and 8-10 minutes for regular dried egg noodles.)
Meanwhile, melt the butter in a large, deep skillet. Add onions, cook and stir until tender and translucent. Add garlic and cook until fragrant. Add mushrooms, cooking and stirring until wilted and releasing some moisture. Add ground beef to the skillet. Brown, breaking up into crumbles, until no longer pink. Add Worcestershire sauce and pepper. Add flour to meat mixture; cook and stir until absorbed and slightly browned. Add broth and bring to a simmer. Cook until sauce is slightly thickened. Remove from heat.
Stir in sour cream. Add (cooked and drained) noodles and 3 tablespoons Parmesan cheese. Stir in most of the green onions (reserving a few as garnish). Pour mixture into a greased baking dish and sprinkle with remaining Parmesan. Bake uncovered 20-25 minutes, or until heated through. Garnish with remaining green onions. (Serves 4)
Fran Hill has been blogging about food at On My Plate since October of 2006. She, her husband and their two dogs ranch near Colome.