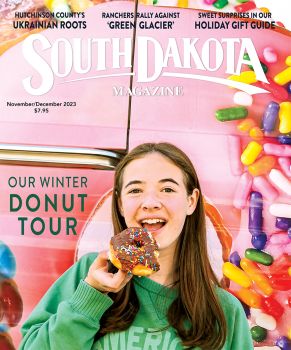 Subscriptions to South Dakota Magazine make great gifts!
Subscribe today — 1 year (6 issues) is just $29!

A Harvest Supper
Sep 29, 2016
By Fran Hill
Nothing highlights the long, demanding hours of farming like harvest. Time is of the essence for a successful yield that follows the whimsical timetable of Mother Nature. It isn't a season for the weak. Leisurely lunches, coffee breaks and even evening suppers are luxuries saved for rainy days. Coolers are packed with bologna sandwiches and string cheese, and if the farmer is lucky, someone brings a hot meal to the field around dusk. Those combines lighting up the fields late into the night and pulling in the crops that will ultimately feed the world are often operated by someone whose nourishment for the day has been potato chips and beef jerky. It is so incredibly ironic that for the people producing our food, real meals are an indulgence.
I experience a similar situation with my garden produce. Everything seems to ripen at once, and I am chained in the kitchen canning and freezing and dehydrating and prepping the pantry for the long winter ahead. On a good day, the mountain of produce shrinks as the jars on the pantry shelves increase, but it is work. Lots and lots of work. Work that uses every burner on my stove and requires hours of standing and chopping and peeling and boiling and clean up. Who wants to make supper after that?
I admit that frozen pizza and trying to convince my husband that chips and salsa are enough for dinner happens a lot when I am in the throes of a canning session. Meal planning has never been my strong suit, and exhaustion makes it nonexistent. But occasionally, I surprise myself by putting together a delightful meal, even when cooking is the last thing I want to do.
Roasting is an obvious choice for meal prep when the stovetop is already crowded with simmering pots. Roasted Sirloin with Potatoes and Green Beans is a winning flavor combination that comes together quickly in the high heat of the oven. Who can argue with meat and potatoes? Thyme adds an unexpected earthiness, and in my book, roasted green beans are almost better than French fries. Harvest, be it from the field or the garden, doesn't have to be the death of real meals.
---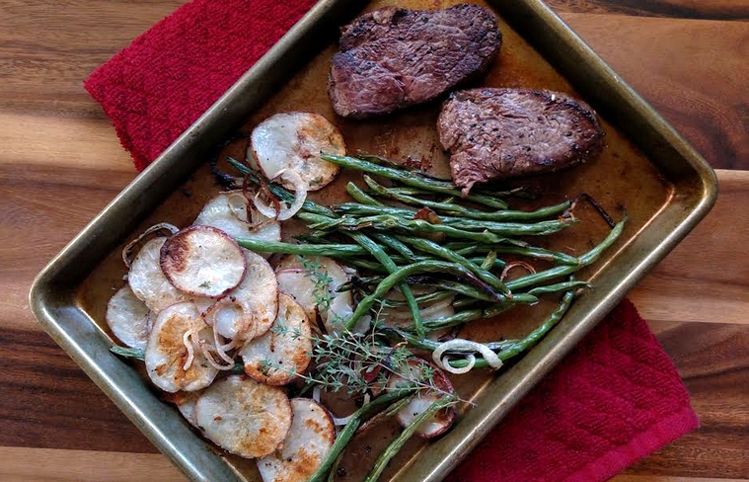 Roasted Sirloin with Potatoes and Green Beans is a quick and easy meal that's perfect for harvest evenings.
Roasted Sirloin with Potatoes and Green Beans
(adapted from Go Fresh, an American Heart Association cookbook)
5-6 red potatoes, unpeeled and thinly sliced
1 pound fresh green beans, trimmed
1 medium yellow onion, sliced
olive oil
2 tablespoons fresh thyme (divided)
2 cloves garlic, minced (divided)
freshly ground black pepper
kosher salt
1 pound boneless top sirloin steak, trimmed and cut into 4 pieces
Preheat oven to 425 degrees. Place a large baking sheet on the center rack to heat. (The hot pan will give the vegetables a head start for roasting.)
Stir the potatoes, green beans, onion, 1 tablespoon each of the minced garlic and thyme with a little olive oil. Season with salt and pepper. Arrange on the preheated baking sheet in a single layer. Roast for 15 minutes.
Meanwhile, season the steaks with salt and pepper and press the remaining minced garlic and thyme to the beef. Heat a little olive oil in a skillet and cook the steaks 3-4 minutes on one side. Immediately remove from the heat, and transfer, browned sides up, to the baking sheet (rearranging the vegetables, as needed). Roast the beef for 3-4 additional minutes to desired doneness, and until the green beans are tender and potatoes browned. (Serves 4.)
Fran Hill has been blogging about food at On My Plate since October of 2006. She, her husband and their three dogs ranch near Colome.