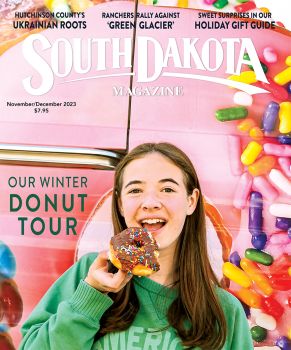 Subscriptions to South Dakota Magazine make great gifts!
Subscribe today — 1 year (6 issues) is just $29!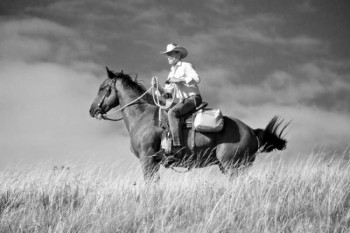 Black and White Magic
Oct 21, 2011
Our visual reality is in living color. Vivid tones are everywhere and are used to attract our attention, warn us and even sell us things we do not need. Knowing this, a good photograph needs to have rich, true colors to catch one's eye to make the image work… or does it? Do you remember the first time you really noticed one of Ansel Adams' iconic black and white images? Maybe it was a shot of Yosemite or the Grand Tetons and the monochromatic image took you right into the scene and held you in awe. There is definitely magic in a well composed black and white photo. A sense of timelessness somehow accompanies all those shades of gray. Seeing the scene in a simpler, more basic way also appeals to our mind's eye — it is almost as if a black and white photo magically renders an everyday scene into a piece of abstract art. Whatever it is, I've always enjoyed good black and white photography. In fact, that is how I first learned to really admire photography in general, by learning how to process black and white images in a dark room.
The good news is that modern day technology seems to have brought creating good black and white images back in vogue. In fact, I've noticed a resurgence of stunning black and white photography recently online and in photography magazines. I think it is due to all the new types of plug-ins and software available that gives a photographer the ability to edit images on a computer as if they were doing old school black and white photography. I'm all in. So what to photograph?
In early August, my hometown of Isabel celebrated its centennial. As part of the festivities, a three day wagon train commemorating the days of the pioneers took place. I was asked to be the photographer. Because the wagon train hearkens back to a historical time, I wanted to produce some of the images in black and white, images that look like they could be from the days of 1911. The images you see accompanying this article are some of my best results.
One of my favorite images of the whole wagon train experience is of an outrider who rode up a hill behind me to view the wagons stretched out on the prairie. His horse stood statue still facing the early morning sun as the cowboy surveyed the scene and clicked away with his disposable camera. The grass was tall and the sky was blue with wispy clouds that added a dramatic backdrop. A scene from 100 years ago? Sure, except that I'm fairly certain cowboys didn't carry disposable cameras back in those days. If you are interested in seeing more images of the wagon train experience in color, feel free to visit my photo blog at cbegeman.blogspot.com.