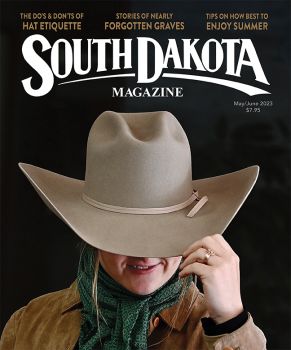 Subscriptions to South Dakota Magazine make great gifts!
Subscribe today — 1 year (6 issues) is just $29!

Life in Isabel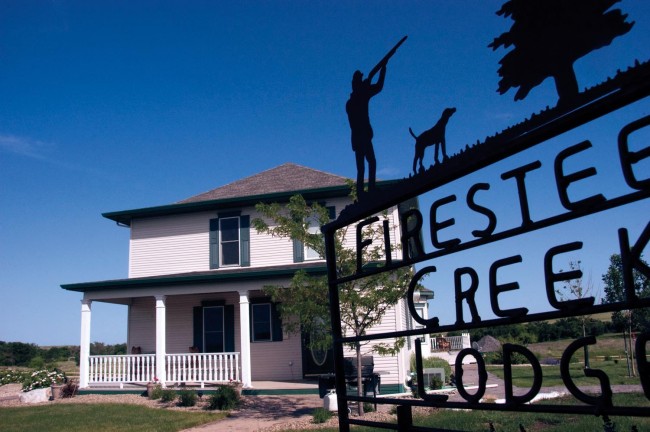 Even without a school, life will go on in Isabel, South Dakota.
Other South Dakota towns have heard the last bell, seen the last yellow school bus and cheered the last touchdown. But life goes on; the latest example is Isabel in northern West River. Isabel's school closed in May of 2009 when five teens received diplomas, but this is still a town.
Isabel remains a commercial center in Dewey County, with two farm implement dealers and a grain elevator, a weekly newspaper, medical clinic, grocery, hardware store and other establishments. Isabel may also have the state's senior barber: Marvin Bertsch has been trimming hair for more than 50 years. Ryan Maher, a young Republican state senator, runs Sparky's Bar and Grill. He decorated the walls with blow-ups of historic Isabel pictures. Sparky's has a full menu and the town's favorite dessert — caramel nut apple pie.
Artist and writer Jack Reich still paints and creates novels from his wheelchair in a modest mobile home on the north side of town. Born without the use of his arms, he learned to drive and earned his way as a salesman until he fell asleep while driving near Ipswich and hit a tree. His wife, Faith, was killed in the accident and he spent a year in a hospital. Now he can stand again but he can't walk, so he spends his days writing western novels on a Dell computer and painting — all by using his mouth and a pointer to move the keys, and a mouth-held brush to paint. His last novel was 46,000 words.
"You do what you have to do and you don't worry about what's wrong with you," Reich explains. "What's wrong with you is not important. That's the underlying truth. You do what you have to do."
He learned that lesson while growing up on a ranch south of town by the Moreau River. He studied art at South Dakota State University in Brookings and then drifted back to Isabel. He would have ranched despite his arms but the place "wasn't big enough to support dad" so he made a living as a salesman and painted Old West scenes as a sideline. He also served as the town's mayor for 18 years.
"There are not a lot of young families, and that's why the school had to close," he says. But the writer says the lack of a school mustn't detract from Isabel's other redeeming qualities. "There isn't anybody in town who hasn't lived here a year or more who doesn't know everybody. And everybody helps everybody. The guy across the street repairs small engines. That's how it works in a small town; there's a sharing of human resources."
Isabel also maximizes its architectural resources. The town of 200 people uses a handsome stucco city hall built in the 1930s by WPA workers. It is a relic of the Great Depression both inside and out, but a new handicap ramp is evidence that city officials aren't ready to abandon it. Violet Rost runs a library in an even older community hall.
Les and Marcia Lindskov and their four sons have also restored and converted an old ranch house into a historic hunting lodge. The Lindskovs operate a Case-IH farm dealership and a ranch, but they still find time for the new enterprise. The Veal family built the house in 1916 at an old stagecoach stop — a noteworthy fact in a region that values western history. The Veals bought lumber from New York when the house was created, and it became one of the grandest homes in Corson County. However, it was unoccupied for 25 years before the Lindskovs put it on wheels and moved it to their ranch just north of Isabel.
Now known as Firesteel Creek Lodge, the camp draws hunters, wedding parties and family reunions throughout the year. Pheasant hunters pay $2,695 for full-service, three-day hunts. "Yes, we were busy enough already," says Les, "but we're meeting the nicest people you'd ever find. And we're creating some employment." Guests come to hunt, but many find it just as enjoyable to hang around the lodge and enjoy the clean air, the quiet atmosphere and the views of Firesteel Creek. "We've had some who'll hunt a day or two and then just hang around the lodge."
Barb Begeman, publisher of the weekly Isabel Dakotan, wants hunters and other visitors to understand that the school closed because of quantity rather than quality. "You must know that Isabel had a good school with good teachers. We simply didn't have the number of students. One class had two students. Other classes had four. How can you run sports, which parents thrive on, with those kinds of numbers?"
A school closing is an emotional and practical setback. Some teachers move away. Businesses lose sales. Much of the town's entertainment and culture disappears. And there is one less reason for people to live there.
"Who is going to want to move to a town with no school?" asks Begeman. "Most women like curb and gutter and a Wal-mart a couple of blocks away. And they surely want a school."
On the other hand, few towns can attract people who will pay $2,695 for three days of prairie solitude.
EDITOR'S NOTE – This story is revised from the Nov/Dec 2009 issue of South Dakota Magazine. To order this back issue or to subscribe, call 800-456-5117.