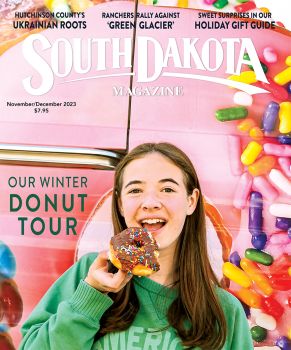 Subscriptions to South Dakota Magazine make great gifts!
Subscribe today — 1 year (6 issues) is just $29!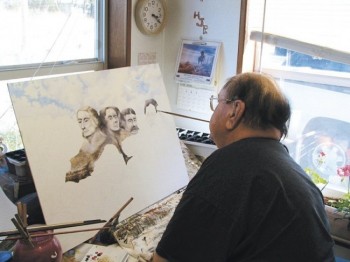 The Isabel Artist
Feb 10, 2012
South Dakota has artists living in some very rural areas. We've met many of them. Too often their talent and accomplishments go unrecognized because they don't have access to galleries and exhibits like their more urban counterparts. One such artist was Jack Reich from Isabel, who died in November. We featured him in South Dakota Magazine through the years and his story has always stuck with me.
Reich was born without the use of his arms and hands due to nerve damage from a breech birth. Despite that disability, he eventually learned to drive, pushed by his father who told him that he could drive the pickup truck if he could get into the driver's seat without assistance. "I never got to the point where I could use my hands," he told us in 2006. "But I got to the point where I could drive a car, drive a tractor and ride a horse."
And despite the fact that Reich couldn't use his hands, he became an accomplished artist. After discovering he could paint by holding a paintbrush in his mouth, he studied art at South Dakota State University. He wasn't surprised by his ability. "To be able to do artwork is a talent that comes from the inside," he said. "It will find its way out." He excelled in landscapes of the West.
Reich worked as an insurance salesman. He also was the mayor of Isabel for 18 years and a motel owner. But when he and his wife were in a car accident near Ipswich in 2002, he lost his ability to walk. His wife, Faith, died in the accident. He turned to painting and also wrote novels to fill his days. He published a science fiction novel called From Where the Sun Stands Now, Then Forever Stands. Reich saw similarities between writing and painting. "If you can express yourself with paint, you can do it with words," he said. "You have to have a vivid imagination — you have to be able to look beyond things and see how they might have been."
Reich's last novel was 46,000 words long, typed on his Dell computer using his mouth and a pointer to move the keys. His desk was in a trailer house in Isabel, a small town in northwest South Dakota. "You do what you have to do and you don't worry about what's wrong with you," he said. "What's wrong with you is not important. That's the underlying truth."
His life is a South Dakota testimonial to the adage that what matters most is our abilities, not our disabilities.