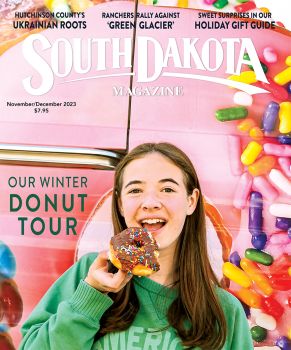 Subscriptions to South Dakota Magazine make great gifts!
Subscribe today — 1 year (6 issues) is just $29!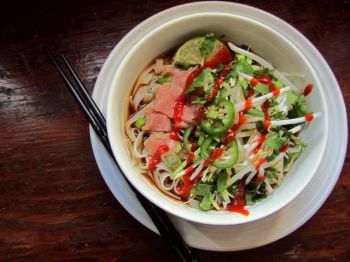 What's Pho Lunch?
Sep 4, 2014
Last week, Laura Johnson Andrews from South Dakota Magazine visited my neck of the woods. It was a trip we had spoken of since our first meeting, and finally the stars aligned properly to make it a reality. I was excited, to say the least, to share some regional highlights, a few of my favorite places and even explore new areas with a friend that is as enthusiastic as I am about the variety and uniqueness of South Dakota.
Small towns often get a bad rap for having little or nothing of interest, but it wasn't difficult for me to put together an entertaining tour of my small portion of south central South Dakota. Taking tips from the Mayoral Likes feature in the July/August issue, throwing in a few other distinct spots, and counting on the unwavering hospitality of our population, it was a great day for a south central South Dakota adventure.
Among other stops, we toured The Sign Inn, an early hardware store repurposed into a hunting lodge and loaded with local history; the Gregory Buttes Observation Park for breathtaking views of the prairie; Craftsman Creek Furniture, where the owner, Travis, coaxes the beauty and nuances of the wood grain from every handmade piece of furniture he creates; the thousands of photos lining the walls of Frank Day's Bar; and stood on the stars at Oscar Micheaux Park. Of course, we made it a point to snap photos with area water towers and share them on social media. (Have YOU posted a water tower selfie to South Dakota Magazine's Facebook page?) At Dayspring Coffee, the barista chatted freely with us about her favorite locales, and after sampling the "Self Serve, Self Pay, Pop & Ice Cream" at the Carlock Ballroom we were treated to an exceptional private tour of the dance hall by the owner.
Early in the day, Laura asked if I was making lunch, but we had other plans for our adventuring tummies. Pho Quynh, in Sioux Falls, may be an old favorite of the South Dakota Magazine staff, but out here on the prairie, The Homesteader boasts its own Vietnamese soup. It isn't on the menu and is only available at lunch time, but locals love these big, steaming bowls of flavorful broth, beef, seafood and rice noodles served beside plates of shaved cabbage, herbs and lime wedges. Squirt on some Sriracha, and dig in.
Pho, and all Vietnamese soups, vary from region to region. Traditionally, oxtails and other bones are slowly simmered to create a savory broth seasoned with cinnamon sticks and star anise. The marrow richens the soup deliciously. While I am not privy to either the recipes of Pho Quynh or The Homesteader, I suspect their versions benefit from this traditional method. At home, my version is a bit simpler, but still satisfies that pho-ish craving if I miss the uniquely local lunchtime offering of The Homesteader.
---
Simple Pho-ish Soup
(adapted from The Food Network)
8 ounces rice noodles
12 ounces lean beef sirloin, fat trimmed
Kosher salt and freshly ground pepper
1 large onion, halved
1 4-inch piece fresh ginger, unpeeled, halved
3 cups beef broth
5 star anise pods (Hubs prefers when I cut back on the star anise to about 3 pods.)
1 cinnamon stick
4 green onions
2 jalapeno peppers
1/2 cup fresh cilantro
2 to 4 tablespoons fish sauce
1 cup fresh bean sprouts
1 lime, cut into 4 wedges
Prepare the rice noodles as directed on package.
Meanwhile, heat a large stockpot. Tenderize the steak by piercing with a fork multiple times; season with salt and pepper. Sear the meat until charred but still VERY rare; transfer to a plate. Add onion and ginger to the pot; cook a few minutes to brown the edges. Add the broth, 3 cups water, star anise and cinnamon, reduce heat and simmer about 20 minutes. Thinly slice the green onions and jalapenos (remove seeds for less heat) and tear cilantro. Thinly slice the meat against the grain. Drain the noodles.
Add fish sauce to the broth and boil 5 minutes. Discard the ginger, star anise and cinnamon stick. Remove and slice the onion. Divide the noodles among 4 bowls; top with the broth, beef, scallions, cilantro, bean sprouts, jalapenos and onion. (Serves 4)
Fran Hill has been blogging about food at On My Plate since October of 2006. She, her husband and their two dogs ranch near Colome.